SCB Board of Governors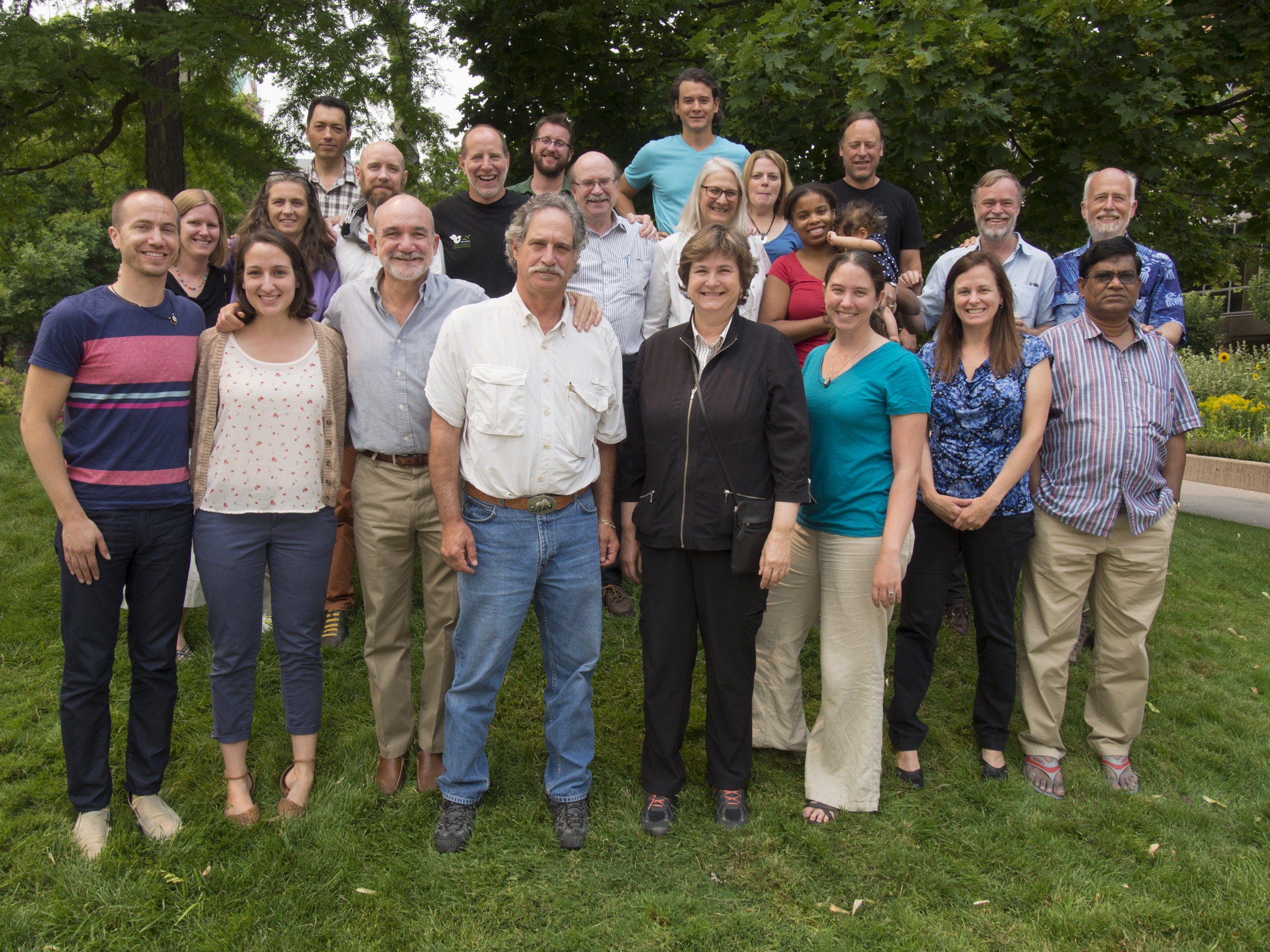 SCB's Board meeting in July 2014, Missoula, Montana, USA
From left to right, top row: Rurik List, James Watson, SCB staff member Doug Parsons, Carlos Carroll. Middle row:
Heather DeCaluwe, Kate Christen, Eddie Game, Gary Tabor, David Johns, Executive Director Geri Unger, Nora Bynum,
SCB staff member Lauren Bailey, Richard Kingsford, Paul Beier. Bottom row: SCB staff members Nate Spillman and
Lauren Krizel, President Rodrigo Medellin, Ron Abrams, Nigella Hillgarth,
Jessa Madosky,
Karen Beard, AJ Solomon Raju.
Not pictured: Andras Baldi, John Cigliano,
Emily Darling,
Leo Douglas,
Alex Dehgan,
Bengt Gunnar Jonsson, Andrew Knight, Carolyn Lundquist,Edward Mwavu,
Nathalie Pettorelli, Sadie Ryan, Cagan Sekercioglu,
Eleanor Sterling,
Ron Abrams
Dru Associates, Inc.
Long Island, New York
United States
ronwoolf07@gmail.com
ecofootprint@conbio.org
*Chair, Ecological Footprint Committee
Term ends: 30 June 2015

Stephen Awoyemi
Nigerian Conservation Foundation
Nigeria
stephen.awoyemi@ncfnigeria.org
Section Governing Board President: Africa
Term ends: 31 December 2017

Karen Beard
Utah State University
Logan, Utah
United States
karen.beard@usu.edu
Member At Large
Chair, Publications Committee
Term ends: 30 June 2016

Paul Beier
Northern Arizona University
Flagstaff AZ, 86011-5018
United States
Paul.Beier@nau.edu
Past President
Term ends: 30 June 2015

Nora Bynum
Duke University
Durham, North Carolina
United States
elb@duke.edu
Member At Large
Term ends: 30 June 2016

Ahimsa Campos-Arceiz
The University of Nottingham Malaysia Campus
School of Geography
Semenyih, Selangor
Malaysia
ahimsa@camposarceiz.com
Acting Section Governing Board President: Asia

Carlos Carroll
Klamath Center for Conservation Research
PO Box 104
Orleans, CA 95556
United States
carlos@klamathconservation.org
Section Governing Board President: North America
Chair, Policy Committee
Term ends: 30 June 2017

Kate Christen
Smithsonian Conservation Biology Institute
1500 Remount Road
Front Royal, VA 22630
United States
christenc@si.edu
Member at Large
Chair, Strategic Planning Committee
Term ends as Member at Large: 30 June 2017

John Cigliano
Cedar Crest College
100 College Drive
Allentown, PA 18104
United States
jaciglia@cedarcrest.edu
Section Governing Board President: Marine
Term ends: 31 December 2016

Heather DeCaluwe
Consultant
Golden, Colorado
United States
heather.decaluwe@outlook.com
Secretary
Term ends: 30 June 2017

Alex Dehgan
Consultant
Washington, DC
United States
alexdehgan@gmail.com
Member at Large
Term ends: 30 June 2015

Edward Game
Asia-Pacific Resource Center
The Nature Conservancy
Australia
egame@tnc.org
Member at Large
Term ends: 30 June 2017

Nigella Hillgarth
New England Aquarium
Boston, Massachusetts
United States
nmkhillgarth@gmail.com
Treasurer
Chair, Finance and Investment Committee
Term ends: 30 June 2017

David Johns
Portland State University
P.O. Box 725
Mc Minnville, OR, USA 97128-0725
johnsd@embarqmail.com
Chair, Audit Committee
Term ends: 30 June 2015


Richard Kingsford
Centre for Ecosystem Science
University of New South Wales
Sydney NSW 2052
Australia
richard.kingsford@unsw.edu.au
Section Governing Board President: Oceania
Term ends: 31 December 2015


Andrew Knight
Imperial College London
Department of Life Sciences
United Kingdom
andrew.knight1@imperial.ac.uk
Member at Large
Term ends: 30 June 2015

Rurik List
Departamento de Ciencias Ambientales
Universidad Autónoma Metropolitana-Lerma
Hidalgo Pte. 46
52006 Lerma Edo. de Mexico
Mexico
r.list@correo.ler.uam.mx
Section Governing Board President: Latin America and Caribbean
Term ends: 31 December 2015

Carolyn Lundquist
National Institute of Water and Atmospheric Research (NIWA), New Zealand
Gate 10, Silverdale Road
PO Box 11-115 Hamilton 3251
New Zealand
Carolyn.Lundquist@niwa.co.nz
Chair, Awards Committee
Term ends: 30 June 2015

Jessa Madosky
Warren Wilson College
PO Box 9000,
Asheville, NC 28815
United States
jmadosky@warren-wilson.edu
Chair, Chapters Committee
Term ends: 30 June 2015

Rodrigo Medellin
Instituto de Ecología, UNAM
Ap. Postal 70-275
C.P. 04510
México, D. F.
medellin@miranda.ecologia.unam.mx
President (2013-2015)
Term ends as Past President: 30 June 2017

Chris Parsons
George Mason University
Department of Environmental Science and Policy
Fairfax, Virginia
United States
ecm-parsons@earthlink.net
Member At Large
Chair, Conference Committee
Term ends: 30 June 2016

Nathalie Pettorelli
Zoological Society of London
Institute of Zoology
United Kingdom
nathalie.pettorelli@ioz.ac.uk
Member at Large
Term ends: 30 June 2017

Sadie Ryan
State University of New York - College of Environmental Science and Forestry
1 Forestry Drive
Syracuse, NY 13210
United States
sjryan@esf.edu
Chair, Education and Student Affairs Committee
Term ends: 30 June 2015

Cagan Sekercioglu
Univeristy of Utah
KuzeyDoga Society
201 Presidents Cir #201
Salt Lake City, UT 84112
United States; Turkey
c.s@utah.edu
Member at Large
Term ends: 30 June 2015

Piero Visconti
Sapienza Università di Roma
Global Mammal Assessment Programme Department of Biology and Biotechnology
Italy
pierovisconti@gmail.com
Section Governing Board President: Europe
Term ends: 31 December 2017

James Watson
Wildlife Conservation Society
University of Queensland
Australia
jwatson@wcs.org
President Elect
Chair, Membership Committee
Term ends as Past President: 30 June 2019
---
Ad-Hoc Committee chairs, Non-voting members
Emily Darling
David H. Smith Conservation Research Fellow
University of North Carolina at Chapel Hill
United States
esdarling@gmail.com
Co-Chair, Ad Hoc Social Media Committee
Term ends: 30 June 2015

Leo Douglas
Columbia University
American Museum of Natural History
11A Lounsbury Avenue
Kingston 10
Jamaica, West Indies
lrd2107@columbia.edu
Co-Chair, Ad Hoc Diversity Committee
Term ends: 30 June 2015

Bengt Gunnar Jonsson
Mid Sweden University
Professor in Plant Ecology
Sweden
bengt-gunnar.jonsson@miun.se
Chair, Ad Hoc IPBES Committee
Term ends: 30 June 2015


Eleanor Sterling
Center for Biodiversity and Conservation
American Museum of Natural History
Central Park West at 79th Street
New York, NY 10024-5192
United States
sterling@amnh.org
Co-Chair, Ad Hoc Diversity Committee
Term ends: 30 June 2015

Gary Tabor
Center for Large Landscape Conservation
P.O. Box 1587
Bozeman, Montana 59771
United States
wildcatalyst@gmail.com
Member At Large
Chair, Ad Hoc Development Committee
Term ends: 30 June 2015
Ex-Officio Board Member
Geri Unger
1017 O Street NW
Washington, DC 20001-4229 US
phone: 202-234-4133 x102
gunger@conbio.org
Executive Director, SCB
---
SCB Ombuds
John Robinson
Former SCB President
Chief Conservation Officer, and Executive Vice President
Wildlife Conservation Society
wildcons@gmail.com
Regional Section Board Members
►Please see the Section webpages for current board member listings