I've been working for SCB for six-weeks now, including attending the 2013 ICCB meeting. ICCB was an amazing introduction to the Society, and to many of you as individuals. I'm impressed by the depth and breadth of our members, your commitment to conservation science, biodiversity, and working towards sustainable human communities. I am excited about the future of your work and the work that SCB needs to do to remain a viable organization in the 21st Century.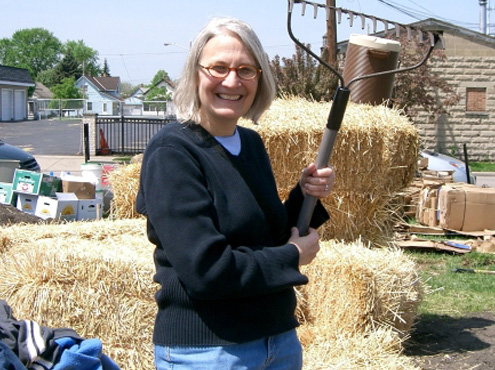 Geri working on an urban farm in Cleveland, Ohio, USA. She is convening an urban taskforce at SCB and wants your participation.
Just as many of us pursue sustainable development, and the conservation biology and behavioral science behind it, SCB will be pursuing new pathways to be a sustainable and resilient organization. This includes economics (finance), environment (conservation science, policy, advocacy, ecological footprint, carbon offsets), equity (building diversity and transparency of operations) and education (through knowledge sharing, training and mentoring). I will need your help and participation in this quest. SCB needs to serve its members and draw in new members, as well as provide a platform of products and services to the broader conservation community.
Personally, based on my own research into urban systems, I would like to convene an urban taskforce, to articulate how SCB can advance this increasingly important area of ecosystem restoration, rebuilding ecological services and resiliency, and providing for a human population that is growing and becoming increasingly urbanized. If you would like to serve on this task force, please
let me know
. Please let me know if you would like to work on other committees and task forces ranging from organizational development, to international policy and treaties to development of new SCB Chapters. My door is open to you, both physically here in Washington, DC and electronically through
e-mail
and skype (geriunger).
As summer moves into fall in the global north, winter into spring in the global south, I hope your days are filled with good health, and good conservation science and practice. I look forward to hearing from you!