The December issue of Conservation Biology features 26 articles, including 16 contributed papers. SCB members who subscribe to the journal may read the current issue by logging in to their member home page.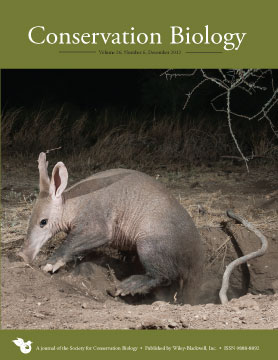 Following is a sampling of what's in the December issue:
Common and Conflicting Interests in the Engagements between Conservation Organizations and Corporations
Quantifying Loss of Acoustic Communication Space for Right Whales in and around a U.S. National Marine Sanctuary
Trade-Offs between Cattle Production and Bird Conservation in an Agricultural Frontier of the Gran Chaco of Argentina
Decision-Making Triggers in Adaptive Management
Unexplored Diversity and Conservation Potential of Neotropical Hot Caves
View the complete table of contents from the December issue.
Conservation Biology is SCB's flagship publication and one of the most respected scientific journals in the field. The journal has an impact factor of 4.692 and is ranked 3 of 37 in Biodiversity Conservation, 15 of 205 in Environmental Sciences and 22/134 in Ecology Conservation. Conservation Biology has robust submission rates, and a rigourous review and revision process ensure that accepted papers are of high quality and clarity. Click here for more information.