The Society for Conservation Biology is seeking nominations from members to serve on the Board of Governors. Specifically, we're seeking nominations for the following positions:
President-elect
Members-at-Large (three seats available)
Nominations will be accepted now through 31 January 2013. Candidates for each office will be selected by the Governance Committee.
Key Dates
31 January - Nominations due
18 March - Elections begin
18 April - Elections close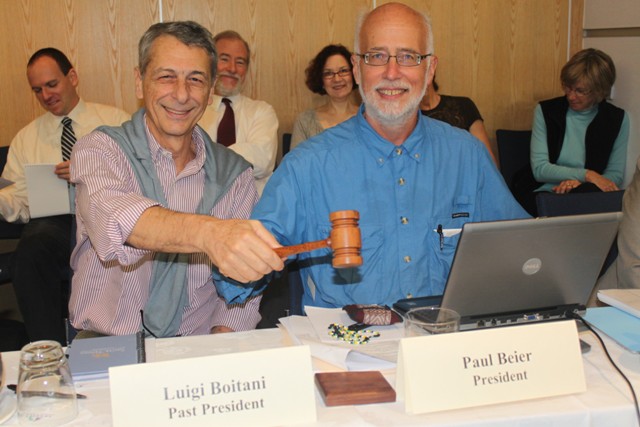 Past SCB President Luigi Boitani with current president Paul Beier at an SCB Board meeting at ICCB 2011 in Auckland, New Zealand
Opportunity to Lead at SCB and in the Conservation Community
Members of the Board of Governors embrace a fantastic opportunity to serve the conservation community while shaping the future of SCB!
In order to undertake its business effectively, the Board needs members with the full range of experience and expertise necessary for overseeing the work of the Society. Following consideration of current board members, the schedule of retirements, and of significant tasks for the Society over the next few years, we particularly welcome nominations, or self-nominations, from individuals with experience and interests in the following areas:
Development and fundraising
Scientific publications
Social sciences
Positions on the Board, however, are not restricted to these topics.
What it Means to Serve
Nominees must be SCB members in good standing. By agreeing to stand for election, nominees indicate their willingness to serve SCB by attending, generally at their own expense, all Board of Governors meetings during their three-year (Members-at-Large) term of office that begins July 2013. Board meetings occur annually at SCB's international conference or at a regional (Section) meeting (rarely conflicting with concurrent sessions). Another Board meeting is generally held in February or March (location varies). The president-elect must be available for Executive Committee meetings as well as full Board meetings.
Nomination Process
If you are interested in serving on the Board, or would like to nominate another candidate, email Luigi Boitani, chair of SCB's Governance Committee.
Your email should include the name of the person you are nominating plus their complete contact information. Additionally, please indicate whether the person you are nominating has confirmed an interest in serving on the Board of Governors.
Please use the subject line "SCB Board Nomination" for your email.