SCB is pleased to welcome an accomplished and energetic group of four new members to its Board of Governors. The newly elected members will start their terms of service with incoming SCB President Rodrigo Medellin on 1 July.
"We extend our sincerest thanks to all of the candidates who participated in the 2013 elections," said SCB Executive Director Anne Hummer. "We're excited for the incoming members as they bring enthusiasm and varied talents to the table that will help carry SCB forward in 2013 and beyond."
The incoming members of SCB's Board of Governors: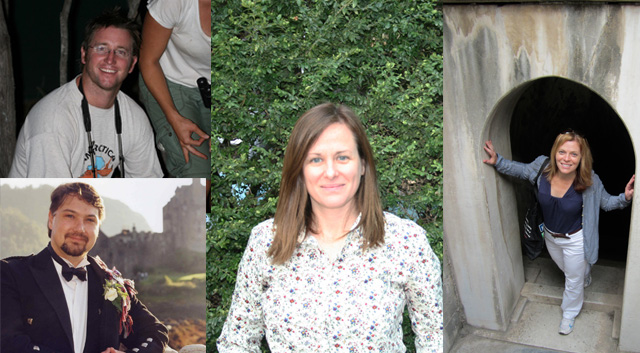 James Watson (top left), Chris Parsons (bottom left), Karen Beard (middle) and Nora Bynum will join SCB's BoG on 1 July

James Watson, Ph.D., President-Elect
James Watson leads the Climate Change Adaptation Program at the Wildlife Conservation Society and serves as the co-chair of the IUCN Species Survival Commission Climate Change Taskforce.
"We need to identify young leaders and give them a voice within SCB so they can flourish into future conservation leaders...more support and mentorship activities are needed for students at conferences and when they are publishing in journals."

James Watson
An adjunct associate professor in the School of Biological Sciences at the University of Queensland, Australia and a former president of SCB's Oceania Section, James helped organize SCB's 25th International Congress for Conservation Biology (ICCB) in Auckland, New Zealand in 2011. James served on the Society's Global Strategic Planning Committee that produced SCB's 2011-2015 Strategic Plan.
James looks forward to helping to strengthen SCB groups as the building blocks for a stronger, more engaged and influential scientific organization.
"I believe that it is through strong and active Sections, Working Groups and Chapters that the Society will grow and become more engaged with real world conservation issues," James said. "We need to make sure the activities of Sections, Working Groups and Chapters are interlinked as this will ensure a strong foundation for a thriving Society to build upon."
Karen H. Beard, Ph.D., Member-at-Large
Karen Beard is a professor of community ecology, ecosystem ecology, and conservation biology in the Wildland Resources Department at Utah State University, Utah, USA. An SCB member since 2000, Karen has served the Society in several capacities, including as a board member of the North America Section, a judge of student presentation competitions, and as a reviewer of abstracts for ICCBs. The impact of invasive species, the impending threats of climate change, and the effects of habitat loss and fragmentation are among the conservation science issues close to Karen.
"I look forward to playing a more integral role in helping to define, maintain, and grow the Society and the conservation community," Karen said. "It is critical that SCB and its Chapters, Sections and Working Groups, continue to engage conservation professionals around the world, and grow in numbers."
Nora Bynum, Ph.D., Member-at-Large
Nora Bynum is Vice Provost for Duke Kunshan University and China Initiatives at Duke University, North Carolina, USA. A longtime member of SCB, this will mark Karen's second stint on the Board of Governors. She previously served as a board member and the director of education of SCB's Latin America and Caribbean Section. Karen's primary conservation research interest is global climate and land-use change, and its effects on plants, animals and people.
"My primary professional orientation has been in new projects and startups, and I can contribute this energy and skill set to SCB," Karen said. "My current geographic focus on China may also be useful to the Society."
Chris Parsons, Ph.D., Member-at-Large
Chris Parsons is an assistant professor and graduate advisor in the Department of Environmental Science and Policy at George Mason University, Virginia, USA. Chris has served SCB in numerous capacities, including as president of the Marine Section. A successful fundraiser for SCB activities, Chris is co-chair of SCB's upcoming ICCB and he co-chaired the Society's highly successful International Marine Conservation Congresses (IMCC).
Chris' professional focus has been on marine conservation and whale and dolphin research, but he is also interested in terrestrial carnivore conservation ecology, public attitudes and understanding of conservation, human-wildlife conflict, and research on the effectiveness of conservation communication. Chris hopes to help SCB raise its public profile amongst government agencies and the general public.
"SCB is the international society for conservation practitioners and has amongst its membership an amazing wealth of natural, social, and scientific knowledge," Chris said. "I would like to help SCB reach across the gap to help connect conservation scientists with the people who know how to make the most of, and need most, that scientific information."