This year the International Congress for Conservation Biology (ICCB) took place in Baltimore, Maryland from July 21-25. Served by three major airports, Baltimore is just a short drive or train ride from Washington, DC and is one of the most affordable and accessible convention cities on the U.S. East Coast. The location could not have been better or more economical for government scientists squeezed by austerity budgets.
Despite the convenient location, more than 200 federal employees who usually attend SCB meetings did not come to Baltimore due to automatic cuts in federal spending known as "the sequester." The cuts that took effect on 1 March 2013 spared virtually no federal budget and have been felt across the U.S. and global economy.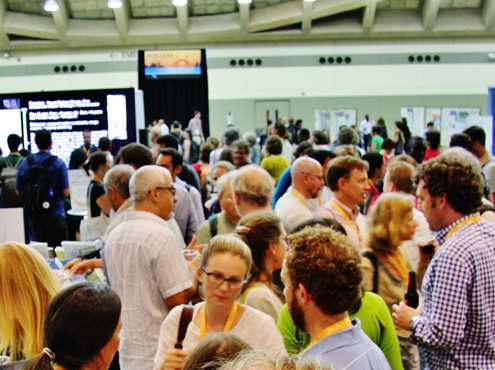 ICCB attendees in the exhibit hall. More than 1,500 scientists and students attended the meeting in Baltimore from 21-25 July 2013 .
The shortage of scientists at ICCB from the typically robust federal contigent was unmistakable. Scores of conservation scientists were denied funding to attend workshops and training courses and present their research at ICCB. The estimated loss to SCB for these attendees not being able to come was just under $100,000. The cost to the scientists in terms of missed opportunities, knowledge, ideas, training, and networking with other scientists to form partnerships and projects is incalculable. Moreover, the sequester wiped out a $50,000 sponsorship pledge from the federal government, forcing SCB to scramble late to adjust to the lost funding.
"ICCB was budgeted to break even based on an anticipated number of delegates and sponsorship pledges," Chris Parsons, chair of the ICCB Program Committee, said. "Luckily the Baltimore location meant more students from area colleges and small conservation NGOs could attend ICCB than is normally the case when the meeting takes place outside of the United States."
To an outside observer, the shortage of federal scientists might have gone unnoticed. The proximity of ICCB to Washington, DC attracted hundreds from the universities and conservation NGOs so prevalent in the DC region. Ultimately, more than 1,500 delegates from 65 nations made it to Baltimore, making the 26th ICCB one of the best attended meetings ever. SCB is working hard to make up the cost of the lost sponsorship, funds that could have gone directly to conservation projects. What cannot be made up are the missed opportunities and connections that did not happen on account of the sequester.