This article profiles the third Spotlight on Student Research, an initiative that aims to highlight SCB student members (undergraduate, graduate, postgraduate) whose research exemplifies the mission SCB to advance the science and practice of conserving Earth's biological diversity. This round of the Student Spotlight was hosted by the North America Section.
The winner of the first Spotlight on Student Research in the North America Section is David Lawrence, a Ph.D. student at the University of Washington who tells us his story below.
This Spotlight on Student Research was coordinated by Bogdan Cristescu, Sadie Ryan and Dominick DellaSala. We would also like to thank Steven Cooke and Judy Jacobs for help in reviewing the proposals.
---
Q&A with David Lawrence, Ph.D. student, University of Washington – First Place Winner Spotlight on Student Research – North America Section
"Assessing the potential of national parks to serve as protected areas for U.S. freshwater fish diversity"
What led you to chose a career in conservation?
The roots of my conservation career began with an obsession for all things aquatic. As a child I spent an embarrassing number of hours staring into any waterbody I could find, trying to figure out what was going on inside. As I grew up I knew I wanted my work to somehow incorporate the nature that fueled my curiosity. In pursuit of this dream I completed a Bachelors and a Masters degree in biology, and I am now working on my doctorate. A lot of my formal studies of the sciences, and ecology in particular, focused on the myriad problems faced by the ecosystems I was so enthralled with as a child. I decided I wanted my science to not only document the nature of ecological problems, but also to provide tractable solutions to deal with these issues. Focusing on conservation biology seemed like a perfect opportunity to pursue this goal.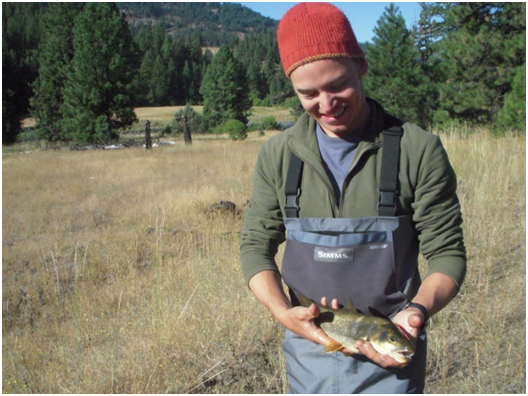 David Lawrence, Ph.D, Spotlight on Student Research award-winner
Tell us about your research.
Globally, freshwater ecosystems are under severe anthropogenic pressure and as a result their rich biological resources are rapidly diminishing. Humans now appropriate more than 50 percent of available freshwater runoff, over one million dams fragment rivers, and species invasions are globally widespread. Scientists have recently begun to explore the potential of establishing freshwater protected areas (FPAs) as one approach to curtail biodiversity loss in these ecosystems. In a recently completed chapter of my Ph.D, I produced the first national assessment of freshwater fish resources contained within the National Park Service (NPS), and evaluated the potential for NPS units to serve a comprehensive freshwater protected area system in the United States.
To assess fish faunal representation provided by the NPS, I collated records for all freshwater species that presently occur within 147 park service units and compared them to fish occurrence across all major watersheds of the U.S. Although most parks were not designed with freshwater conservation in mind, I found nearly two-thirds (62 percent) of native U.S. fishes reside in national parks. I also identified the most irreplaceable watersheds that contain the species not currently housed within the NPS system (Figure 1). This information could be used to determine the best sites for future parks or areas to develop collaborations with other park systems.
| | |
| --- | --- |
| | Figure 1. Irreplaceability (i.e., selection frequency by the conservation planning software) of watersheds in the US that contain the freshwater fish species that do not occur in any NPS unit. |
| | |
The ability of NPS units to serve as FPAs depends on both threats to their contributing watersheds and the capacity to manage activities in these watershed. To address these issues I characterized the current and future ecological threats (i.e., climate change, dams, watershed impervious surface, invasive species) and management challenges to park watersheds (i.e., land stewardship beyond park boundaries). This process involved delineating the watersheds of all the NPS units considered and then intersecting these watersheds with a variety of geographic datasets (e.g., the National Land Cover database) and forecasting models (e.g., the EPA spatially explicit population growth model). My work illustrates that while most parks have the vast majority of their watersheds outside of park boundaries, the contributing watersheds of many NPS units are held in some form of conservation status (Figure 2). Although public ownership of land does not guarantee protection of its waters, it increases the feasibility of establishing more complete watershed protection programs.
| | |
| --- | --- |
| | Figure 2. Frequency distribution of NPS units based on (A) the percent of each park'swatershed outside of that park's boundary and (B) the percent of a given park's watershed in some form of conservation status (i.e., federal, state, local government land, private land with conservation easements, and tribal land). |
| | |
Finally, I identified 50 parks that could serve as the nucleus of a nationally comprehensive FPA system by employing a conservation planning algorithm that weighs fish diversity representation provided by parks relative to their ecological threats. The results from this work were published in the November 2011 issue of Conservation Letters.
What's next in your research and career?
While my recent work has focused on conservation action at the national scale, I would like to investigate mechanisms to promote freshwater conservation across scales. Many managers cannot operate at scales beyond their own region or watershed, and so national forecasts of imminent threats to their system (e.g., climate change) are difficult to incorporate into management plans. In my future work I would like to develop multi-scale forecasts (i.e., local, regional, and national) of environmental stressors that would allow organizations working at each level to develop adaptation strategies that are consistent across scales, but also relevant to the context specific situations at finer scales.
If you could solve one conservation problem with a snap of your fingers, what would it be?
I would broaden access to scientific resources throughout the world to facilitate the advancement of global conservation solutions. The lack of access to scientific journals, conferences, and translated articles hampers the progress of conservation science within many developing countries.