Science writer Jim Robbins recently reported on Class of 2009 David H. Smith Fellow Raina Plowright's work on eco-immunolgy in the
New York Times
. Robbins' article,
In Wild Animals, Charting the Pathways of Disease
, explores the transmission of disease from wild animals to humans.
Plowright, a scientist in the Center for Infectious Disease Dynamics at Penn State University, talked with SCB about her research on eco-immunology and the recent press it has received.
---
How did you become interested in disease ecology?

I am trained as a veterinarian but always wanted to do work that had some conservation benefit—hence I did my Ph.D. in ecology and this naturally led to the field of disease ecology. I also love solving complex problems, and wildlife disease dynamics, with their many scales of complexity (from the pathogen, to the immune response of the host, to population-level transmission to larger landscape and global influences) present problems that are about as challenging as you can imagine.
You've been published in journals like Proceedings of the Royal Society, but popular outlets like Wired and the New York Times have also covered your work. What's it mean to you when your work is translated from the science world for wider consumption in outlets like the NYT?
I'm thrilled the New York Times is covering our research and that my work is introduced to a broader audience because the research has broad societal implications. For instance, look at Hendra virus, people and their animals have died from Hendra virus infections and we hope to inform the public on how to better manage this complex disease situation.
Is there one particular aspect of your work in disease ecology (on the fruit bat or bighorn sheep) that has surprised you or that you've found particularly alarming?
Yes there are many aspects of the work that have been surprising. We know so little about infections in wild animals that every time we 'scratch the surface' we discover something new. We are now realizing that pneumonia in bighorn sheep is having a much more severe impact on bighorn sheep populations than previously thought, and impacts may get worse in time.
What have you found at the intersection of wildlife disease and people/development that people/governments should most definitely take note of?
So many policies are directed at crisis management and address the symptom of the problem, not the root cause, and that can exacerbate the problem rather than solve it.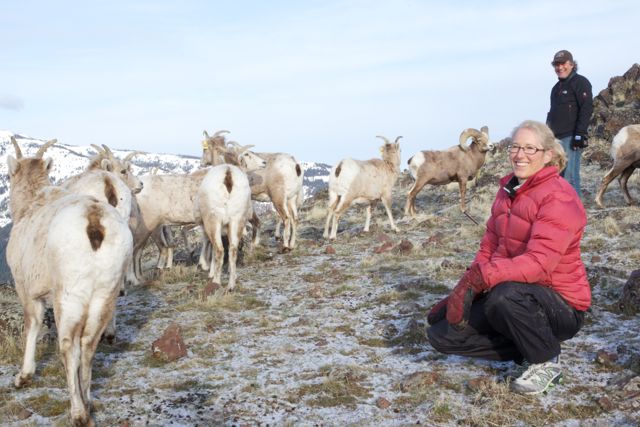 Raina Plowright and Professor Andy Dobson in Oregon with the 'Lostine herd' of bighorn sheep, part of the Hells Canyon metapopulation she is studying.
What makes the fruit bat particularly suited for the study of the spread of infectious diseases between wildlife and humans?
Fruit bats and microbats are hosts to a disproportionate number of zoonotic (pass from animals to humans) diseases, with a number of them being particularly nasty, like Hendra virus, Nipah virus, Ebola virus, Marburg virus, and SARS coronavirus. We really don't know why fruit bats host so many viruses, but we have many theories. In addition to hosting many pathogens, many fruit bat species overlap with human populations and so transmission opportunities are plentiful. For example, in Australia, fruit bats are shifting their distribution to become more urbanized (as habitat is destroyed, or native food becomes less reliable they utilize urban food); in Bangladesh fruit bats drink date palm juice out of the clay pots used to collect the sap, infecting people who subsequently drink the contaminated date palm juice.
What does scientific proof that human activity increases (and in some cases facilitates) the transmission of infectious diseases from wildlife to humans and domesticated animals mean for conservation science?
Conservation science should concern itself with how species and ecosystems interact at all scales, as interdependence is the underlying principle of this field. These disease transmission events just remind us that humans are an intricate part of these connections.