What do human remains, golden frogs, and elephant poo have in common? They were all part of a Smith Fellows' quest to learn how conservation scientists can partner with museums to engage the public in science.
To get an insider's perspective, the Smith Fellows went behind the scenes at the Smithsonian's National Zoo and the National Museum of Natural History this past winter.
We first met up with Brittany Steff and Susan Ades—two of the zoo's top communication experts—for tips on presenting complex ideas (e.g., chytrid fungal disease) or sensitive issues (e.g., human-elephant conflict) to the public. Later, at the Museum of Natural History, we discovered that museum exhibits can sometimes take even more time and resources than live animal displays.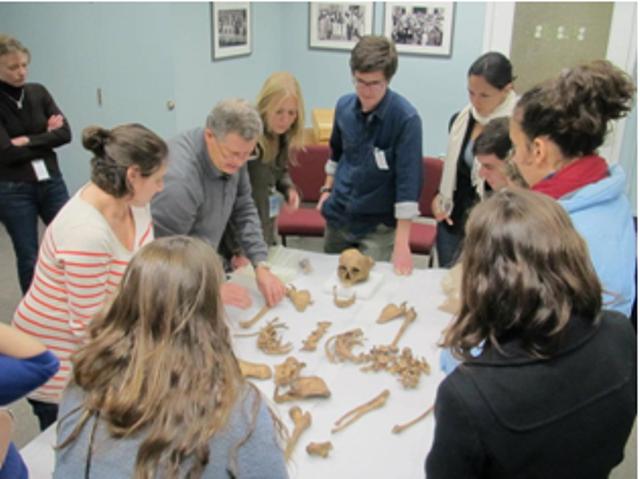 Forensic Anthropolgist Douglas Owsley (left) examines the bones of a 1970s murder victim to reconstruct
the crime for the Smith Fellows.
After getting the skinny on exhibit design from exhibit developers Siobhan Starrs and Barbara Stauffer, curators Doug Owsley and Kari Bruwelheide gave us a blow-by-blow of the museum's "Written in Bone" exhibit. We ended the day with Sant Chair for Marine Science, Nancy Knowlton, and learned that the exhibit doesn't always end with the ribbon cutting; displays are often tweaked when the initial concept fails to deliver.
One key message that emerged from the day: It's difficult to get peoples' attention and even harder to keep it. An exhibit at the Natural History Museum takes about two years to plan, yet most visitors spend no more than 15 minutes enjoying the final product. Even bizarre and fascinating creatures have a tough time—zoo visitors spend only seconds ogling your study species before moving on. And who can blame them? With hundreds of zoo species and endless corridors of museum specimens, visitors can hardly afford more than a quick glance at the message you've painstakingly honed to perfection. Yet if done effectively, the payoff can be huge. In the U.S., zoos alone attract more than 60 million visitors a year. Compare that to the number of people who probably read your last journal paper! Studies show that zoo and museum visitors support conservation generally, but don't know how they can help.
The bottom line: Zoos and museums can connect you with millions of people who want to know about your research. Here are the most important tips we picked up from our Smithsonian insiders for getting your message out there:
Exhibits take teamwork! Scientists can participate in many stages, from creative brainstorming to nitty-gritty text edits.
Invest the effort to get spectacular images that represent your research.
Tell stories that can hook non-scientists.
Articles on zoo or museum websites are a great investment – they're long-lived and relatively simple to publish.
Interactive exhibits are highly effective, but they must be indestructible to protect them from energetic visitors.
Reach out to smaller zoos and museums – they have fewer staff scientists and are often receptive to partnering with external researchers.