Member Spotlight
A conservation biologist turns to social science
to protect carnivores in Kenya
From SCB
| Posted July 2012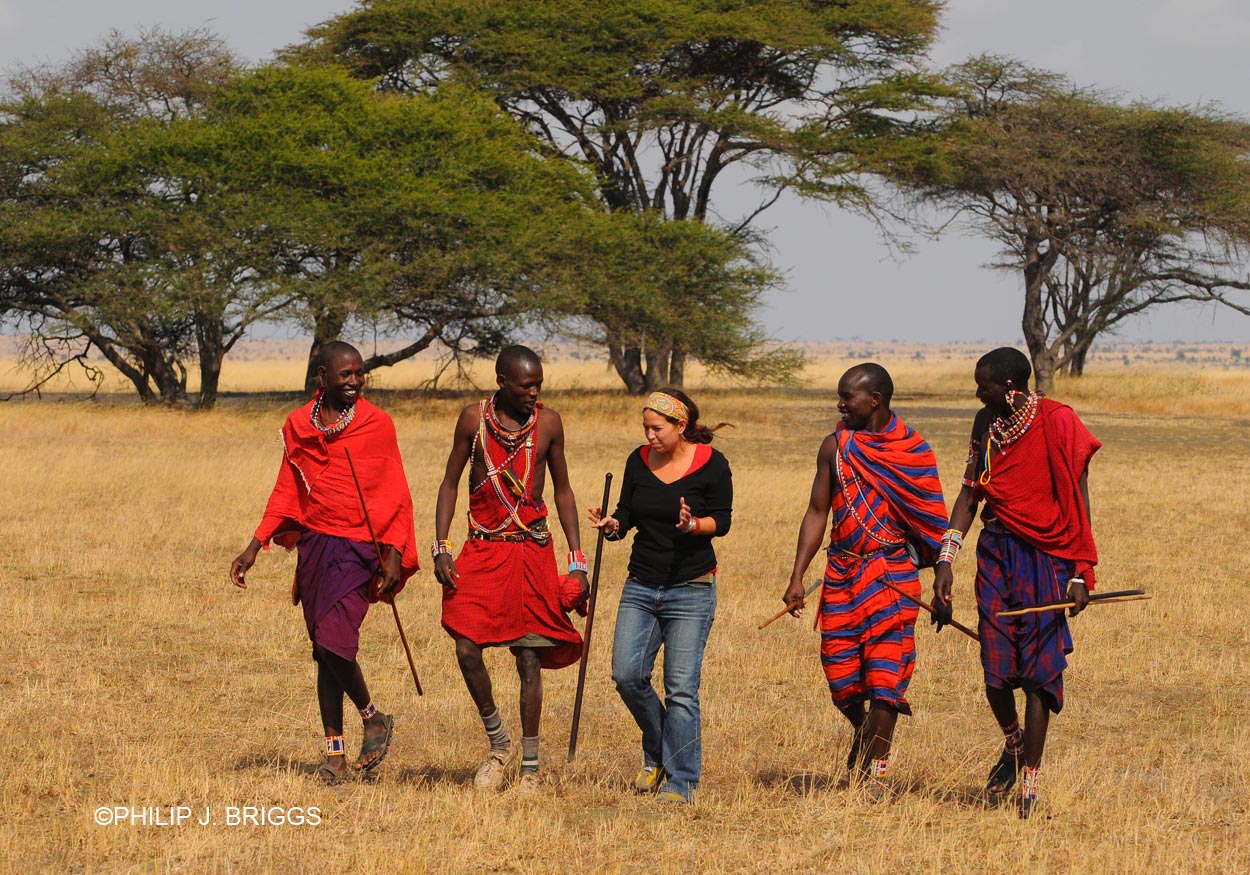 Leela Hazzah with a team of Lion Guardians, Kenya. Photo courtesy of Philip J. Briggs
------------------------------------------------------------------------------------------------------------------------------------------------------
Human-wildlife conflict in the Amboseli region of Maasailand in southern Kenya is tough on carnivores, particularly lions.
It is a complicated relationship between humans and lions and one that Dr. Leela Hazzah and Stephanie Dolrenry have devoted their careers to understanding.
To that end, Hazzah developed the concept of
Lion Guardians
, a conservation project that mitigates lion kills by eliciting the help of local communities to conserve lions; particularly young Maasai men, the demographic that carries out most kills.
----------------------------

"To me, conservation is a blend of social science and natural science. Though I often say it is 90 percent people-centered and 10 percent species"

Leela Hazzah

----------------------------------------------
It is a challenging assignment with cultural, social and economic dimensions.
For young Maasai men, to kill a lion is to gain honor and prestige; to go from boy to warrior. It's a rite of passage rooted deep in Maasai tradition and culture.
Social or political reasons inspire some kills. Recently, lions have been killed as a form of protest against persistent joblessness.
Economic motivations to kill lions are strong. Many are killed in retaliation for preying on livestock.
These and other factors contribute to the decline of lions in Kenya.
The Lion Guardians program uses an entrepreneurial strategy to reverse this trend and mitigate human-wildlife conflict, particularly retaliatory killings.
Specifically, the program trains and teaches Maasai warriors to be field biologists while employing them as community conservationists.
While challenging, the program is succeeding.
"For the first time since lion monitoring began in 2004, we are documenting the formation of lion prides and an enormous explosion in the number of cubs; every adult female is currently with cubs," said Stephanie Dolrenry, the Lion Guardians' Director of Biology. "If these cubs can survive another year or two till adulthood, we're going to have documented a strong population growth and also have the population at a sustainable level."
In April 2012, the Lion Guardians won the prestigious St. Andrews Prize for the Environment. The $100,000 prize will allow the program to grow its influence. A new training center is in the pipeline and with it a comfortable learning space for new generations of Lion Guardians and program coordinators.
The Lion Guardians approach aims to "promote and sustain coexistence between people and wildlife through ecological monitoring and local capacity building."
In the following Q&A, Leela and Stephanie address this approach and a number of interesting topics, including the Lion Guardians, human-wildlife conflict, the Amboseli region of Kenya, the field of conservation biology, the St. Andrews Prize for the Environment and what it's like working up close with lions.
---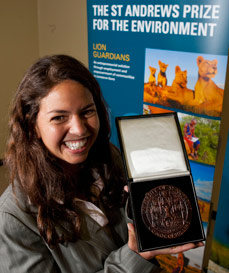 Leela accepts the St. Andrews Prize for the Environment. Photo by Alan Richardson
----------------------------------------------------------
SCB Q&A with Leela Hazzah and Stephanie Dolrenry
When did you know you wanted to pursue a career in conservation? What made you think that you could make a difference?
Leela: When I ask my parents this question they say that as soon as I starting speaking I would ask them to take me to the zoo. As I learned more about wildlife and the disappearance of all the large predators in Egypt I became committed to making sure that this wouldn't happen elsewhere.
Of course one never knows if they are going to make a difference but I am passionate and committed and I think that is often the recipe for success.
You founded Lions Guardians five years ago. What led you down this path? And why Kenya and why Lions?
Leela: In 2004, I met Laurence Frank who asked me to join the Living with Lions team. My specific goal was to ascertain why Maasai were killing lions in the Amboseli area at a rate which was (and is) driving them to local extinction. At first, I was unsure if I could do the job as I was trained as a biologist, but he assured me that conservation biologists need to work with social scientists if they are to be effective.
----------------------------

"Long term resentment toward conservation and government programs was mentioned in the same sentence as was their desire to kill carnivores."

Leela Hazzah

----------------------------------------------
In 2005, I moved into a small rural Maasai community adjacent to Chyulu Hills National Park. I participated in the community's daily life but never discussed lion killing or predator conflict. As trust built, I was able to understand the complex Maasai-lion relationship. Lion hunts were happening around me, and frustrated community members came to my home to discuss how angry they were at the lions that ate their livestock during the night. Long term resentment toward conservation and government programs was mentioned in the same sentence as was their desire to kill carnivores.
As the community began to trust me, I began to interact with the warriors, the group primarily responsible for lion killing. They told me about the lions they had killed in the past and how they wanted to continue to kill lions to protest the lack of job opportunities for their age group. I remember vividly a conversation that took place in my home with a group of warrior leaders and Jacob, my research assistant. The leaders casually mentioned that warriors, who traditionally protect their community from other tribes or carnivores, are the perfect group to engage in conservation because they are young and fit, at home in the bush, and can track wildlife better than anyone else. This conversation stuck with me, and upon completion of my master thesis, and amid ongoing conversations with Maasai and Living with Lions colleagues, the Lion Guardian program was conceived.
---