What comes to mind when you think of the Amboseli?
Leela: Vast beautiful plains lying in the shadow of Mt. Kilimanjaro, populated with elephants, lions, wildebeest, zebras, giraffes, hyenas, and of course Maasai and their livestock.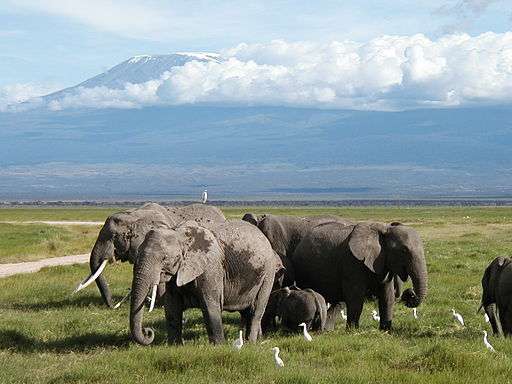 African Elephants in Amboseli Nat'l Park. Kilimanjaro in background. By M. Disdero via Wikimedia Commons
What does a healthy lion population mean for the Amboseli ecosystem?
Stephanie: I think a healthy lion population, particularly in the human & livestock –dominated areas of Amboseli, means one that is sustainable – reproducing successfully and maintaining a connected viable population. I don't believe we'll ever have high densities of lions, and for the sake of the Maasai and their livestock, I don't think we want this. We're aiming towards sustainable, viable and connected to the larger populations such as Tsavo and Tanzania. Our primary focus is connectivity and survival – allowing lions to live at low densities and also allowing a safe place for dispersers to move through without getting killed. Connectivity is immensely important for the long term persistence of the larger East African lion metapopulation.
What is the best news coming out of the Amboseli?
Stephanie: For the first time since lion monitoring began in 2004, we are documenting the formation of lion prides and an enormous explosion in the number of cubs; every adult female is currently with cubs. If these cubs can survive another year or two till adulthood, we're going to have documented a strong population growth and also have the population at a sustainable level. We're also seeing wider recognition of individual lions by the broader community. Previously, if you asked a random community member to name a lion, they would look at you like you were crazy (lions don't have names!), but now almost anyone you meet can name a lion, even several lions, and talk about their personalities, histories, and unique characteristics.
What is the most troubling?
Leela: Subdivision, the increase in agricultural practices, and human population growth.
* * *
Lion Guardians won the prestigious 2012 St. Andrews Prize for the Environment. What does winning the prize mean to you personally and to the Lion Guardians?
Leela: Winning the prize is a huge achievement and is something we have been working toward for many years. It is important because it shows the Lion Guardians that their hard work is being recognized and appreciated around the world, which builds momentum to continue with their important work.
How will the prize impact the future of Lion Guardians?
Leela: We can now scale up efficiently and effectively. We have been trying to raise funds to build a new Lion Guardian training center, which will allow us to bring interested communities from potential sites and new Lion Guardians can get on-the-job training from seasoned LGs.
What does the prize say about the work of Lion Guardians?
Leela: It helps to give us credibility as we expand our efforts to other places where indigenous communities are trying to coexist with carnivores.
When you heard The Lion Guardians announced as the winner, what were the first thoughts that ran through your mind?
Leela: Absolute amazement and thrill, and of course a bit of relief as I didn't want to go back to the team without the prize! The first thing I did was to borrow someone's phone so that I could call the team in Kenya and share the wonderful news. We have all worked so hard to create a sustainable model for lion conservation and the win at St. Andrews substantiates it.
---