SCB Webinars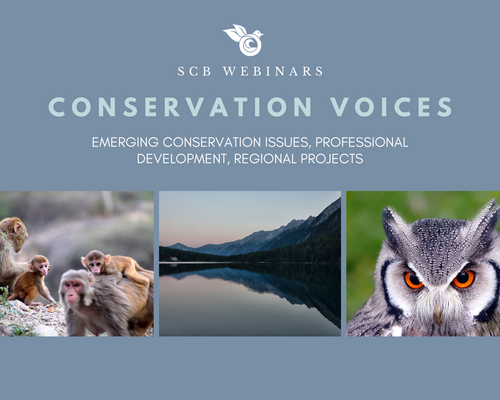 Conservation Voices is a series of live events that feature leading voices in conservation who present critical research, discuss the latest topics and highlight the work that SCB groups, partners and members are doing. Groups can use this series as a tool and channel to get feedback from members, highlight and communicate the work they're doing, establish a stronger connection with members, and increase member involvement. Have a suggestion for a webinar topic or a referral for a potential presenter? Contact us!
Our webinars may focus on the following themes:
Professional development webinars, on topics like careers in conservation biology, how to submit a successful abstract, etc. that provides professional development resources to our members.
Research related webinars, that allows a member to share their research and methods with our wider membership.
Region, Working Group or Chapter webinars that enable SCB groups to share any ongoing projects, conferences, awards, work, etc. with our membership and encourage interested parties to get involved in their work.
All of our past webinars are also available on our Vimeo page: