Venue
Victoria, British Columbia, Canada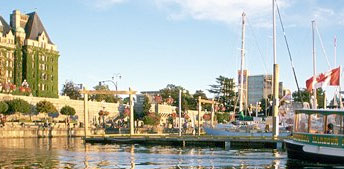 This is Victoria, located on the southern tip of the largest island on the west coast of the Americas. Bounded by the open Pacific and inland Salish Sea, Vancouver Island is world renowned for its wide diversity of marine life and unique coastal ecosystems.
As the historic capital of British Columbia, Victoria has a rich cultural heritage that originates with the Coast Salish First Nations, the local indigenous community, who have long maintained their ties to the local lands and seas. Nearby, a range of federal and provincial marine and coastal protected areas highlight numerous local research and conservation initiatives already underway. The natural beauty surrounding the city offers a wealth of opportunities for outdoor recreation, ecotourism and wilderness adventures, from kayaking and diving to whale watching, surfing and hiking.
Victoria is conveniently centered around the lovely inner harbor area, where family friendly attractions, seaside walks, spectacular parks and gardens, bohemian shops, quirky coffee bars, and innovative west coast restaurants are only footsteps away. Historically a government town and the heart of provincial resource economy, business has diversified to take advantage of increasing interest in sustainable practices, from clean energy and ocean technology to carbon neutral building developments and local organic wineries. Whatever your plans may be, Victoria's temperate climate, mild summers and relaxed pace make it a year round destination.
Learn more about the IMCC Trips and Excursions.
To learn more about Victoria please visit Tourism Victoria.
To learn more about British Columbia visit Tourism BC.