Harmony Patricio on fish conservation, networking, and the struggle between economic growth and biodiversity protection. More...
Get involved in SCB
In Our Publications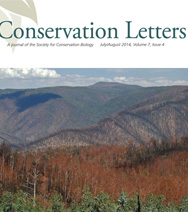 October 01, 2014
Conservation Letters
Vol. 7, No. 4 (Free for SCB Members)
Timber harvesting and fire severity More...
Lack of management of fire-adapted ecosystems carries social, economic & environmental risks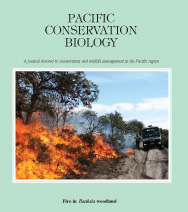 August 06, 2014
Pacific Conservation Biology
Vol. 20 No. 1 (Sub. required)
Guidelines for ecological burning regimes More...
Find papers on citizen science, coral reef recovery, feral pigs & more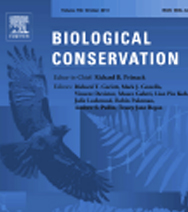 March 19, 2014
Biological Conservation
Feb 2014 - Vol 170 (Editor's Choice)
Genetics in conservation management More...
Revised recommendations for the 50/500 rule.