Conservation Biology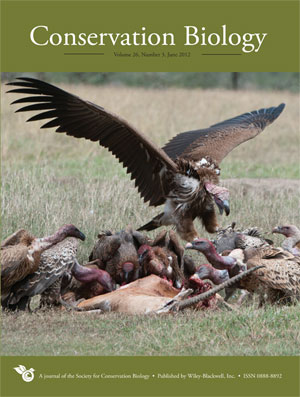 "The discipline of conservation biology defines the scope of the journal, but it is also true that the journal has played an influential role in defining conservation biology."

- Stanley A. Temple, SCB President ('91-'93)



---
Since the inception of Conservation Biology in 1987, the journal has published groundbreaking papers and has been instrumental in defining issues that contribute to the science and practice of conserving Earth's biological diversity. Consistent with the mission and goals of the Society, the journal promotes the highest standards of quality and ethics in conservation research and encourages communication of results to facilitate their application to management, policy, and education.
Conservation Biology (ISSN 0888-8892) is published six times a year (February, April, June, August, October, December) by Wiley-Blackwell. The journal has robust submission rates, and rigorous review and revision processes ensure that accepted papers are of high quality and clarity. In 2013, its impact factor, a measure of the frequency with which the "average article" in a journal has been cited in a given period, was 4.32. Impact factor reflects data over a three-year period and can be interpreted as the number of times an article is cited in the two years following its publication. The number of article downloads in 2013 exceeded 940, 000.
According to the 2013 Journal Citation Report from Thomson Reuters, Conservation Biology ranked
5th among 41 in journals that focus on biodiversity conservation
24th among 140 in journals with an ecological focus
17th among 215 in journals with an environmental science focus
Such high rankings across multiple disciplines affirm Conservation Biology as one of the most respected scientific journals in the field and reflect the work of a dedicated and talented editorial board.
Manuscript Submissions: Conservation Biology welcomes submissions that address the science and practice of conserving Earth's biological diversity. We encourage submissions that emphasize issues germane to any of Earth's ecosystems or geographic regions and that apply diverse approaches to analyses and problem solving. The conservation relevance of articles published in Conservation Biology transends the particular ecosystem, species, and situation described.
The journal is indexed or abstracted by more than 45 services, including BIOSIS, Biology Digest, General Science Abstracts, General Science Index, Geo Abstracts, Current Contents/Agriculture, Biology and Environmental Sciences, Research Alert, and SciSearch.
Subscription Information: Members of the Society may subscribe to Conservation Biology at steeply discounted rates. Online subscriptions for members from developing countries are free with membership. Institutional subscriptions to Conservation Biology are managed by Wiley-Blackwell. Print and online subscriptions are available.
Accessing Journal Content: SCB members who subscribe to Conservation Biology can access journal content online via their SCB member homepage or through the Conservation Biology page in the Wiley-Blackwell Online Library (enter your SCB username and password).
Cancellation and Refund Policy: Subscribers to publications of the Society for Conservation Biology may request a refund or cancellation at any time if they are unsatisfied or in special situations. Refunds for Conservation Biology are prorated on the basis of the number of issues already delivered.
Address Changes: You may change your address by logging into your member homepage and selecting "Edit Your Expertise & Other Information."
Subscription Questions: Please direct general questions about Conservation Biology and about undelivered issues to membership@conbio.org. The Society will replace undelivered issues of Conservation Biology if the claim is filed within 90 days of the last day of the issue month for subscribers in the United States and within six months for subscribers outside the United States. Claims after this date are accepted only under special circumstances and usually require purchase of a back issue.
Back Issues: Single issues from current and recent volumes are available at the current single-issue price from cs-journals@wiley.com. Earlier issues may be obtained from Periodicals Service Company, 11 Main Street, Germantown, NY 12526, USA, telephone (518) 537-4600, fax (518) 537-5899, email psc@periodicals.com.
Advertising: Conservation Biology accepts advertising that is compatible with the mission and goals of the Society for Conservation Biology. Contact corporatesalesusa@wiley.com or visit the journal's advertising page for more information.