SCB News Blog
The SCB News Blog is the best source for member-oriented news from the Society for Conservation Biology. Here you'll find an account of what's new at SCB, coverage of SCB members in the news, and conservation-related commentary and reportage.
Come often and be informed of the goings-on in this global community of conservation professionals dedicated to advancing the science and practice of conserving Earth's biological diversity.
Have a story you'd like to share in the SCB News blog? E-mail us your idea.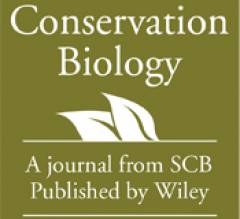 For the first time in its history, SCB's flagship journal Conservation Biology has officially recognized outstanding contributions to the journal. The journal's editors announce the first winner of the Rising Star Award and recognize the authors of the most cited paper and the paper with the highest Altmetric score.
Read More