Montana Chapter
MT-SCB's 7th Annual Research Symposium
"Thinking Outside the Box: Diverse Tools for Conservation"
Our regional research meeting this year will be held on November 18-20, 2015 in Missoula, MT. We hope to engage state, federal, academic, and non-profit institutions in a lively discussion on diverse approaches to achieve pressing regional conservation goals.
This year's highlights include an opening plenary by Keith Aune, Senior Conservation Scientist for the Wildlife Conservation Society and Director of the Bison Conservation Program. We will also hold a focused session on prairie/grassland ecology and conservation, and a special panel discussion on the topic of conservation on tribal lands. Finally, Bebe Crouse (The Nature Conservancy) will offer a Science Communications Workshop to help you communicate your science to the general public (See below for more details).
The location of the symposium will be the University of Montana's School of Extended & Lifelong Learning Conference Center in Missoula, MT.
SCHEDULE
You may download a copy of the symposium program here, which includes the detailed schedule, abstracts, campus map, lodging and parking information.
CALL FOR ABSTRACTS (still open for posters only)
Abstract call for contributed talks is now closed. However, we are still accepting abstracts for poster submissions on all topics relevant to conservation in the Montana/transboundary Rocky Mountain and Plains region. Abstracts should be submitted by email to mtscb.web@gmail.com and should include a title, list of coauthors and affiliations, and main text (maximum of 250 words).
INFORMATION FOR PRESENTERS
Talks:
Power point version is 2013
Make sure to have external copies of embedded files such as videos
Upload times in registration James E. Todd building room 203:

Thursday morning (7:45 am - 8:15 am)
Thursday afternoon (12:30 pm - 1:00 pm)
Friday morning (7:45 am - 8:15 am)

All talks will take place in room James E. Todd building room 210
Talks are 20 minutes in length (15 min. talk, 5 min. questions)
Posters:
Poster dimensions are standard 24'' x 36''
We will provide materials for setting up your posters
Poster set up when you arrive (room 203), take down anytime between Thursday 7pm - Friday noon
REGISTRATION
Early registration is now closed. After Nov. 9th, you may still register in person at the symposium or online at http://www.jotformpro.com/form/32975879057978. Registration costs are $75 Professionals/ $30 Students.
We are looking for student volunteers to help with day of registration and AV assistance. Sign up to volunteer during registration to receive a waiver on your registration fee.
Travel assistance may be available for students, with preference given to presenters. Please email us at mtscb.web@gmail.com if you are interested in being considered.
In the spirit of conservation we are requesting that you bring a name tag from a previous conference to use at the symposium.
LODGING AND PARKING INFORMATION
We have arranged for discounted group rates at the Missoula Comfort Inn University Hotel available on a first come first serve basis. The hotel is located at 1021 E. Broadway across from the University of Montana campus along the Clark Fork River, about 1 mile (15-20 minute walk) from the UM Lifelong Learning conference center (see map below). To get the discounted group rate ($95 single rate), mention the group name "MTSoCB Conference" when you reserve your room.
Missoula Comfort Inn University Hotel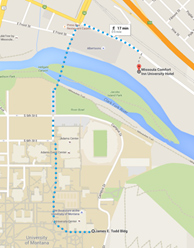 (406-549-7600)
$95 single room rate, plus tax
Group room rates subject to availability (not available when hotel reaches 80% capacity)
River and mountain views from every room
Free airport shuttle from 6a.m. to midnight
Free hotel parking
Free internet
Free hot breakfast
Microwave and fridge
Free cruiser bikes for guest use
Parking Information
We will have day passes available for parking at the registration desk. There is also pay as you go parking around the east side of campus. We encourage people to walk form their hotels if possible, because parking is always tight after 8 am.
MORE INFORMATION ON MEETING HIGHLIGHTS
Workshop on Science Communication: Wed, Nov. 18th (1-5 pm):
Bebe Crouse of The Nature Conservancy will offer a Science Communications Workshop to help you communicate all of your great work in a way that non-scientists can understand. If you deal with funders, government officials, community leaders, media, or the public, this training is for you. You'll learn how to tell compelling stories about the work you do, ace media interviews, and find your way around difficult jargon. This workshop is interactive so come ready to talk about projects or other aspects of your work that you need to communicate to non-scientists.
Bebe Crouse spent more than 25 years as a network level journalist including ten years as the Western and Environment editor at NPR. Her decision to move into a job with The Nature Conservancy brings together her love of the West and her education in Environmental Science.
You must be registered for the symposium to attend a workshop. For more information about the workshop please email Adam Sepulveda: asepulveda(at)usgs.gov.
---
Our Mission:
The mission of the Montana Chapter is to promote science and the application of the principles of conservation biology to Montana's local, regional, and statewide diversity.