Montana Chapter
Please keep in touch with your ideas and suggestions for 2014 at mtscb.web@gmail.com.
It was great to see you at the 2nd North America Congress for Conservation Biology (NACCB), Challenging Conservation Boundaries, July 13-16, 2014 in Missoula, MT!
The meeting was a success and we are grateful to all the organizers and volunteers that helped make it possible! Highlights included our MTSCB sponsored evening events: (1) Wildlife Film Night showcasing two films ("Mystery of Eels" and "Touching the Wild") chosen from the International Wildlife Film Festival held annually in Missoula. (2) Chapters and Student Social Mixer held at Ten Spoon Winery. Thank you for joining us!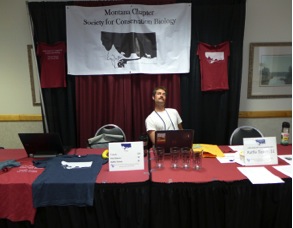 MTSCB booth at NACCB.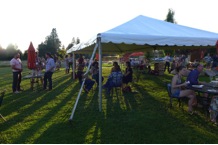 Reception at Ten Spoon Winery in Missoula's beautiful Rattlesnake Valley.
If you missed the meeting but want to see videos of the plenaries, they can be found at http://vimeo.com/society4conbio.
Don't miss our upcoming Fall 2014 Events!
Missoula: Continuing education in GIS Skills
Tara Chesley-Preston (USGS; http://www.nrmsc.usgs.gov/staff/cpreston) will offer an Introduction to GIS Course in Missoula. The course will be held on Saturday November 15th from 1-5 PM in Stone Hall Room 106 on the University of Montana campus. It will be very similar to what Tara taught at the 2013 Fall Research Symposium and in Bozeman last spring. We have had a great response to the course in Bozeman, so we wanted make sure it made it over here to Missoula!
Cost of the course is $30 for active members and $45 for non-members (non-members can become members to receive the discount). Please send an email to mtscb.web@gmail.com with "Intro to GIS Course" in the subject line to reserve your spot.
Bozeman: Bullfrog invasion and spread in the Yellowstone River
We are excited to announce that Adam Sepulveda will be giving a talk on the invasion of nonnative bullfrogs and the implications for the conservation of the Yellowstone River ecosystem. The talk will take place 12-1 pm, Friday November 14th and be hosted by Wildlife Conservation Society at their new building, 212 S. Wallace Suite 101.
Please direct any questions to Adam Sepulveda (asepulveda@usgs.gov).
MTSCB Board Elections
It's that time of year again; we are soliciting nominations board members to serve during the January-December 2015 term. Please consider joining! We are looking for interested individuals to help plan chapter activities and the annual research symposium, grow our organization, and promote conservation biology in the region.
Board member positions include the following:
President
Vice President
Secretary
Treasurer
Membership Coordinator
At-large positions (up to 3)
Nominations should include the name and contact information for the person being nominated, the board position of interest, as well as short paragraph (<200 words) describing the person's background and interest in serving on the board. To nominate yourself or others, please contact us via email at mtscb.web@gmail.com.
---
Our Mission:
The mission of the Montana Chapter is to promote science and the application of the principles of conservation biology to Montana's local, regional, and statewide diversity.