The 5th International Marine Conservation Congress in Kuching, Sarawak June 24-29, 2018
To conserve the world's oceans we must go beyond science, and use it to inform policy and management, and ultimately to catalyze change. The Society for Conservation Biology's International Marine Conservation Congress (IMCC) brings together conservation professionals and students to develop new and powerful tools to further marine conservation science and policy.
With over 700 marine conservation professionals and students in attendance. IMCC is the most important international event for anyone involved in marine conservation.
Mark your calendars for the 5th International Marine Conservation Congress (IMCC5) which will be held in the beautiful city of Kuching in Sarawak! This conference will bring together marine conservationists from many walks of life including but not limited to marine conservation scientists, practitioners, teachers, policy makers, and journalists. Join us all in the middle of the Indo-Pacific as we come together to help "Make Marine Science Matter!"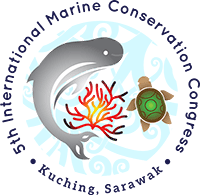 Website Updates In Progress!
We are beginning to provide more information on registration, venue, accommodations and other information as it is coming in. Please keep checking back here and we will continue to provide details.
IMCC5 Blog is Up and Running!
Please keep up to date with the goings on of IMCC5 through our Wordpress Blog!
You can link to the blog HERE
or, look for wordpress logo the on our sidebar.