Welcome to the SCB Marine Section
The Marine Section of SCB provides a home for Marine Conservation Biology in order to further marine conservation science, research and public policy. Unlike other SCB Sections, the Marine Section does not have a specifically regional focus as marine issues are global.
Visit the Marine Section on Facebook and Twitter.
Section News
10 July 2018
The 2018 Conservation Research Small Grants round is now open. Check the small grants page for information on eligibility and how to apply.
30 June 2018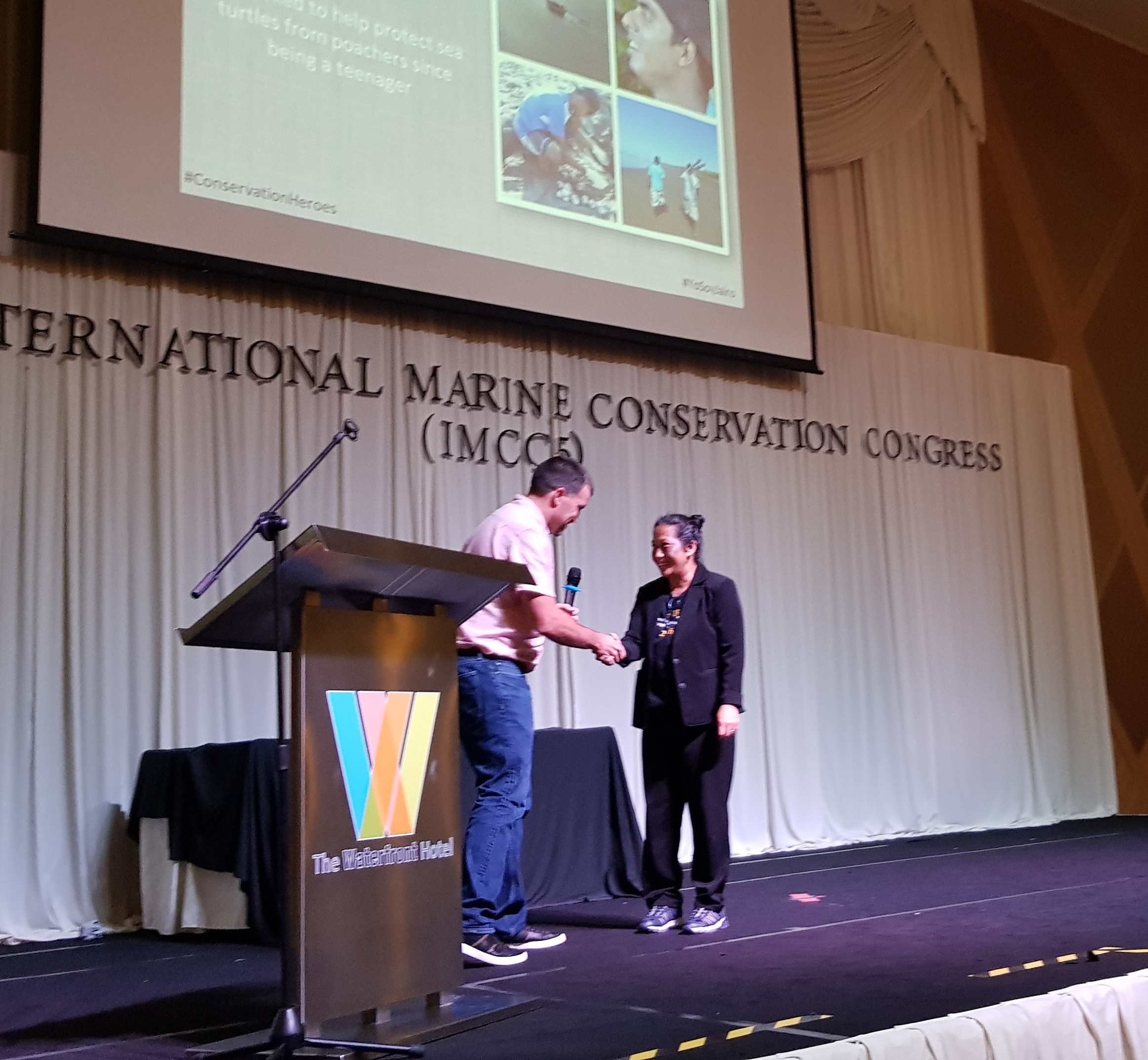 The Jairo Mora Sandoval Bravery Award was presented to Patima Tungpuchayakul for her work rescuing thousands from slavery in the fishing industry in Thailand, and for her work in advocating for policy change to protect migrants from human trafficking in the fishing industry. Find out more about Patima on the Jairo Award website.
30 June 2018
IMCC5 and Oceans Online have wrapped up after a week of collaboration, networking and mind-blowing information-sharing. We were thrilled to meet so many new and old friends in Kuching, Malaysia. Terima kasih!
12 December 2018
Nominations for the Jairo Award have closed. Check back in 2019 for the next round.
1 November 2017
Call for Nominations for the Jairo Mora Sandoval Bravery Award
Environmentalist Jairo Mora Sandoval was murdered by poachers in 2013 while protecting leatherback sea turtle nests in Costa Rica. The SCB Marine Section honors his legacy with the Jairo Mora Sandoval Bravery Award - given for bravery associated with an outstanding contribution to the field of marine conservation, with particular emphasis on responsible and educated scientific endeavor, public engagement and conservation activism. The award is intended to honor conservationists doing respectful, lawful work in the face of possible or realized threats of any kind, anywhere in the world.
SCB Marine invites nominations for this award, which will be announced during the closing ceremony at the next International Marine Conservation Congress (IMCC5) that will be held in in Kuching, Sarawak June 24-29, 2018.
For more information including eligibility and criteria, click here.
12 September 2017
Tales from the Sea at IMCC4
We're excited to announce that the videos from our storytelling event at IMCC4 in St. John's last year, are now available on YouTube and the SCB Marine Section stories page.
1 September 2017
2017 Conservation Research Small Grants round open!
The objective of the SCB Marine Section Conservation Research Small-Grants Program is to advance the conservation of marine organisms and their habitats by providing funds to individuals or groups for research, conservation and restoration activities.
Grants will range from US$500-700. Applications closed on the 7th October 2017.
For more information, to check eligibility, and find out how to apply, click here.
7 June 2017
2016-17 Small Grants Winners Announced
SCB Marine are pleased to support the recipients of the 2016-17 SCB Marine Small Grants round. These research, conservation, and restoration projects help fulfil the mission of SCB Marine around the globe.
To read more about the funded projects, visit the 2016-17 Small Grants page.
16 April 2017
Save the date!
5th International Marine Conservation Congress
24 June – 29 June 2018
Kuching, Sarawak, Malaysia (KCH)
"Making Marine Science Matter"
The Society for Conservation Biology's Marine Section (SCB Marine) invites you to attend the 5th International Marine Conservation Congress (IMCC5), which will be held June 24 – 29 2018 in Kuching, Sarawak, Malaysia (Airport code: KCH).
IMCC is a biennial meeting organized by SCB Marine. IMCC brings together more than 1,000 marine scientists, professionals, stakeholders, and students from around the world. The 2018 IMCC will feature sessions on widely ranging topics, including tourism, marine protected areas, fisheries, communication, sustainable seafood, climate change, endangered species, citizen science, public engagement and much more. The theme of IMCC5, Making Marine Science Matter, reflects our focus on applying scientific research to conservation and sustainability. IMCC5 will also feature the OceansOnline initiative, a full day dedicated to the uses of communication and online resources for marine conservation, on 29 June 2018. You can find more information at: http://conbio.org/mini-sites/imcc5/ where other details will be shared as they become available.
If you have any questions, please contact the meeting chairs. We hope to see you all there!
Sincerely,
Edward Hind-Ozan & The Steering Committee
IMCC5 Conference Chair
IMCC5 on Twitter: https://twitter.com/imcc2018
IMCC5 on Facebook: https://www.facebook.com/IMCC2018/
OceansOnline on Twitter: https://twitter.com/oceansonline
OceansOnline on Facebook: https://www.facebook.com/OceansOnline2016/
21 March 2017
The SCB Marine section joined 370 other organisations, businesses and community leaders to ask the US Congress to block proposed budget cuts to the National Oceanic and Atmospheric Administration. Read the open letter here. Our friends at the Ocean Conservancy have also created a campaign, making it easy to send a message of your own (US only).
17 February 2017
SCB Marine Section Welcomes New Board Members

The SCB Marine Section is pleased to welcome four new members to its board of directors!
Three year terms for the following four new members starts with immediate effect:
Communications Officer: Katie Walters
Policy Officer: Angela Bednarek
Member at Large: David Shiffman
Student Representative: Sophia Wassermann
"I am thrilled to welcome our newest board members," Marine Section President Katie Mathews said. "Their knowledge and enthusiasm will be put to use as the Board explores new ways our Section can leverage its expertise and strengthen our community. As we look toward our next IMCC in Malaysia, I am excited to see what this team will do. Please join me in welcoming Angela, David, Katie and Sophia."
Katie also thanked outgoing board members for their service.
"The Section is grateful to the outgoing Board members Toni Mizerek, Andrew Wright, Mel Cosentino and Chris Parsons for their dedication and hard work on behalf of the Section and our marine conservation community," she said.
The Marine Section Board thanks all candidates who participated in the election and for their enthusiasm and willingness to contribute to the work of the Marine Section. Participating candidates included: Keni Rienks, Imogen Scott, Matt Tietbohl, Leslie Cornick, David Johns, Ken Anthony, Kat Gledhill, Alyssa Marabella, Rachel Skubel, Angela Szesciorka, and Noëlle Tubbs.
The Section also thanks all Marine Section members who voted in the election and for their continued involvement and support.
We look forward to working with you all to further marine conservation!
March 2016
The first SCB Marine Section Diversity Membership Drive took place at the beginning of March 2016. New members from developing countries, small island developing states, and indigenous communities could apply to receive a one-year free membership to SCB and the SCB Marine Section. We awarded 27 memberships to new members from Peru, South Africa, Philippines, Fiji, Colombia, Bangladesh, Haiti, Indonesia, Antigua and Barbuda, Madagascar, and Dominican Republic. We also awarded seven memberships to new members from the indigenous communities of Iñpuiat, Yup'ik, St. Lawrence Island Yup'ik, and iTaukei. We hope to make the SCB Marine Section Diversity Membership Drive a regular event.
February 2016
The SCB Marine Section's first annual #HearttheOceans Day on Feb. 12, 2016 was a success! Heart the Oceans is a global event, encouraging section members and all ocean enthusiasts to organize events in their communities to get people excited about the marine environment and/or raise funds for SCB Marine's Diversity Initiatives. For more info, please visit the Heart the Oceans page. You can get #HearttheOceans shirts here: Octopus & Whale and Wave & Octopus. Fundraisers and inviduals who wish to donate can give funds We are still collecting donations at our #HearttheOceans crowdfunding page.
Congratulations to new SCB Marine Board members: Secretary Holly Niner, Diversity Officer Lourdes Martinez-Estevez, Interdisciplinary Officer Clare Fieseler, and returning Education Officer J. Jacob Levenson! Members voted in the board election December 2015.
2015 and earlier
Congratulations to the SCB Marine Conservation Research Small Grants 2015 recipients! We received nearly 60 proposals, and the decisions were difficult. We are proud to support eight projects around the globe.
The SCB Marine Communication Committee is seeking a Journalism/Media Intern. Please see the specific requirements, benefits and application instructions on the Communication Committee Internship Opportunities page. Upon successful completion of internship duties prior to IMCC4, the intern will receive full subsidised travel and accommodation expenses for attendance at IMCC4 and OceansOnline to help during the conference.
Conservation Stories is a communication collaboration between SCB Marine and COMPASS. View videos of scientist storytellers from the 3rd International Marine Conservation Congress. (Press Release: Uniting Science and Stories)
Critically endangered vaquitas in Mexico have a new ambassador! Meet Monica Michelle Medina and read more about her work with vaquitas here.
The 4th International Marine Conservation Congress (IMCC4) will take place Saturday, 30 July - Wednesday, 3 August 2016 in St. John's, Newfoundland and Labrador, Canada (YYT). (There will be pre- and post-conference workshops and activities, as well.) The theme of IMCCs is Making Marine Science Matter.
The 4th International Marine Conservation Congress will feature the new IMCC initiative OceansOnline, an optional add-on day on Thursday, 4 August 2016, aimed to show how internet tools can help ocean scientists and conservationists with research, education and outreach. OceansOnline is inspired by the former ScienceOnline Oceans.
Are you an SCB Marine Section member interested in forming a chapter? Please review the statement on Marine chapters at the bottom of the About page and SCB Chapter Guidelines and Resources.
SCB's Marine Section rises to challenge of saving Mexico's critically endangered vaquita in A New Hope for the Vaquita. A new vaquita report was also highlighted by the New York Times.
The 3rd International Marine Conservation Congress (IMCC3) took place 14-18 August 2014 in Glasgow, Scotland. Visit the meeting website for more information.
Follow the International Marine Conservation Congress on Facebook, Twitter, Google+, Youtube and the IMCC Blog.