Conservation Letters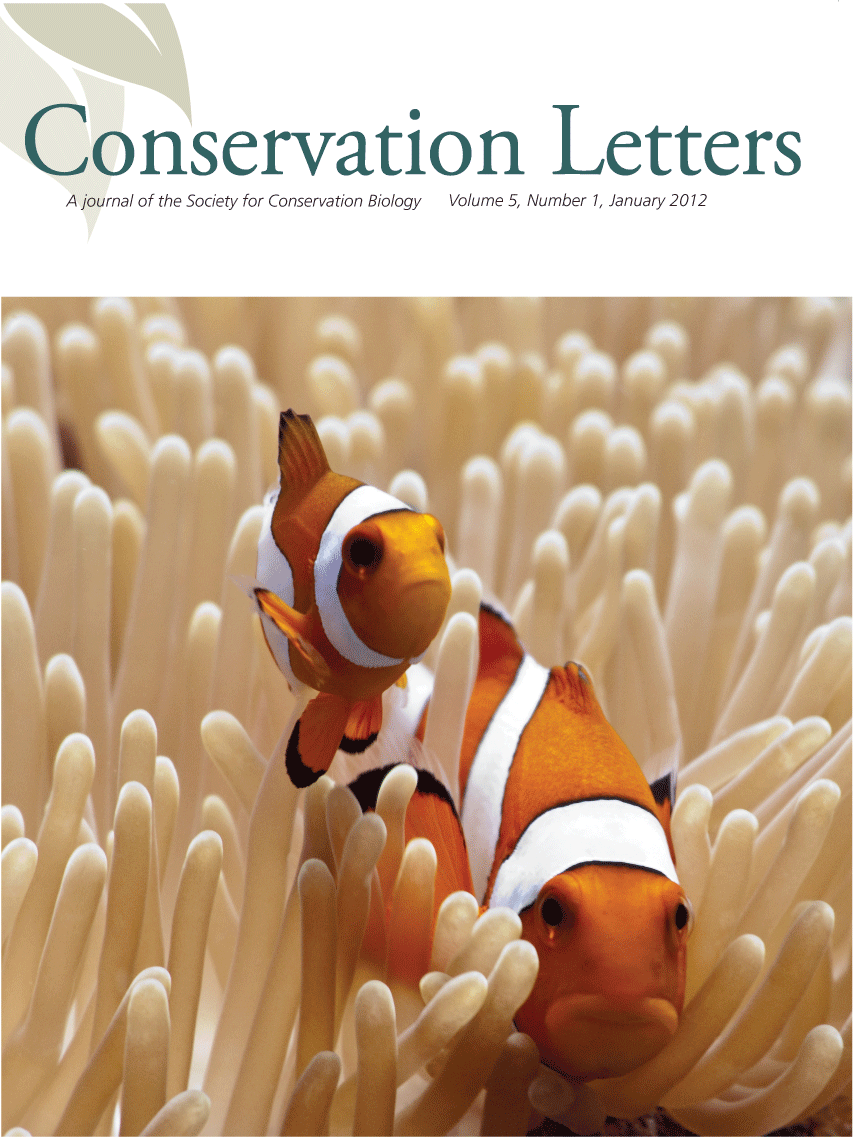 "Our authors come from every continent, draw upon and frequently integrate the natural and social sciences, and publish novel scientific insights with often profound implications for conservation policy and practice."
- Conservation Letters Editorial, 2011
---
Conservation Letters is an online scientific journal that publishes empirical and theoretical research with immediate implications for the conservation of biological diversity worldwide. The journal's concise papers are renowned for their originality, timeliness, and influence on policy debates and management solutions.
Since its founding in 2008, the reach and influence of Conservation Letters has grown tremendously. The journal enjoys a 7.126 impact factor and has quickly become a must-read source of cutting-edge, policy-relevant conservation research from the natural and social sciences. Many articles receive widespread media attention and manuscripts are published with a turnaround time that gives the journal a critical voice on hot-button topics of the day.
Manuscript Submissions: The journal encourages interdisciplinary submissions, drawing upon the biological and social sciences, which are aimed at advancing pragmatic conservation goals. Manuscripts, published on a rapid communications schedule, are current and topical. Authors are asked to explain how their research will be applied either on-the-ground or in terms of policy development. Research articles should clearly articulate the significance of their findings for conservation policy and practice.
Five types of articles are published in Conservation Letters:
Letters: novel findings with high relevance for practice or policy.
Reviews: overviews of emerging subjects that merit urgent coverage or succinct syntheses of important topics that are rarely encountered in the mainstream literature.
Policy Perspectives: brief essays for a general audience on issues related to conservation and society.
Correspondence: articles provide readers an opportunity to raise substantive concerns regarding articles previously published in the journal.
Viewpoint: articles are typically provided by the Editor-in-Chief, and aim to raise awareness and stimulate debate.
See the Author Guidelines for more information on the five types of articles published in Conservation Letters..
Submissions should be no more than 2500-3000 words and contain no more than 8 tables and/or figures.
Subscription Information: Conservation Letters is open access. All members of the Society for Conservation Biology receive a discounts to publish in the journal. Email SCB Membership at membership (at) conbio (dot) org to access the discount code. Please inlcude publishing discount code in your subject line.
Accessing Journal Content: SCB members can access Conservation Letters via their SCB member homepage or through the Conservation Letters page in the Wiley-Blackwell Online Library (enter your SCB username and password).
Please contact Wiley-Blackwell for questions about Conservation Letters and see the editors who make Conservation Letters all that it can be.