Conservation Biology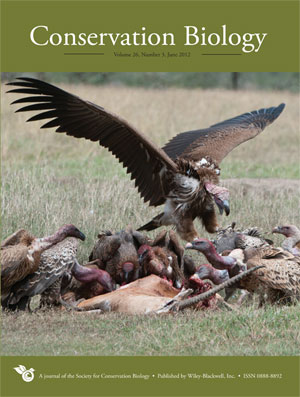 "The discipline of conservation biology defines the scope of the journal, but it is also true that the journal has played an influential role in defining conservation biology."

- Stanley A. Temple, SCB President ('91-'93)

---
Conservation Biology, the flagship journal of the Society for Conservation Biology, is the leading journal in the field of conservation. Its ground-breaking research articles, essays, and reviews develop new theory and methods, define key problems, and propose solutions, exploring the social, ecological, and philosophical dimensions of the conservation of biological diversity. The journal offers globally relevant novel insights, approaches, and syntheses.
Conservation Biology (ISSN 0888-8892) is published six times a year (February, April, June, August, October, December) by Wiley. The journal has robust submission rates, and rigorous review and revision processes ensure that accepted papers are of high quality and clarity.
Journal Metrics: In 2022, its impact factor, a measure of the frequency with which the "average article" in a journal has been cited in a given period, was 6.3 . Impact factor reflects data over a three-year period and can be interpreted as the number of times an article is cited in the two years following its publication.
According to the 2022 Journal Citation Report from Clarivate Analytics, Conservation Biology​'s impact factor ranked:
3rd out of 64 in journals that focus on biodiversity conservation and
15th of 169 in journals with an ecological focus.
Conservation Biology's h5 index is 63. This h5 index ranks 6th among biodiversity and conservation biology journals. Its cited half-life of 13.3 indicates that many papers published in ​Conservation Biology ​continue to be cited even 10 years after their original publication (i.e., half of citations earned in 2021 were ~13 years old).
Conservation Biology has a CiteScore of 10.5 CiteScore is the average number of citations received in a calendar year by all items published in that journal in the preceding three years.
Such impressive statistics and high rankings across multiple disciplines affirm Conservation Biology as one of the most respected scientific journals in the field and reflect the work of a dedicated and talented editorial board.
Manuscript Submissions: Conservation Biology welcomes submissions that address the science and practice of conserving Earth's biological diversity. We encourage submissions that emphasize issues germane to any of Earth's ecosystems or geographic regions and that apply diverse approaches to analyses and problem solving. The conservation relevance of articles published in Conservation Biology transcends the particular ecosystem, species, and situation described.
The journal is indexed or abstracted by more than 45 services, including BIOSIS, Biology Digest, General Science Abstracts, General Science Index, Geo Abstracts, Current Contents/Agriculture, Biology and Environmental Sciences, Research Alert, and SciSearch.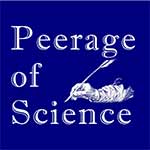 Peerage of Science: A different kind of peer review system. Authors decide the REVIEW deadlines and anonymity settings, validated peers decide themselves whether to peer review (Open Engagement), and peer reviews themselves are judged and scored by peers to increase and quantify the quality of peer reviewing work. You can use this link to submit a manuscript FOR REVIEW THROUGH Peerage of Science so that it's reserved for consideration by Conservation Biology.
Subscription Information: Members of the Society may subscribe to Conservation Biology at steeply discounted rates. Online subscriptions for members from developing countries are free with membership. Institutional subscriptions to Conservation Biology are managed by Wiley.
Accessing Journal Content: SCB members who subscribe to Conservation Biology can access journal content online via their SCB member homepage or through the Conservation Biology page in the Wiley Online Library (enter your SCB username and password).
Subscription Questions: Please send us an email if you are having trouble accessing your online subscription.
Print On Demand: On 1 January, 2021, Conservation Biology moved to an online only format. If you still wish to receive print issues of the journal, you can purchase a subscription through Sheridan Press. SCB members receive a discount on annual subscriptions. Email us to get the discount code.
Publication Partner Program: In the Publication Partner Program, experienced scientists form partnerships with authors who want additional input. The aim is to increase the likelihood of worthy papers being published in the journal, and the focus is on authors from developing and non-English speaking jurisdictions. For more information click here.
Back Issues: Single issues from current and recent volumes are available at the current single-issue price from cs-journals@wiley.com. Earlier issues may be obtained from Periodicals Service Company, 11 Main Street, Germantown, NY 12526, USA, telephone (518) 537-4600, fax (518) 537-5899, email psc@periodicals.com.
Advertising: Conservation Biology accepts advertising that is compatible with the mission and goals of the Society for Conservation Biology. Contact corporatesalesusa@wiley.com or visit the journal's advertising page for more information.
Stay up to date by following Conservation Biology on Twitter: @ConBiology and Facebook.