Welcome to the Latin America and Caribbean Section
---
The Latin America and Caribbean Section (formerly the Austral and Neotropical American (ANA) Section) was formed in 2003 to unite conservation efforts in Central and South America. As part of the Society for Conservation Biology, the Section is able to pull on the influence and abilities of its members to facilitate efforts in this region.
LACA News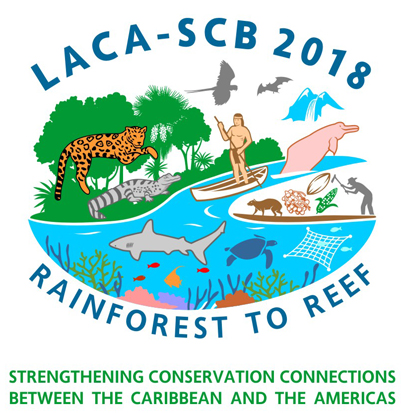 Latin America and Caribbean Congress for Conservation Biology (LACCCB) 2018!
Rainforest to Reef: Strengthening Conservation Connections Between the Caribbean and the Americas
St. Augustine campus of the University of the West Indies, Trinidad & Tobago
July 25-27, 2018 Mark these dates on your calendars!
Stay tuned for more info through LACCCB's Conference webpage and Facebook Page.
Proposals for Symposia, Interactive Sessions, Short Courses, and Workshops will be open until March 1st. Call for abstracts is now OPEN!
Any questions? Email LACCCB2018@conbio.org
-----
LACA invites you to organize a local Chapter of SCB! The newest Chapter of the LACA Section of SCB is the Southern Cone of South America Chapter. Chapters in Colombia are currently forming. Click HERE to know more about this. Or email our Chapters Director HERE.
-----
We're on Facebook and Twitter! Come join us!
Contact LACA's Board of Director's by email: lacabd@conbio.org
FREE Online Publications for SCB Members in Developing Countries - click here for more information