Welcome to the Latin America and Caribbean Section
---
The Latin America and Caribbean Section (formerly the Austral and Neotropical American (ANA) Section) was formed in 2003 to unite conservation efforts in Central and South America. As part of the Society for Conservation Biology, the Section is able to pull on the influence and abilities of it's members to facilitate efforts in this region.
LACA News
The LACA Section Board has been working to host the Society's next International Congress for Conservation Biology (ICCB 2017) this July 23-27 in Cartagena, Colombia. It's the first time that ICCB has been held in the LACA region in more than ten years.
The Section is also planning its first ever regional meeting in the Caribbean in 2018.

Visit the ICCB 2017 Conference webiste for more info: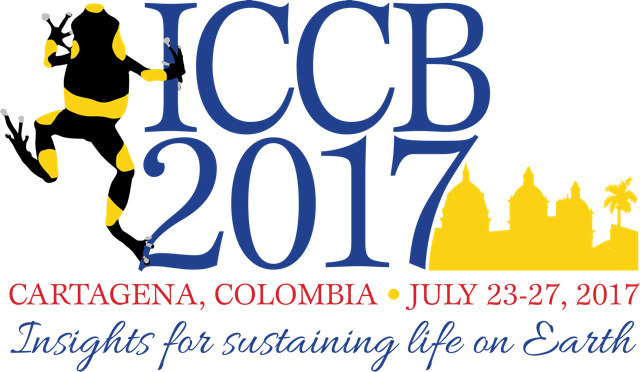 -----
SCB LACA Section Welcomes New Board Members
Dear SCB LACA Members,
The Latin America and Caribbean Section (LACA) of the Society for Conservation Biology is excited to welcome four new members to its board of directors!
"Our new Board of Directors include bright young members with solid backgrounds from Mexico, Peru and Colombia that will contribute to our ambitious conferences with a strong Latin and Caribbean flavor," said LACA Section President Olivier Chassot. Get to know the new BoD HERE (or click on the image for more detailed info).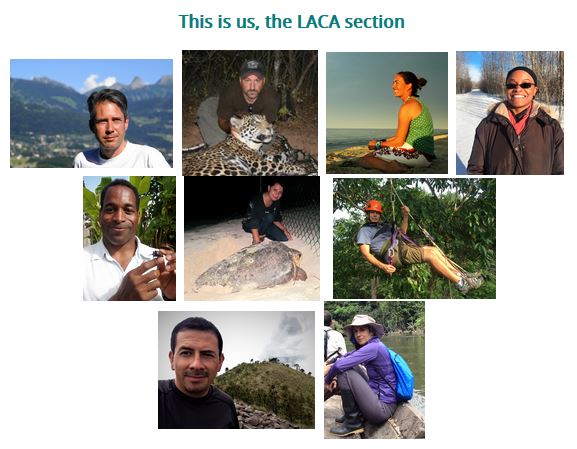 The LACA Section wants to thank all of its members for their continued membership in SCB and extends a special thank you to all of those who voted in the LACA Board elections.
-----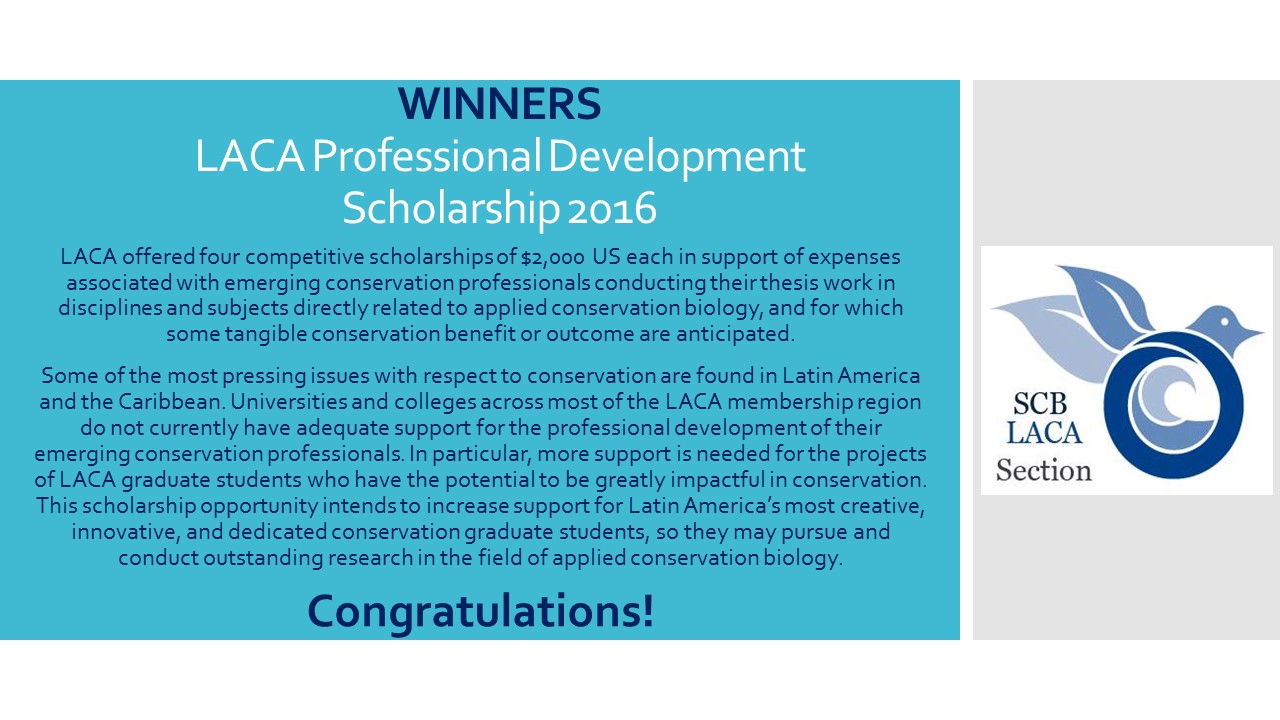 Congratulations to Juan David, Antonio, Nicola, and Diana Carolina! After a tough and highly competed election process, they are the winners of the LACA 2016 Professional Development Scholarship. Click on the image to read their short bios.
-----
LACA invites you to organize a local Chapter of SCB! The newest Chapter of the LACA Section of SCB is the Southern Cone of South America Chapter. Chapters in Colombia are currently forming. Click HERE to know more about this. Or email our Chapters Director HERE.
-----
We're on Facebook and Twitter! Come join us!
Contact LACA's Board of Director's by email: lacabd@conbio.org
FREE Online Publications for SCB Members in Developing Countries - click here for more information