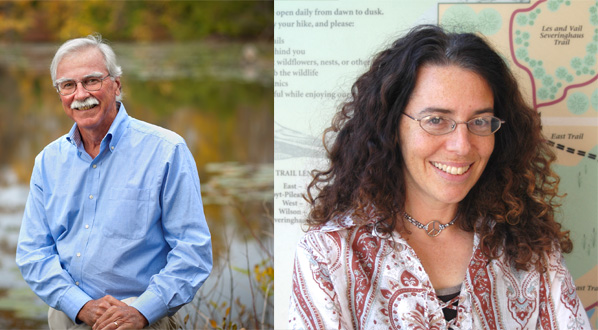 John Fitzpatrick & Caren Cooper to present talk on humanity's relationship with Earth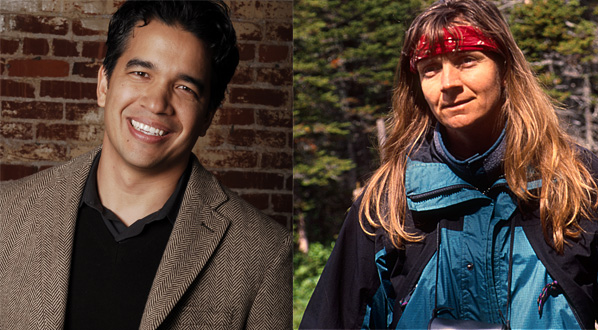 Eleanor Sterling & Marcelo Bonta present Diversifying Conservation Science & Manageme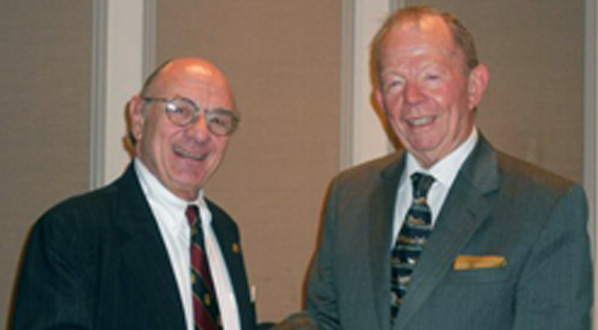 Lee Talbot (right) presents "Conservation Biology's Deep Roots"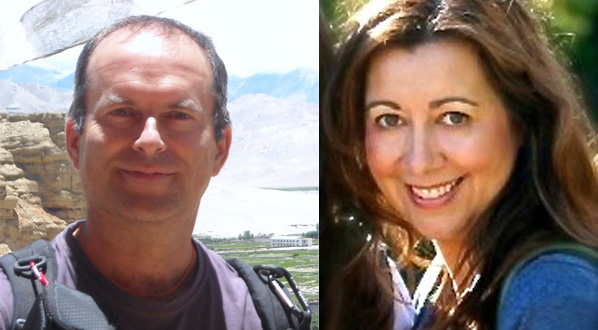 Tim Ward & Theresa Erickson present "The Rocket Model for Effective Communications"
ICCB 2013 Plenary Talks
Conservation Biology's Deep Roots
The Rocket Model for Effective Communications
Humans as Biological Sensors, Democratization of Science, and Our New Relationship with the Earth
Diversifying Conservation Science and Management
In addition to plenary talks, ICCB features a special panel discussion on science and advocacy. "Why is 'Advocacy' Such a Four-Letter Word for Scientists?" takes place on Monday, 22 July from 6-7pm in Grand Ballroom I&II. More on this special panel below.
---
Monday, 22 July, 2:00 – 3:30 PM
Grand Ballroom I & II
Lee M. Talbot, Ph.D.
This plenary talk provides an overview of the evolution of what became conservation biology from its earliest historical roots in 300 BC India through local, national and international actions and organizations, national laws and international agreements. It will look at the challenges of the present, emphasizing the critical need to combine action with research.
Lee M. Talbot is a professor of environmental science international affairs at George Mason University (GMU) and a senior environmental advisor to World Bank; U.N. organizations and foreign governments. Lee is an ecologist and geographer with more than 60 years of experience in 134 countries and a former Director-General of IUCN. He served as the White House Environmental Advisor to three presidents and is the former head of Environmental Sciences at the Smithsonian Institution. Lee is the author of more than 300 scientific, technical and popular publications including 17 books and monographs. He is the recipient of several awards, including the AIBS Distinguished Service Award as "an acknowledged leader in the shaping of national and international environmental policies and Principles."
---
Tuesday, 23 July, 2:00 – 4:30 PM
Grand Ballroom I & II
Teresa Erickson and Timothy Ward
The Rocket Model for Effective Communications
This plenary provides core principles for organizing your thoughts and thinking on your feet. It helps you give clear compelling answers to any question. You can use this model in media interviews, presentations, seminars, public hearings, emails, and even job interviews. This session also covers the do's and don'ts of body language, including what not wear for TV interviews. The session ends with a demonstration of the Rocket Model in action: a mock TV interview with former SCB Executive Director Dr. Alan Thornhill on the topic of scientific integrity.
Teresa Erickson is President of Intermedia Communications Training, Inc. Teresa has designed and led media workshops around the world, working with development and environmental organizations such as The World Bank, International Monetary Fund, and WWF. Born in Portugal, Teresa worked with the Voice of America for 17 years. From 1993 to 1997, Teresa was Executive Producer and host of a two-hour public affairs show broadcast worldwide to 90 million listeners a week. Her reporting has won numerous awards and she has voiced award-winning documentaries for broadcast in Brazil and Portugal.
Tim Ward is the head of Intermedia's Asia/Africa operations. Since 1993 he has conducted media workshops around the world, working with organizations such as The World Bank, the International Monetary Fund, and WWF. As a journalist, Tim worked in Asia and North America for seven years as a freelance magazine, newspaper and radio journalist. Tim has also authored six books, and as an author has given hundreds of media interviews and public talks.
---
Wednesday, 24 July, 2:00 – 3:30
Grand Ballroom I & II
John W. Fitzpatrick, Ph.D., and Caren B. Cooper, Ph.D.
Citizen science has matured from a quirky and experimental novelty into a multi-purpose tool for scientific research, conservation applications, and even social activism. Engaging human observers as distributed sensors and data-loggers began as early as the mid-1800s, but Internet and mobile technology have revolutionized the process, greatly expanding our opportunity to map, model, and interpret earth's systems at multiple scales and in surprising detail. We provide several examples, emphasizing new results from the rapidly growing, global bird-checklist project, eBird, perhaps the world's largest observational database on non-human organisms. Data-mining technology incorporating distributed environmental, climate, and human population data are producing remarkably accurate models of species occurrence and "hotspots" useful for prioritizing conservation actions on the ground. More broadly, we argue that the scientific and social consequences of this scientific revolution are profound. In the context of biological conservation, citizen science is (a) providing raw data about environmental process and change at unprecedented scales, and (b) engaging an unprecedented diversity of stakeholders in measuring biological diversity and the human footprint. The result could be a genuinely new and improved relationship between humans and the biophysical planet over the coming century and beyond.
John Fitzpatrick is director of the Cornell Laboratory of Ornithology and professor in Ecology and Evolutionary Biology at Cornell University. From 1988-1995 he was Executive Director of the Archbold Biological Station in central Florida, and before that served for twelve years as Curator of Birds and Chairman of the Department of Zoology at the Field Museum in Chicago. He is Fellow and past President of the American Ornithologists' Union, and in 1985 received its highest research award for his co-authored book Florida Scrub-Jay: Ecology and Demography of a Cooperative Breeding Bird. He has served on national governing boards of The Nature Conservancy and the National Audubon Society, on three Endangered Species Recovery Teams, and on numerous scientific and conservation panels. He has authored over 150 scientific papers, discovered and described 7 bird species, and is co-inventor of eBird, one of the world's largest and most rapidly growing citizen-science projects.
Caren Cooper is a research associate at the Cornell Laboratory of Ornithology, blogger at Citizen Sci in the PLOS Blogging Network, guest blogger for Scientific American, and Senior Fellow in the Environmental Leadership Program. She is co-chair of the publications committee of the newly forming Association for Citizen Science. She is co-editor of an upcoming special feature on citizen science in the open-access journal Ecology & Society. She has authored over 35 scientific papers, co-developed software to automate metrics of incubation rhythms, and is co-inventor of NestWatch, CamClickr, Celebrate Urban Birds, YardMap©, and the House Sparrow Project. Dr. Cooper can be followed on twitter @CoopSciScoop.
---
Thursday, 25 July, 2:00 – 3:30 PM
Grand Ballroom I & II
Eleanor Sterling, Ph.D., and Marcelo Bonta, Ph.D.
Conservationists value and have a deep understanding of diversity in ecosystems. But why is diversity important in conservation organizations and communities? Are we as successful and resilient as we could be as conservationists? We will discuss a vision for a globally diverse, equitable, successful and relevant conservation community, the challenges and opportunities for realizing this vision, and a set of recommendations for action from individual to organizational. International professional society networks such as that of the Society for Conservation Biology are uniquely positioned to foster diverse institutions and initiatives across local, national, and international scales.
Eleanor Sterling is Director of the Center for Biodiversity and Conservation at the American Museum of Natural History. Dr. Sterling has long been actively involved in the Society for Conservation Biology, having served for 10 years on the SCB Board of Governors, and as a member of the Student Awards Committee and member and chair of the Awards Committee as well as the Education Committee. Dr. Sterling's research focuses on behavioral ecology and conservation. She also explores the intersection between biodiversity, languages, and culture. Dr. Sterling has a lifelong commitment to capacity development and diversifying the conservation workforce. In 2012, she was honored with the Columbia University Graduate Student Advisory Council (GSAC) Faculty Mentoring Award.
Marcelo Bonta is the Center for Diversity & the Environment's founder and executive director. With over a decade of experience, Marcelo is a nationally recognized leader and pioneer on diversity, equity, and inclusion issues in the environmental movement. He is a published author in Conservation Biology, Diversity and the Future of the U.S. Environmental Movement, the Land Trust Alliance's Special 25th Anniversary Issue, and Grist Magazine. His work with the Center for Diversity & the Environment has been featured in the New York Times, High Country News, Grist Magazine, Colors NW, The Oregonian, Saving Land Magazine and others.
---
Monday, 22 July, 6:00 – 7:00 PM
Grand Ballroom I & II
Keynote by Tyrone Hayes; Panelists: Dominick DellaSala, Geos Institute; Stuart Pimm, Duke University; and Francesca Grifo, Union of Concernced Scientists.

Past SCB President Paul Beier (Northern Arizona University) moderates this discussion panel featuring conservation scientists that have been outspoken leaders in translating science to policy, including a facilitated discussion regarding the appropriate role of scientists who advocate a policy position.