Practical information for ECCB2018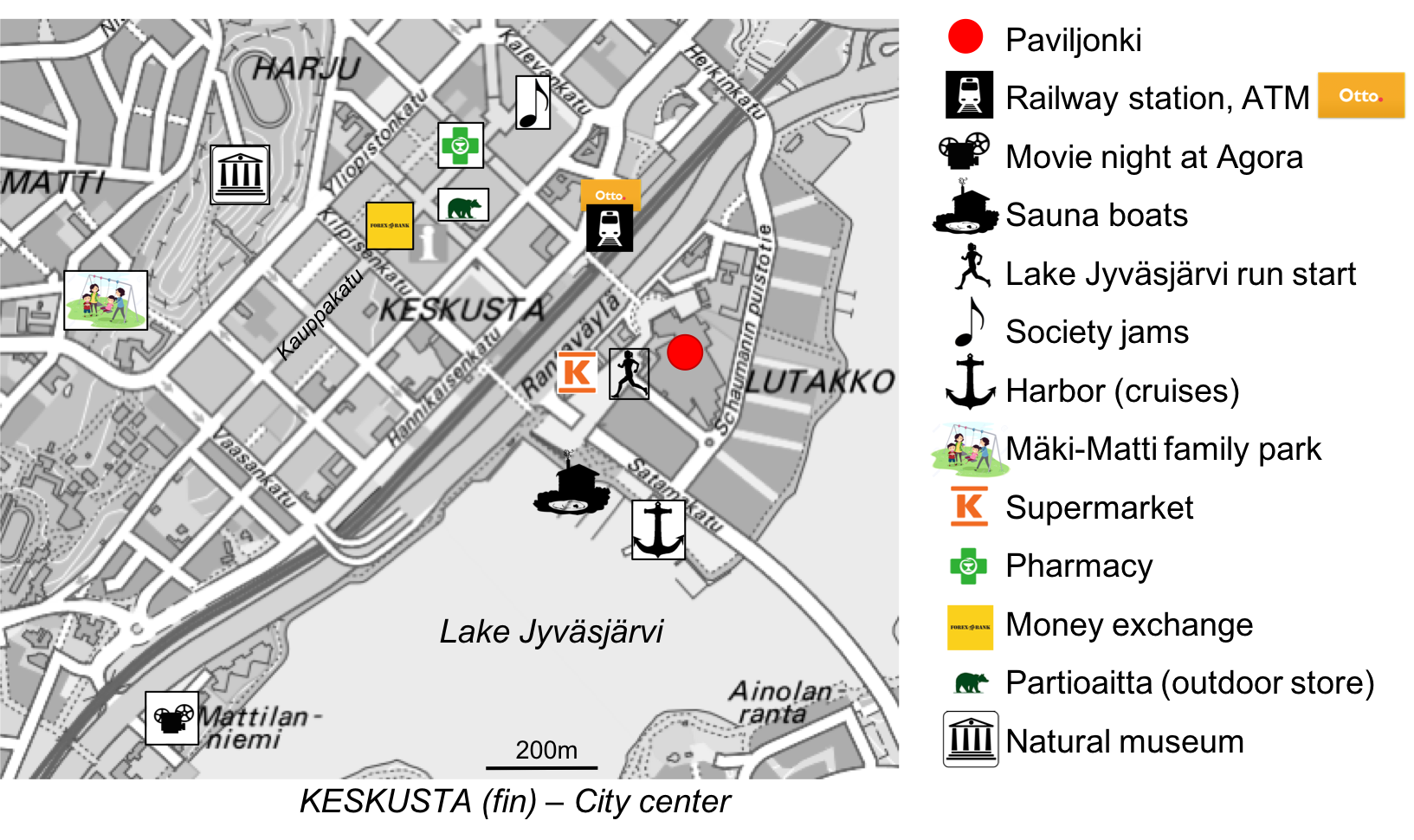 Congress venue address:
Jyväskylä Paviljonki, Lutakonaukio 12
WiFi
Paviljonki has its own WiFi ECCB, which you can use with the password eccb2018.
Taxi:
Phone number for Jyväskylä region: +358 100 6900
The closest taxi pole can be found at the Travel centre, 300m from the venue.
Congress assistants & Local organizing committee
Congress assistants and local organizing committee can be recognized from their yellow ECCB shirts, orange lanyards and red name badges.
Lunch
Lunch is served in A1 hall. Please note that there will be separate queues for people who pre-ordered a lunch package. If you wish to eat outside of the venue, please see the map of restaurants around the area on the bottom of this page.
Note that congress assistants and local organizers have the privilege to skip the lunch queue. We sincerely thank you for your understanding!
Name badges & lanyards
Our lanyards are made of recycled bottles and badge pockets are ClearGreen material – no pvc, PBa or phthalates. When you are leaving the congress, kindly help us reduce waste and return your name badge to the info desk – we will use them again in future conferences and seminars.
Printing
If you need to print handouts, flight tickets etc., please contact Paviljonki info desk. Printing at the venue has a small fee. Posters cannot be printed at the venue, so kindly bring in yours or go to Yliopistopaino (Cygnaeuksenkatu 3, open Mon-Fri 8-16, p.+358408053654)
Safety officer
We at ECCB2018 want to ensure that everyone feels safe in our conference, so we have organized an independent Safety officer from the Finnish Red Cross. Participants can report to the Safety officers if code of conduct has been broken, if there has been disturbing behavior, if there are any other issues regarding to safety, or if the participant just feels the need to discuss with someone. Safety officers are also able to offer first aid.
Safety officer(s) can be met daily 9-17 at a separate Safety officer room (Room1 on the first floor).
Cash Machines
You can exchange currency effortlessly at Forex Bank in the city centre, Kauppakatu 7. ATM's are located in the centrum, identifiable by orange "Otto" sign. The closest ATM is located in the Travel Centre (300m from venue).
Buses & bike rental
You can plan bus routes from: https://jyvaskyla.digitransit.fi/-/-/lahellasi
Bikes can be rented for a day or the whole week from several locations in the centrum. For more information, see VisitJyväskylä's website: https://visitjyvaskyla.fi/en/keep-active-stay-healthy/cycling
ECCB limited edition beer
Did you know ECCB2018 and Hiisi craft beer brewery have prepared a limited edition craft beer for ECCB? You can find the ECCB beer in Paviljonki, Poppari, Sataman yö and other bars in the centrum.
Post office
A post office can be found in the centrum of Jyväskylä in Vapaudenkatu 48-50. The
post office is open Mon-Fri 8.00-20.00 and Saturdays 10.00-15.00.
Pharmacist
Yliopiston Apteekki can be found in the centrum, Kauppakatu 39. Open every day 7.00-23.00
Restaurants around the venue: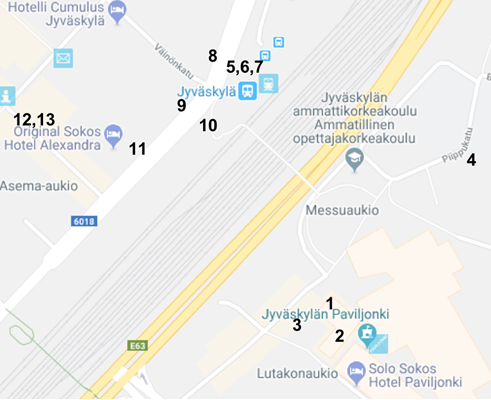 Paviljonki restaurant (congress hall)
Trattoria Lunch 11:00-14:00 (11-13 €); A la Carte 11:00-24:00 (https://www.raflaamo.fi/en/jyvaskyla/trattoria-aukio-jyvaskyla)
Lutakon nurkka Lunch 10:30-13:30 (9.50€)
Le Qulkuri (e.g., burgers, risotto) Lunch 10:30-14 (10.50 €); A la Carte 10:30-22:00
Shalimar (Indian restaurant) Lunch 10:30-15:00 (9.50€); A la Carte 10:30-21:00
Hesburger (fast food) 10:00-20:00 (https://www.hesburger.com/)
Picnic (sandwiches, salads, soups) 7:00-20:00 (http://www.picnic.fi/en/in-english)
Nagarkot (Nepalian restaurant) Lunch 10:30-15:00 (9-12€); A la Carte 10:30-22 (http://www.nagarkot.fi/index.html)
Harmooni Lunch 11:00-14:00 (14€); A la Carte 16:00-23:00 (https://www.harmooni.fi/en/)
Asemaravintola Lunch 10:30-14:00 (10.30€); A la Carte 10:30-22:00
Frans & Sandra (French restaurant) Lunch 11:00-15:00 (20€); A la Carte 11:00-23:00 (https://www.raflaamo.fi/en/jyvaskyla/frans-sandra-jyvaskyla)
Figaro winebistro Lunch 11:00-14:00 (13-18€); bistro 15:00-24:00 (http://www.figaro.fi/en/)
Figaro Lunch 11:00-15:00 (16€-25€); A la Carte 16:00-24:00 (http://www.figaro.fi/en/)