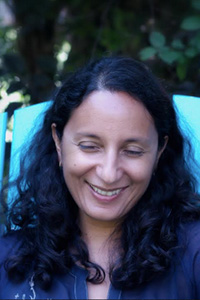 Madhur Anand, University of Guelph, Canada
Madhur Anand is an ecologist and University Research Chair in Sustainability Science at the University of Guelph. She held the Canada Research Chair in Biocomplexity & the Environment from 2001-2006 and the Canada Research Chair in Global Ecological Change from 2006-2011. He debut collection of poems "A New Index for Predicting Catastrophes" was published in 2015 by McClelland & Stewart (Penguin Random House Canada) to international critical acclaim, and was deemed one of ten "trailblazing" collections of poetry in Canada by the Canadian Broadcasting Corpora.

Dr. Anand will discuss how she came to poetry-writing in her career as a scientist as well as her experiences of the two-way relationship between poetry and science she has encountered since then. She will also read and comment on a few poems from her book, including poems "found" from her own scientific articles in conservation ecology.