IMCC6 online event instructions
---
Guidelines for delegates
View the conference agenda and plan your schedule
Access Livestreams and Videos directly within sessions and use the session Q&A
Set up Virtual meet-ups with your fellow attendees to connect remotely
Create and converse through various Discussion Topics in the Community Board
Receive updates
---
Guidelines for session chairs
You will be supported by a host, but you are responsible for the successful running and moderation of your session.
IMPORTANT UPDATE: Please note that all chairs and speakers need to access their session via Zoom directly NOT via the Whova interface. This is so that we can give speakers presenter privileges.
We advise that the steps below are taken by the chair.
Before the event:
Attend a Zoom webinar training with IMCC6.
Liaise with speakers to ensure they are aware of schedule and to collect presentation slides in case of technical issues. IMPORTANT: In case the speaker has a poor connection quality, a pre-recorded presentation could be collected and played by the session chair in place of a live presentation.
Refer to the Whova app or the IMCC6 website for a reminder on who to expect and the running order. Let the IMCC6 organisers know if there are any changes.
Ensure you have speaker contact details if chasing is required, ideally touch base a day prior to the event.
20 minutes prior to the event:
Log into the virtual session room at least 20 min before the session time using a web browser running on a PC. Please access Zoom directly using the link sent to by email not via the Whova app.
The session host will give you "Co-host" permissions which will enable you to manage participants and activate your microphone and camera.
Verify that all speakers are present, opening the Zoom participants panel and testing microphones and screensharing.
Frantically chase missing speakers.
Agree with panel on format for Q&A. We recommend directing the audience to the Q&A Chat in Zoom. We also recommend that all session speakers engage actively in the Q&A.
During the event
Introduce the session and manage the timings of the speakers. Strict time-keeping should be enforced via the introduction of the speakers by the chair.
Our session chair training slides provide you with additional information to assist you in your role as a session chair:
---
Guidelines for oral talk presenters
Presentation format
Oral presentations: 10 min
Q&A after each presentation: 4 min
Handover between each talk: 1 min
Speed presentations: 3 min, 1 presentation slide
---
Guidelines for poster presentations
Presentation format
Posters: 1 page, portrait format (i.e. A0), 10MB max file size, only PDF, please use your poster ID as the filename.
Audio (optional): 3 mins max, 10MB max file size, .MP3, .MP4, .M4A accepted, please use your poster ID as the filename.
Creating your poster
Work with a draft – on your PC or on paper – to visualize the story that you want to tell to your audience, as well as proportions.
Try to explain your main message to someone who is not familiar with the topic and ask if the draft supports that idea. Do not try to summarize all your research but focus on that one story you want to bring across.
Prepare for the right audience. Check out our program to see the range of topics and disciplines of our event. Adjusting your jargon accordingly will help to reach as many people as possible.
Use readable fonts, high-quality images and a clear structure for your poster.
An additional short audio recording can be submitted to support your poster. However, in the virtual setting of this conference make sure that your poster is self-explanatory.
---
Making IMCC6 a welcoming & safe place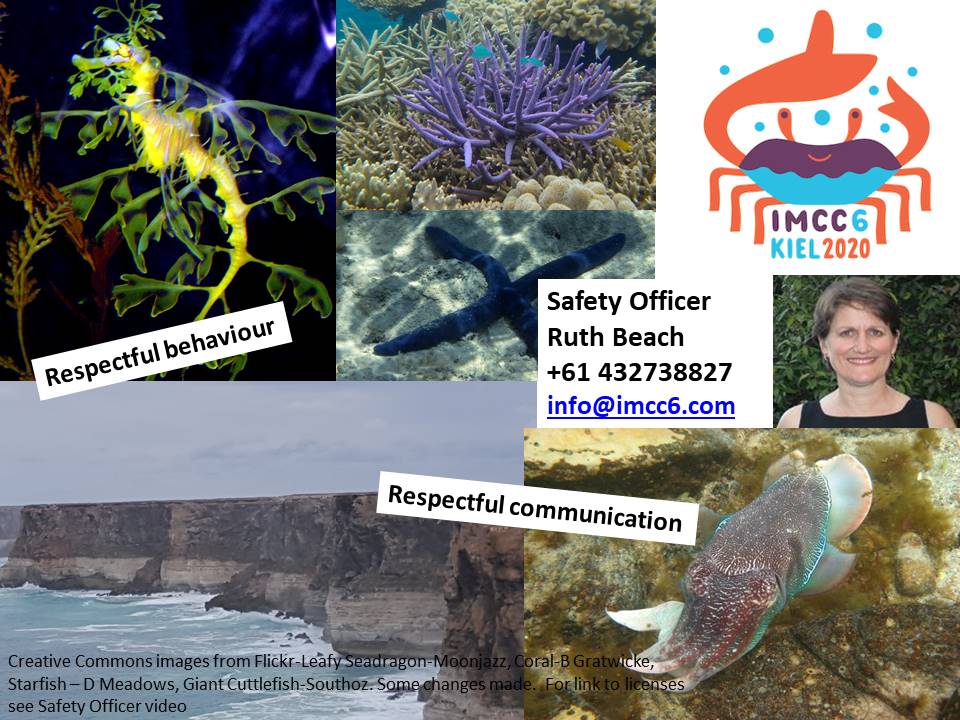 ---