Class of 2016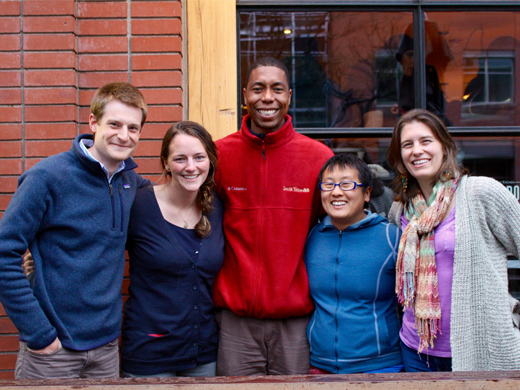 Paul Elsen
"Identifying collaborative conservation priorities for managing climate change impacts in topographically diverse areas"
Mentors: Dr. Adina Merenlender at University of California, Berkeley and Dr. William Monahan at USDA Forest Service
David Gill
"The social impacts of marine protected areas: A comparative study of the USA and beyond"
Mentors: Dr. Alex Pfaff at Duke University, Dr. Michael Mascia at Conservation International and Susie Holst at NOAA
Meredith Holgerson
"Conserving both species and ecosystems: A multiple-scale approach to improving floodplain restoration outcomes"
Mentors: Dr. Angela Strecker at Portland State University, Dr. Marc Hayes at Washington Department of Fish and Wildlife and Dr. Michael Adams at USGS.
Sara Kuebbing
"Invasion Treadmills: mechanisms that promote reinvasion of sites after removal of nonnative species"
Mentors: Dr. Mark Bradford at Yale University and Drs. John Randall and Kris Serbesoff-King of The Nature Conservancy.
Talia Young
"Conservation implications of community-supported fishery (CSF) programs: A multidisciplinary analysis of ecological, economic and social outcomes"
Mentors: Dr. Simon Levin at Princeton University, Dr. Chris Kennedy at George Mason University, Dr. Kevin St. Martin at Rutgers University, Dr. John Manderson of NOAA and Joshua Stoll of Localcatch.org