Side Events at ICCB 2017
WWF EFN Symposium (Pre-ICCB Event)
July 22, 2017 | 8:30 – 17:00
Hyatt Regency Cartagena | Carrera 1 #12-118 | Cartagena, Colombia, 130000
The WWF Russell E. Train Education for Nature Program (EFN) will be holding an EFN Symposium on July 22, 2017. This event will bring together EFN grantees from around the world to exchange ideas, promote collaboration, and create a stronger EFN grantee network. EFN grantees that would like to attend the event may RSVP using the link below. A limited number of additional spots are open to the public. For more information and to RSVP, please see the event website: https://shellyjackson.wixsite.com/wwf-efn.
Please note, you must RSVP to this event.
---
Ocean Happy Hour - SCB Marine Section
July 24, 2017 | 18:30 - 20:30
Chachara Restaurant | Calle 29 #972 | Cartagena, Colombia
The Marine Section of the Society for Conservation Biology and the Ocean Modeling Forum are co-hosting an informal happy hour on Monday July 24th. We are gathering at Chachara Restaurant (Calle 29 #972), about a 6 minute walk from the convention center, from 6:30 to 8:30. We welcome all friends of the ocean to join us - the appetizers are free, but the beer is on you!

Questions? Please contact Tessa Francis or David Shiffman.
---
Connectivity Conservation Specialist Group Gathering at ICCB 2017
July 26, 2017 | 17:00
Chachara Cartagena | Calle 29 #972 | Cartagena, Colombia
The CCSG will be hosting a gathering at the Chachara Cartagena on July 26, 2017. The event will be open to all members as well as anyone interested in learning more about the group. The CCSG connects practitioners around the world to support ecological connectivity conservation and advise in establishing IUCN's Areas of Connectivity Conservation. Appetizers and drinks will be provided. We look forward to seeing you there.
---
Bat Walking Tour
July 24, 2017 | 18:40
Departure point: Cartagena Convention Center (see outside the front door of Center)
Group size maximum 15, first come first served

Turn your phone into a bat detector! Join us for a demonstration of Echo Meter Touch bat detectors with Wildlife Acoustics. If you would like to try it on your iOS device, please download and install the Echo Meter Touch app then install the bat calls for Colombia. If you do not have a device we will provide demos for you. Bat walks will meet in front of the convention center at 6:30 pm and last approximately 30 minutes. Please contact Jackie Grant (jacqualinegrant@suu.edu, tweet to @JackieGrant3) and Nicole Wright (nicole@wildlifeacoustics.com), if you would like more information.
brought to you by Wildlife Acoustics and SCB Education and Student Affairs Committee
---
#ICCB2017 Social for Early Career Researcher (includes students) and Conservation Professionals
July 23, 2017 | 20:00
Bar del Sur | Cl. 29 #1027, Cartagena, Bolívar
(10 min walking from convention center)
ICCB Education & Student Affairs Committee is planning a social event (Happy Hour) with early career scientists and conservation professionals. Often it can be difficult for younger scientists and professionals to engage with established leaders and peers at these large congresses. The Committee would like to give people a jump start to mingle with others in a laid back setting and network with new colleagues and friends.
You can follow me Nikki Roach @niksroach and Holly @hollyniner for details! Or email iccbinfo@conbio.org.
Follow @ICCB2017 and #ICCB2017students for events related to the congress. The latter hashtag will be used to target student get togethers and similar activities.
---
Human-Felid Conflicts - Book Launch
July 27, 2017 | 16:00
Cartagena Convention Center | Salon Pegasos
Fundación Herencia Ambiental Caribe, Panthera and the Alexander von Humboldt Institute will be hosting a book launch for their latest publication, the book titled "Conflicts between humans and felids in Latin America." The event will feature the presence of Dr. Alan Rabinowitz, Panthera's CEO and eminent wildcat scientist, along with the book editors: Carlos Castaño-Uribe, Carlos A. Lasso, Rafael Hoogesteijn, Angélica Diaz-Pulido and Esteban Payán, experts in the area of conflict between humans and felids. It will take place on Thursday, July 27th at the Convention Center (Salon Pegasos) at 16:00 and will be open to the public. Please RSVP to Elisa Bravo.
Please note, you must RSVP to this event.
---
SCB Social Science Working Group and Conservation Marketing Working Group Social
July 25, 2017 | 18:30 – onward
Café del Mar | Baluarte de Santo Domingo (on the city wall) | Cartagena, Colombia
The Social Science Working Group and the Conservation Marketing Working Group are co-hosting a networking social event on Tuesday, July 25th. Come enjoy the views of the sunset at the Café del Mar (Baluarte de Santo Domingo, Centro Historico), from 18:00 onwards. Enjoy the ocean breeze while networking with conservation professionals from around the world!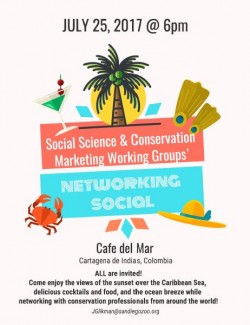 Questions? Please contact Jenny Glikman (jglikman@sandiegozoo.org and Diogo Verissimo verissimodiogo@gmail.com).
---
SCB Freshwater Working Group Post-Workshop Meet-Up
July 24, 2017 | 18:00
ICCB 2017 Registration Desk
Following the SCB Freshwater Working Group (FWWG) Lunchtime Workshop "Evaluation of freshwater representation and conservation planning in national strategies" (13:00 - 14:30 Monday July 24 in Sala 303), the FWWG will walk to a nearby restaurant for drinks/tapas/snacks! The first soft drink or beer is FREE for workshop attendees! Meet at the ICCB 2017 registration desk.
---
Leveraging Science about Illegal Wildlife Trade
July 26, 2017 | 8:00 – 10:00
Hyatt Regency Cartagena | Navio Room 1| Cartagena, Colombia, 130000
Presenters involved in ICCB symposium focused on illegal wildlife trade and/or wildlife trafficking are invited to attend this side event designed to bring the world's leading interdisciplinary scientists together in a room for a lively and constructive dialogue about future directions for the science of illegal wildlife exploitation and trade. Some key questions for discussion include: identifying/prioritizing scientific priorities and gaps; characterizing key challenges for and opportunities for connecting science with policymakers; and enhancing the impact of policy-relevant science. Breakfast, coffee and tea will be served. For more information please email Meredith Gore at gorem@msu.edu.
Please note, you must RSVP to this event as space is limited.
---
Early-Career Conservationist Networking Event
July 25, 2017 | 20:30
Casa de la Cerveza | Cartagena, Colombia| (6 min walk from Convention Center)
ICCB delegates are invited to network with early-career conservationists and grantees from three leading grant and capacity building programmes: Conservation Leadership Programme (CLP), Whitley Fund for Nature, and WWF's Russell E. Train Education for Nature Program. Join us for drinks, food, music and networking! Limited number of free drinks followed by cash bar.
---
SCB Urban Ecology Working Group Happy Hour
July 25, 2017 | 19:00 – 21:00
El Arsenal (The Rum Box) | 24 #8B – 19, Calle Arsenal| Cartagena, Colombia
The Urban Ecology Working Group will be having a Happy Hour to meet current members and welcome new ones. Come on out and discuss how conservation meets the built environment. Cash bar.
---
You are invited: Journalist Networking Hour at ICCB 2017
July 23, 2017 | 18:30 - 19:30
Explanada San Francisco; Cartagena de Indias Convention Center
Look for SCB Press banner!
Join journalists and conservation scientists from all over the world at the Opening Cocktail Hour of ICCB 2017. Immediately following the opening ceremony, this is a perfect opportunity to mingle and network at the start of the Congress. Beverages and appetizers will be provided as part of the opening reception.
---
Living Colombia Report 2017 - WWF-Colombia
July 24, 2017 | 18:00-19:00
Hyatt Hotel, Room Fragata II, Cartagena
WWF-Colombia has the pleasure to invite you to the launch of the first Living Colombia Report "Living Colombia Report 2017 - A megadiverse country facing the future".
WWF-Colombia tiene el gusto de invirtarlo a la presentacion del primer Informe Colombia Viva "Informe Colombia Viva 2017 - Un pais megadiverso de cara al futuro".
Please RSVP to fidiaz@wwf.org.co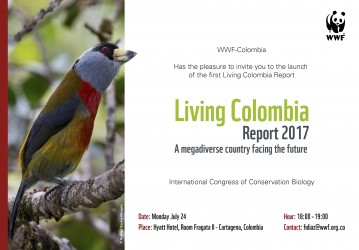 ---
Camera Trapping Community Gathering
July 25, 2017 | 18:00
Chachara Cartagena | Calle 29 #972 | Cartagena, Colombia
The Tropical Ecology Assessment and Monitoring (TEAM) Network will be hosting a networking opportunity for the camera trap community to talk about current work, needs, and future initiatives on Tuesday, July 25th from 6 p.m. on.
In advance of the gathering - take our camera trap survey (https://goo.gl/forms/a3ZQSRo73zzgIjbH3) by Tuesday at 6 pm to automatically enter a raffle to win a Reconyx camera trap. The lucky winner will be announced at 8:45 pm!
Venue is located at the upstairs balcony of Chachara Restaurante (Calle 29 #972), which is about a 6-minute walk from the convention center. Light appetizers will be provided for the early bird arrivals, and food and drink options are available for purchase.