ICCB 2019 T-Shirt Design Contest
Make a lasting imprint on ICCB 2019 by creating the design for the official ICCB 2019 t-shirt.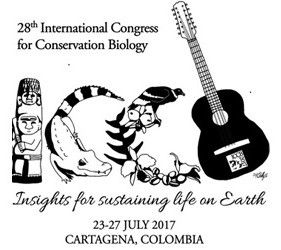 Sara-Xaali O'Reilly Berkeley submitted the winning design in the 2017 ICCB T-shirt Contest. The design featured the ICCB letters composed of natural and cultural features of Colombia, host nation of ICCB 2017.
The ICCB 2019 t-shirt design contest is an open contest for anyone 18-years and older, including novices, amateur artists and professionals (designs by kids younger than 18 must be submitted by a parent or guardian.) The winning design will be printed on the ICCB 2019 t-shirt, which is available for purchase through the ICCB 2019 registration system and onsite at the Congress.
Finalists will be selected by the ICCB 2019 Communications Committee with the ultimate winner determined by a vote through ICCB social media channels. The person who submits the winning design will receive a free ICCB t-shirt and be recognized at the ICCB 2019 Opening Ceremony.
Designs are due by email by June 7, 2019.
Submit your designs (and questions) to Sarah Weber, Communications and Marketing Manager (sweber@conbio.org).
Design Preferences
Designs that play on the unique cultural, natural, or geographic features or characteristics of Kuala Lumpur or Malaysia / SE Asia and / or the theme of ICCB 2019 will have the best chance of being advanced as a finalist. The Congress theme is "Conservation Beyond Boundaries: Connecting biodiversity with communities, governments and stakeholders."
Contest Guidelines
The design will be printed in one-color and in one shade only
The design will be printed on a light colored t-shirt (orange or blue) unless the artist indicates that a dark background works best (see entrance form).
Designs may include line art and text but no photographs.
T-shirt designs work best when you use simple, iconic imagery and strong, clear lines/edges rather than literal interpretations (i.e shading, photo images, etc).
Your design is for the front of the shirt and may encompass an area no larger than 10" x 10."
The design must be your own original, unpublished work and must not include any third-party logos or copyrighted material. By entering the competition, you agree that your submission is your own work.
Please note: SCB shall have the right to edit, duplicate, or alter the entry design for any purpose which it deems necessary or desirable, without the need for any further compensation, and/or permission. Submissions including offensive language, imagery or themes will be excluded from competition.
Submitting an Entry
Digital entries only. High-resolution images in VECTOR format are preferred, with .ai (Adobe Illustrator) or .eps (Adobe Illustrator) formats the optimal entry type. All type must be converted to outlines/curves. We will also accept PDF or JPEG files that are not vector files but may be converted for production. If your design is hand-drawn it must be scanned and converted into a PDF or JPEG file.
All submissions must be accompanied by the official ICCB 2019 T-Shirt Contest Entry Form.
SCB reserves the right to make adjustments to the winning design. Typically this would take place when converting a design to vector format / resizing the design / altering fonts and lines.