Presenter Information
ICCB 2019 Session and Poster Presentation Specifications
Please refer to the information below for questions on how to format your presentations at ICCB, including technical specifications, and for information on abstract types and formats.
Session Presentation Specifications
Poster Presentations
Abstract Type Descriptions
---
PowerPoint Presentation Specifications
If you are presenting in the:
Prezi Presentations
Presentations using Prezi are not supported.
Video Presentations
Videos should be in MP4 format and imbedded in the PowerPoint presentation.
Pictures
Please save photos in jpg or png.
Presentation for Large Audiences
Please keep in mind that the projection for audiences greater than 100 people must work with backgrounds that are in contrast to the color of the letters. For example; white background with black letters and never a blue background with green letters.
Font size should be no less than 28.
Speaker Ready Room
The Speaker Ready Room is equipped with computers for session presenters to utilize to preview their presentation and prepare any documents. Presenters must report to the Speaker Ready Room at least 16 hours before the start of their session to upload their presentations. Please bring the presentation saved on a USB/flash drive to the Speaker Ready Room.
Hours:
Sunday
14:00 - 18:00
Monday - Wednesday
7:30 - 18:00
Thursday
7:30 - 14:30
Location
KLCC, Meeting Room 306, Level 3
Poster Presentation Formats
Useful tips to design your poster presentation here.

Poster should be printed (portrait format, 2 x1 Meter max) by the presenter prior to the congress.

Posters will be displayed using Velcro tape, this tape will be provided onsite by the exhibition company.

Poster can be put up at the beginning of the day of your presentation and should be there at least 30 minutes prior to your presentation. Do not forget to remove your poster at the end of your session to allow the presenters to use the board the following day. All discarded posters will be recycled.

If you have any questions please contact iccbteam@conbio.org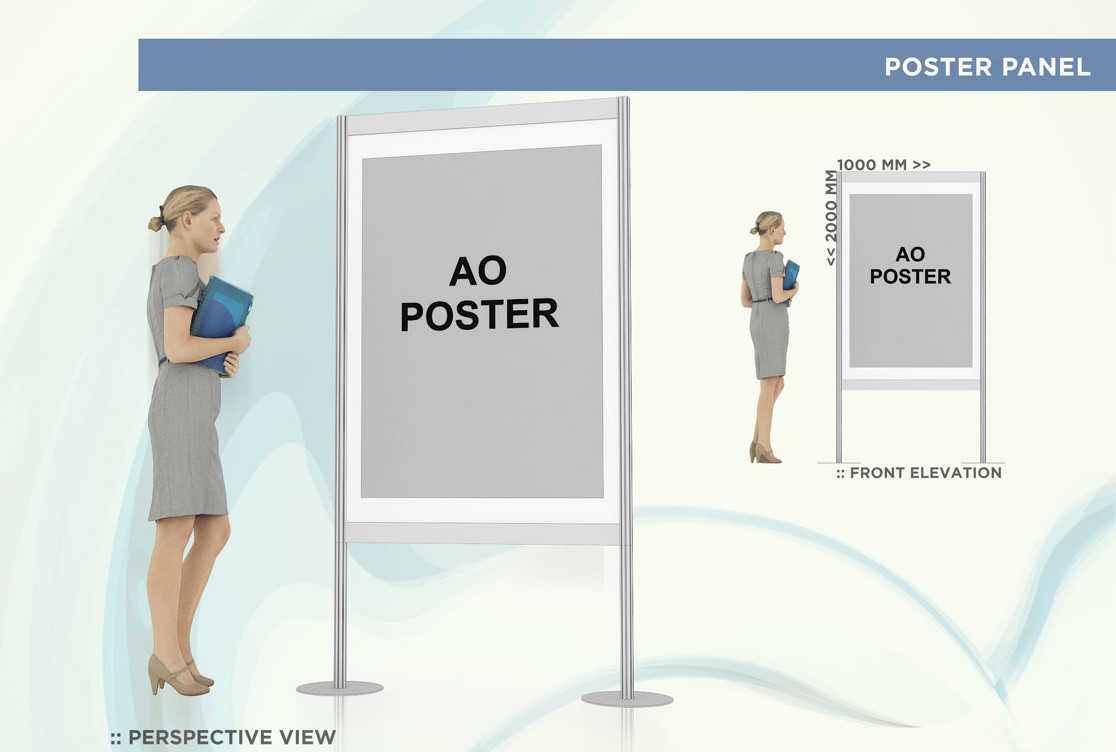 Printing Shops around KLCC
If you do not wish to bring your poster with you to Kuala Lumpur below are recommended printers near the KLCC.
Print & Go Fast Print
Address: Lot 1.44 & 1.45, Ground Floor Wisma Central, Jalan Ampang 50450 Kuala Lumpur (200 m walking distance from Suria KLCC)
Nearest train station: KLCC LRT Station
Website: http://www.print-n-go.com.my/
Business hours:
Monday to Friday - 9.00am - 6.45pm
Saturday - 9.30am - 5.00pm
Sunday & Public Holiday – Closed
Image Magic Digital Printing Services
Address: Lot 3.34, 3.35, 3.86, Level 3 Wisma Cosway 88 Jalan Raja Chulan, 50200 Kuala Lumpur, Malaysia (900 m walking distance from Suria KLCC)
Nearest train station: Raja Chulan Monorail Station
Website: https://www.imagemagic.com.my/
Business hours:
Monday to Friday - 9.00am - 6.00pm
Saturday - 9.00am - 1.00pm
Sunday & Public Holiday – Closed
Kalamazoo Printing Services (TBS Digital Print Sdn Bhd)
Address: 29A-1, Jalan Travers, Tong Nam Building, Brickfields, 50470 Kuala Lumpur (7.3 km driving distance from Suria KLCC)
Nearest train station: KL Sentral
Website: http://www.kalamazoo.com.my/ or http://www.triform.com.my/
Business hours:
Monday to Friday - 9.00am - 5.00pm
Saturday & Sunday – Closed
---
Oral Presentations
Oral Presentations are limited to 15 minutes: 12 minutes for presentation and 3 minutes for questions. Contributed oral presentations will be grouped by theme/subtheme.
Speed Talk Presentations
Speed Talk Presentations are 5-minute presentations summarizing research or studies in process in a particular field that are grouped together by theme. Following the presentations, there will be time for presenters to talk one-on-one to delegates about their project.
Symposia
These sessions are organized to address a critical or cutting edge conservation topic proposed by a facilitator. Symposia talks will be in 15-minute slots (10 minutes for presentation, 2 minutes for questions, and 3 minutes for transition between speakers) and time must be reserved at the end of the symposium for discussion.
Short Courses
Short courses will provide opportunities for registered delegates to receive expert instruction on a topic relevant for conservation. Training sessions will be pre-congress events and may be a half (4 hours), full day (8 hours) or day and half (12 hours) on 20 and/or 21 July.
Workshops
Do you want to share an approach, scientific finding or technology can provide practical solutions to a variety of challenges? Whether geared toward students or professionals, these 60-minute workshops are more interactive than symposia and often have an educational / technical component. Workshops will occur during lunch break.
Discussion Groups
Discussion Groups are an opportunity to bring together people with diverse expertise to develop tangible and actionable outputs, such as a list of recommendations, publication, policy briefing or white paper, on a specific conservation issue. They are 1-1.5 hours in duration and typically have a smaller number of participants than workshops (i.e. 10-30 maximum).