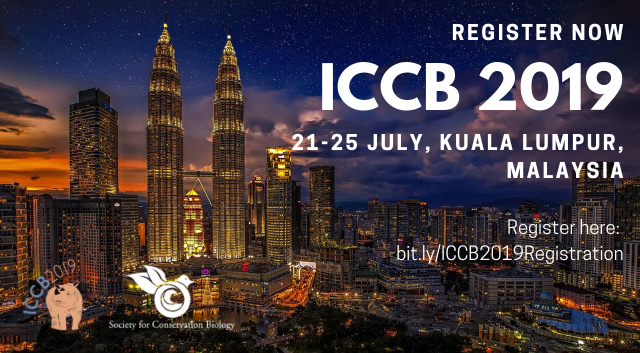 ICCB 2019 is in Kuala Lumpur, Malaysia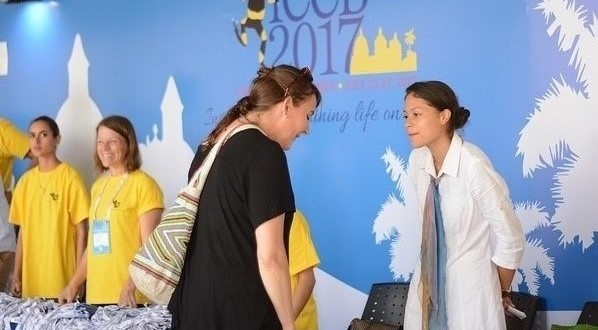 ICCB 2017 Registration Desk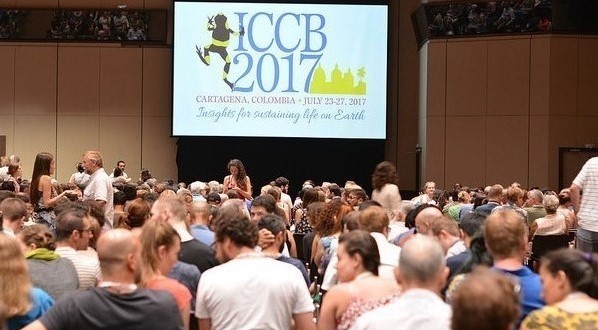 ICCB 2017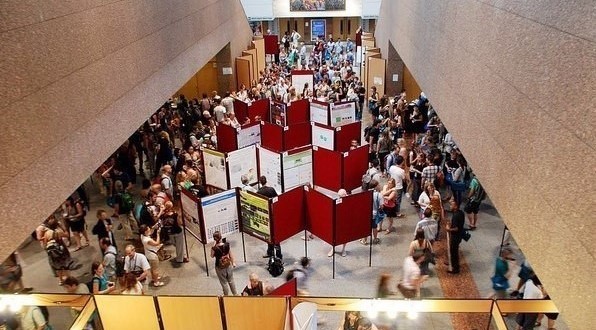 ICCB-ECCB 2015 Poster Session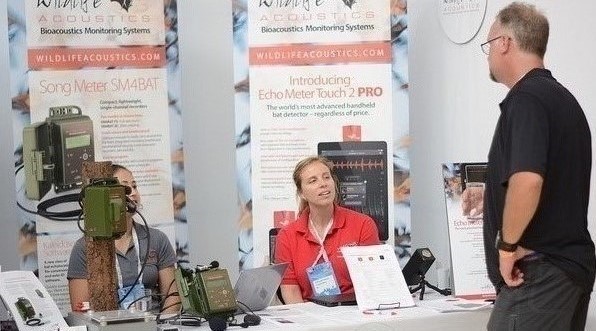 ICCB 2017 Exhibit Booth
ICCB 2019 Registration
Attention Presenters and Organizers: You must register by the early bird deadline to guarantee that your abstract is included in the ICCB program. If you do not register by this date you forfeit your opportunity to present at the Congress. This policy does not apply to co-authors, whose registrations do not impact the inclusion of accepted presentations.
If you have any questions, please contact ICCBteam@conbio.org.
All registration fees are in US dollars (USD). For those who would like to see if they qualify for the Least Developed Country registration rates, please consult United Nations' Least Developed Countries List. Not a member of SCB? Join the Society to receive significant discounts on your registration (and enjoy other member benefits).
Are you concerned about your carbon emissions traveling to Kuala Lumpur? Click here to learn how you can offset those emissions.
Registration Rates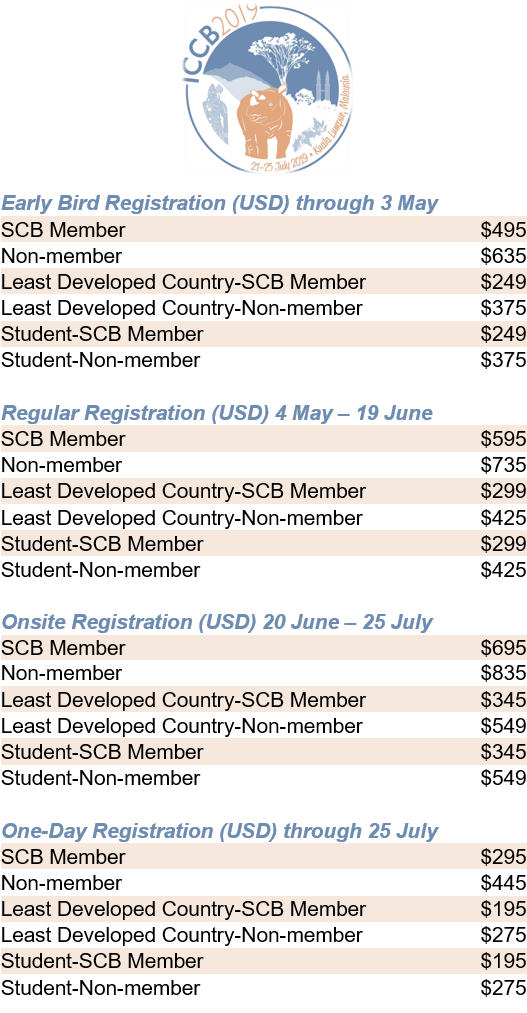 ---
Cancellation Policy
Cancellation of registration, for any reason, must be submitted in writing via email and must be dated on or before 18:00 Central European Time Zone (CET)/ Offset UTC +1:00 hour on 19 June 2019 to receive a refund less a $150 USD registration cancellation processing fee. After 19 June 2019 at 18:00 Central European Time Zone (CET)/Offset UTC +1:00 hour no refunds will be granted. Pre-meeting workshops (short course registrations) and optional ticketed sessions purchased are subject to a $25 USD (each) cancellation processing fee. There are no refunds for ticketed events (boxed lunches, guest welcome reception tickets, or closing banquet), merchandise, carbon offset donations, or SCB memberships. The cancellation will not be effective until a written acknowledgement from the Congress's Registration Team is received. In the case of over-payment or double payment, refund requests must be submitted in writing via by email on or before 18:00 Central European Time Zone (CET) Offset UTC +1:00 hour on 19 June 2019.
No refunds will be granted for unattended events or early termination of attendance, in case of cancellation of speakers, lack of space in the conference room or any other incidents during the Congress, which are beyond the control of the Congress organizers.
Please review all ICCB terms and conditions.
---
Substitution Policy
Replacement of a registered SCB attendee by a business colleague/coworker will be accepted. A $50 USD processing fee will apply to each substitution if notified in writing via email by 18:00 Central European Time Zone (CET)/Offset UTC +1:00 hour on 19 June 2019. Original delegate registration fee will be refunded minus the processing fee and the new registrant must register as a new attendee to complete registration. The new registrant must be named in the written notification and register before the original registrant is refunded. If the original registrant was registered as a SCB member, the new registrant must also be a member or join membership upon registering. After 19 June 2019, no substitutions will be allowed and each substitution request will be treated as a full cancellation of the original registration and subject to the reduced processing fee of $50. If another individual participates in a delegate's place per the SCB substitution policy, the new registrant agrees to the terms and conditions by default of the substitution.