Declaration Urges Stronger Conservation Status for Roadless Areas
Initiative of SCB Sections for protection of roadless areas gains support
The 2014 Infra Eco Network Europe (IENE) International Conference "Life for a Greener Transport Infrastructure" held 16-19 September 2014 in Malmo, Sweden, closed with a declaration calling for the protection of Roadless Areas.
The
declaration
recognises the importance of roadless areas for biodiversity conservation and human societies, ecosystem services, and adaptation and mitigation of the impacts of climate change. Crucially, the declaration urges a "stronger conservation status in policy, planning and practice, both nationally and internationally" for roadless areas.
While acknowledging the benefits that roads bring to people, the declaration highlights the substantial pressures that all types of roads exert on biodiversity and that their environmental impacts, both direct and indirect, can be partly mitigated, but not entirely avoided.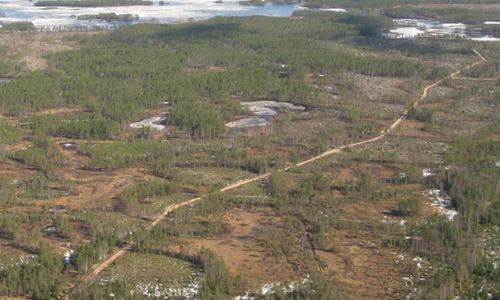 Roads like this one that cuts through a forest in Sweden exert direct and indirect pressure on biodiversity. The IENE declaration urges stronger conservation status for roadless areas.
SCB Europe, an
official partner
of the conference, supported the IENE 2014 declaration and actively contributed to the promotion of the Roadless Areas Initiative at IENE 2014. A plenary talk entitled "Why keep areas road-free? Roadless and low-traffic areas as conservation targets" was presented by Nuria Selva and co-authored by SCB Europe Policy Committee (PC) members Stefan Kreft, Pierre L. Ibisch and Kiki Kati, among others.
SCB Europe PC members also organized a session on Roadless Areas and presented preliminary results of the global roadless areas mapping project, an initiative of SCB Sections. A chapter on roadless areas by Europe PC members is included in a forthcoming book "The Road Ecology Handbook", published by Willey.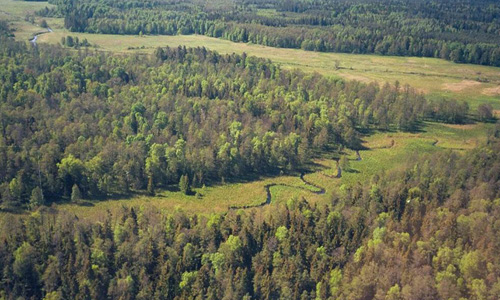 In Europe, large roadless areas in the strict sense are rare and, instead, the concept of low traffic areas has been used. The Bialowieza Forest in northeast Poland is a low-traffic area of large importance for biodiversity.
Cooperation on the Roadless Areas issue between SCB-Europe and IENE started at the IENE International Conference in 2012 in Potsdam 2012 at a workshop organized by Jan-Olof Helldin and Europe PC members Nuria Selva and Stefan Kreft on how to avoid fragmentation in Europe´s least fragmented areas.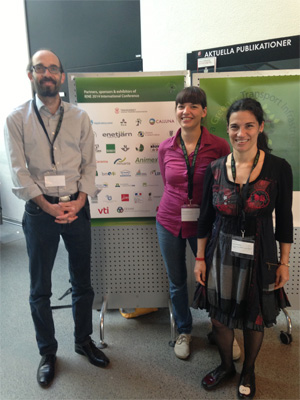 SCB Europe Policy Committee Chair Stefan Kreft with committee members Monika Hoffmann and Nuria Selva at IENE 2014
The SCB Roadless Areas Initiative represents an innovative complementary approach to the traditional mitigation and compensation measures in road ecology. One of the new aspects is the No-Net-Loss of unfragmented lands. Additionally, it combines conceptual considerations, including ecological theory and conservation policies, with practical aspects and methodology developed to identify areas free of road disturbance. The inclusion of roadless areas into road design, biodiversity conservation and policy is a formidable challenge. The
ICCB/ECCB 2015
in Montpellier, France (2-6 August 2015) will open the door for further discussions and steps.
Learn more about the 2014 IENE conference
here
in Malmo, Sweden.