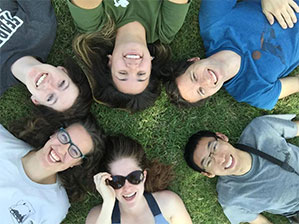 Central Arizona Chapter of SCB
According to our advisor, Dr. Andrew Smith, we are the oldest and longest lasting active chapter of SCB. Andrew Smith was awarded the national Aldo Leopold Conservation Award in 2015. Dr. Smith has advised CACSCB and taught at ASU for several decades and is happily retiring next year. He will be passing on the torch for his classes and advisor role of CACSCB to Sharon Hall.
While we are deeply honored to have worked with Dr. Smith, we are now looking to the future of ASU's Conservation Biology program and who will be replacing him on staff. CACSCB is fervently working to demonstrate that students' want a strong field biologist candidate for our program. With a completely new executive board on CACSCB this year, we are proud to show that we have doubled our total membership to 48 active members compared to the previous 24 members accumulated over the last 5 years. Our Facebook group hosts 272 active members that attend meetings, events, and are apart of the conservation community.
CACSCB is the student-run conservation hub at ASU and we have been thrilled to extend hands-on field opportunities to aspiring conservationists including a jackrabbit survey, black-footed ferret spotlighting, and prairie dog trapping. We additionally were successful in planning events for conservation students to get to know each other, from barbecues, camping trips to the AZ Sonoran Desert Museum, and a collaborative conservation club retreat in snowy cabins in Payson, Arizona.
We are excited to share our success in creating a strong community of young conservationists that are passionate about keeping a serious conservation program at ASU to produce quality conservationists from our university.