By Lea Pallack, Ann Holmes, and Rachel Wigginton
The past year has been exciting for the Davis Chapter of SCB! Our chapter is primarily composed of graduate and undergraduate students at the University of California Davis, representing conservation interests spanning the terrestrial to marine gradient and areas of expertise in systems from California grasslands to African savannahs. We operate, primarily, through four standing committees: policy committee, sustainability committee, stewardship committee, and education and outreach committee.
During this academic year, all of our committees have been very active. Our sustainability committee is currently working with the UC Davis Office of Sustainability to develop a system to make our car rental fleet carbon neutral. The policy committee has held trainings for our members, to help them interface with policy in different ways. So far, we have held trainings on how, when, and why you might write to or call your members of Congress and discussed strategies used to prepare for making the most impactful use of public comment periods. Our stewardship committee has developed a relationship with a local chapter of the California Audubon Society to perform bird surveys on one of their local properties, looking at both bird presence and also bird response to fire.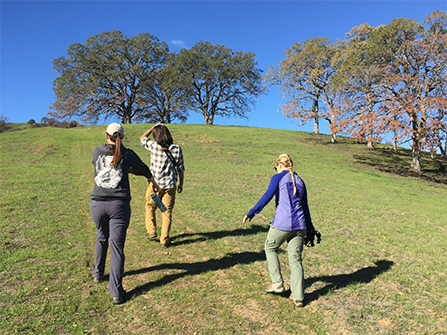 We are excited to highlight the recent success of our education and outreach committee! The Davis Chapter of SCB has a new education and outreach initiative called "Diverse voices for biodiversity: who's wearing that lab coat?" This project was recently awarded funding in the form of a UC Davis Diversity and Inclusion Grant ($3,515). As graduate students, we are concerned that science may be labeled an inaccessible field, and that students from some demographics face significant barriers to participation. This is particularly true in conservation science, which lags behind other fields in reaching the public and recruiting scientists from diverse backgrounds. Therefore, our initiative aims to promote diversity in conservation science by (1) demystifying science by presenting it in an easily digestible way, and (2) featuring scientists from a variety of backgrounds. Members of the SCB Chapter at UC Davis will produce tangible and widely distributable resources for young people who are interested in or considering a career in conservation sciences. Our project will create videos that feature scientists from underrepresented backgrounds discussing their research and the crucial role that diversity plays in the collaborative scientific process, the health of ecological communities, and solving environmental crises. These videos will be distributed widely through our internet presence (YouTube, Twitter, etc), at national conferences, and by working closely with SCB Chapters at other universities. Additionally, in consultation with local teachers, we will develop lesson plans for elementary school students to accompany our videos. We hope that this framework will spread, such that each SCB Chapter can be a hub of education and outreach in their respective local communities, making conservation-focused science more accessible and inclusive for those who it seeks to serve. We hope that "Diverse voices for biodiversity" can facilitate novel connections between underserved communities and conservation focused research through a lively visual representation of the diversity found on the UC Davis campus.
---
Visit the Davis Chapter's website and follow the Chapter on Twitter.