At the COP21 Paris Climate summit I attended a remarkable event by two young polar researchers. From the north, Erlend Moster Knudsen, a Norwegian specialist in the Arctic climate, ran 2,500 km to Paris. From the south, Daniel Price, a British specialist in the Antarctic climate, cycled 10,000 km from New Zealand to Paris. Their "Pole to Paris" mission was to raise public awareness of the changes in climate that they as scientists are seeing in the polar regions. I interviewed them to find out what made them make the jump from scientists to advocates: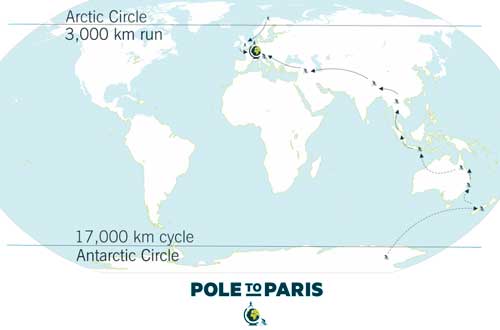 What has your research told you about climate change at the poles that is most alarming?

Dan: The formation of sea ice in the Antarctic is fundamental to global oceanic circulation, while the giant ice sheets hold over 55 meters of sea level rise equivalent. As we look into the past for evidence it is clear that if we continue on our current course, increases in the average global temperature will force dramatic changes in the Antarctic. These changes may seem distant but the interconnected nature of the climate system means they will have consequences for us at home. Meters of sea level rise will displace millions worldwide, while changes to atmospheric circulation will have ramifications for weather patterns in the Southern Hemisphere. There are systems we are only beginning to understand, which for me, means we must be cautious as we do not yet fully understand just what consequences will be in store and how fast such consequences will play out.
Erlend: The Arctic is warming more than twice as fast as the global average. As a result and reason for this, its sea ice is diminishing at an alarming pace. Animals and humans living in the region are already heavily affected, with significant degradation of their livelihoods. However, the changes in the Arctic affects millions of people outside the Arctic too. This was mainly what I was doing research on for my PhD. To me, what's most alarming is the fact that most governments (including Arctic nations like Norway, Russia, USA and Canada) and their peoples are not treating the diminishing ice as a clear signal demanding action on climate. Rather, many are seeing the melting Arctic as a potential to extract even more oil, gas and coal - even though we know that these fossil fuels caused this melting Arctic in the first place.
What is the message you brought to negotiators in Paris and citizens worldwide?
Erlend: We're trying to express the urgency of the situation. To me, the most important message we can bring to Paris and to citizens of the world is that climate change is nothing that is distant in time and space; it's right here and now. We should have acted way earlier. Paris and COP21 is a great place to take a big step in the right direction - a step that is very much needed.
Dan: At the same time we must maintain a positive narrative. We need to put equal effort into communicating the incredible opportunities that shifting to a renewable energy economy will provide. Cleaner air and water, jobs, fairness among communities globally as we remove the unacceptable power of the fossil fuel industry.

How far exactly did each of you travel by foot and bike to reach Paris, and how did you raise people's awareness of Climate Change along the way?
Dan: I travelled a total of 10,000 km through 19 countries over 7 and a half months. My journey began in the Antarctic where I was conducting research into the dynamics of the Antarctic Ice Sheet. From there, New Zealand and Australia were next in line, followed by South East Asia, China, Mongolia, Russia and across to Europe. Events were held with our partner UNDP with mass cycles involving the public. Speeches were given in many cities through Asia and dozens of talks at schools, youth groups and UNDP climate change awareness forums. We gained the attention of all national media outlets in the countries visited in Asia.
Erlend: I ran 2,459 km from Tromsø to Paris. I gave school and university presentations, organized open climate events along with local partners, documented ongoing and projected climate changes relevant for the regions I ran through, and published material through traditional and social media. Most importantly, however, because I was so accessible, running and with a GPS position live on our website, anyone could join in a two-way interaction. It's not often climate researchers are more accessible than during Pole to Paris. This also offered us the chance to hear people's stories, which we brought with us to COP21 to tell there.
It's unusual for scientists to do something so demanding, dramatic and public to raise awareness of Climate Change. What was it that motivated you to take the bold leap from researcher to advocate?
Dan: Frustration. It was pretty simple for me. I could no longer simply focus on the science when the message was so clear. With the lack of understanding in the public sphere and the absence of urgency in politics it is clear more needs to be done to communicate the issue. In an ideal world it shouldn't be our job to advocate, the scientific community should provide the evidence to inform good policy, but with climate change and the poisoned relationship between politics and energy supply the people need to get out ahead of our leaders and demand the action that is required.

What kind of an impact do you think you have had in your journey?
Erlend: Inspiring others to take action on climate change is to me a signal of impact. We inspired thousands. I'm pretty sure we can say that. We also highlighted the positive actions made by others, always wanting to try to convey a message of that YOU matter. YOU can do it. There's a lot of power in passion. That's what got us so far.
---
This interview was first posted on Huffington Post Green.