A conservation photographer and writer, Connie Bransilver was in her element in Gunung Leuser National Park, Sumatra when she framed the shot that would become the cover photo for the August 2014 issue of Conservation Biology. For 25 years, she has used photography to help scientists shed light on their work and create that emotional connection that moves others to action.
In this interview with SCB, she discusses why scientists should not underrate the power of photography to make their science matter.
Eye of the Dolphin. Infrared look at the eye of an Atlantic bottlenose dolphin as it peeks above the waterline in Grassy Key, Florida, captive sancutary.

©ConnieBransilver
How can nature photography promote a better understanding of conservation?
A picture speaks a thousand 1,000 words. Think a lightning bolt, a chimpanzee hand fondling Jane Goodall's hair, the blue eyes of an Afghan refugee girl...need I say more? [Scientists] do the groundwork; I entice [the public] to pay attention.

What drives your passion for nature photography?
As nature deficit disorder spreads I have an almost evangelical desire to reconnect people of all ages with the natural world, it's power to amaze, it's power to ground us and at the same time, make us soar.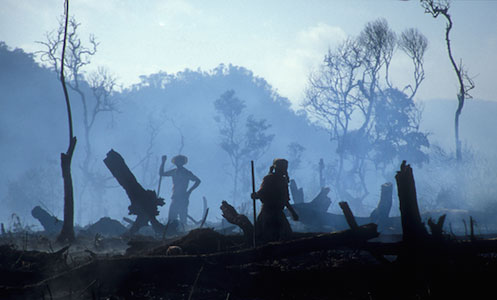 Farmers burn forst to make way for agriculture plots in Madagascar. In the long term, slash and burn agriculture is a threat to the island's biodiversity and contributes to erosion and habitat loss. In the short term it provides food and income for many island residents. ©ConnieBransilver
When you look at nature through the lens, what do you see?
Some people "take pictures." I see stories -- [and] try to tell stories in a frame or in a series, but at all times, to select and frame artistically, and to bring out the power of light itself.

Photography has the power to capture emotion, something you can't find in data sets and hard science. What impact can this have on values/behavior that you don't get from the science?
No matter how many graphs and charts and data sets, it is an emotional connection that moves humans to action. We are humans first, and scientists second. The two are inseparable in creating understanding and passion.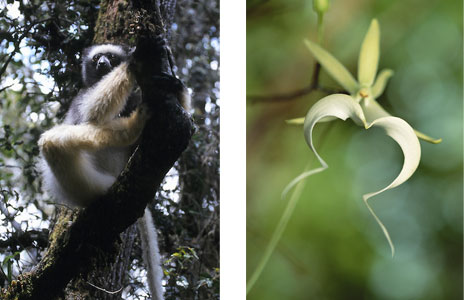 A juvenile Sifaka lemur (Propithecus diadema diadema), known locally as Sadabe in Madagascar. Threatened by bush meat hunting, the exoctic pet trade, and habitat loss, lemurs are among the most endangered animals in the world. Right: A ghost orchid (Dendrophylax lindenii) in its native habitat in the Florida Everglades. The orchid is pollinated by the giant sphinx moth. ©ConnieBransilver
What can nature photographers contribute to science and how can photographers and biologists work together for the advancement of conservation?
For 25 years I have worked with scientists to bring their work to light. Field work, tedious at times, comes to life through the power of photography. Many scientists to this day underrate the power of good -- that is, artful, well composed, well lit -- photography. Funders, the public, can see in a few seconds what a science team may present in pages and pages of words, numbers, graphs, charts . . .

What has been the most thrilling species for you to photograph and why?
I am an unabashed Lemur Lover. In the mid 1990s, on our fourth expedition to Madagascar to capture a rare and strikingly beautiful Propithecus lemurs for study at Duke Primate Center we found what we thought was a new species. Subsequent research proved it was a geographically removed branch. During a number of visits to dart, track and document these lemurs, and to help build local support for conservation of the species, I have become deeply committed to this long term study and community building effort.

Sumatran elephants bath in a sanctuary on the island of Sumatra. Sumatran elephants are threatened by poaching and habitat loss. ©ConnieBransilver
What's the most challenging aspect of conservation photography?
There are two major challenges. The first is to get the attention and understanding of the public. The second is to get paid for the power of our photos.

What does a winning photograph look like to you?
If I cannot get it out of my mind, it is a winning photo. I have often judged photo contests. I go through all of the images, give them a tentative score, then go back two or three days later and select the ones that I cannot forget. For me, it's all about great light, composition and a story.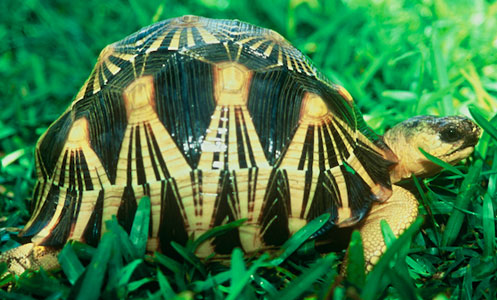 The critically endangered radiated tortoise (Astrochelys radiate) in Madagascar. Photograph taken at Ivoloina Sanctuary near Tamatave where they are bred and released (when possible). Ivoloina is supervised by the Duke Lemur Center. ©ConnieBransilver
Do you have anything else to add?
Value the power of a great photograph. We are professionals, need to make a living, and are usually entirely committed to communicating effectively.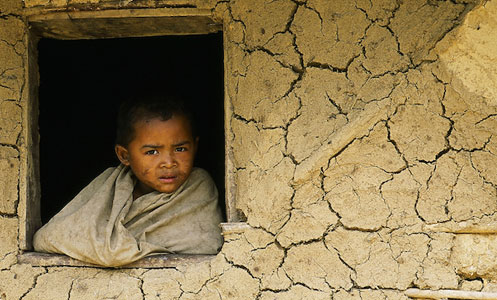 World View: A young child looks out from his home in the remote village of Vatateza in Madagascar. ©ConnieBransilver