The vaquita (Phocoena sinus) is one of the rarest and most endangered marine mammals in the world. Recent surveys document that only around 60 vaquitas remain.
Barbara, who works for NOAA's Southwest Fisheries Science Center, discusses what it means to receive the LaRoe Award, the role art can play in conservation, and why young scientists need to rely on communication skills to more effectively conserve endangered species. Learn more about SCB's efforts to conserve the vaquita and how you can contribute
here
. She will receive her award at
NACCB
in Madison, Wisconsin in July.
---
What does it mean to you to receive the 2016 Edward T. LaRoe Memorial Award from SCB and what will you say when you're presented the award in Madison at NACCB? 

I am hugely honored and humbled to receive this award. Everything in conservation is a team effort so it is a little embarrassing to not only 'take one for the team' but also for vaquitas where despite our huge efforts we appear to be losing the battle. But I have not lost hope and inspiring optimism is a lesson I hope I can effectively communicate [at NACCB].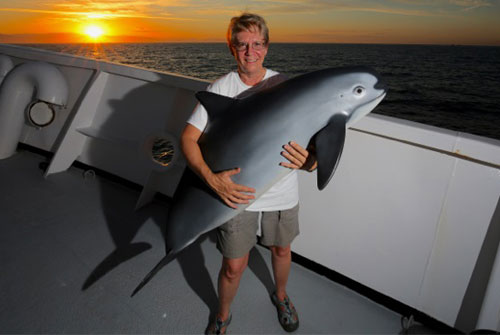 2016 LaRoe Award Winner Barbara Martinez with a replica vaquita on board the research vessell Ocean Star in the vaquita refuge area in the Gulf of California. Photo by Todd Pusser.

Why is it important that the general population care about the vaquita if the immediate threats relate to poaching and illegal fishing?
The general population should care if they are losing biodiversity, period. We have no idea the consequences of losing any species, but the loss of many top predators by dying in gillnets is highly likely to have negative consequences on the health of marine ecosystems. In turn, sick coastal ecosystems affect the health of adjacent terrestrial ecosystems. The future does not look good if people are willing to shrug off the loss of Mexico's largest endemic mammal.


 Although illegal fishing has accelerated vaquita's plunge towards extinction, gillnet fishing that is common throughout the world made them Critically Endangered before the recent resurgence of poaching.
On a personal level, I am so thankful to those who had the will and foresight to save many of the large endemic animals that I grew up with, like buffalo, grizzly bears, wolves and eagles. I started my career working on bowhead whales. Most living bowhead whales were born after I started my conservation career. That makes me happy. I hope Mexicans can save their lovely, shy vaquitas for future generations to enjoy.
You're a nature artist and a scientist, with a collection of vaquita paintings to your name. With respect to a species like the vaquita, how can art and culture impact its conservation?
I wish I could say that painting has been helpful for more than personal therapy. I did the paintings because there are no full frame photos of live vaquitas, which is what major nature media, like National Geographic, want. Unfortunately, we live in a world where photos trump art and they've never been acceptable to those venues. I hope they yet find an audience to will inspire!
| | |
| --- | --- |
| | |
| Dr. Barbara Taylor is a scientist who uses her skills an artist to paint the little-seen vaquita to inspire action to conserve the species. | |
What advice do you have for young conservation biologists who are working to conserve species that are threatened with extinction?
Critically endangered species require persistence, focus and optimism. My quantitative skills have been useful, but without the ability to communicate and work effectively with people
 from many walks of life, the science would have not reached the needed actors.
Do you have anything else to add?
The recipe for conservation success requires many essential ingredients. Science is a small but critical ingredient yet insufficient on its own. Even if all the ingredients are available, it takes a chef to assemble them. Don't be afraid to be the chef if that's what it takes to get the dish to the table.