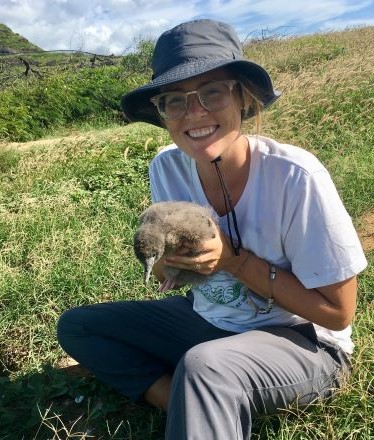 Brooke Friswold is a recent graduate from the University of Hawai'i at Mānoa. She got her MSc from the Natural Resources and Environmental Management department with an emphasis in Applied Terrestrial Ecology at UH Mānoa and received her undergraduate degree in Environmental Science with a zoology emphasis from Western Washington University.
While at UH Mānoa, she was in the wildlife ecology lab of Dr. Melissa Price researching the effect of light pollution on Wedge-tailed Shearwaters and pinpointing regions of greatest vulnerability for focused management. She just won the Student Research Symposium at UH Mānoa in Sustainability and Conservation division. Brooke is also a SCB Graduate Student Fellowship Award winner! This award supports field work, including travel, materials or equipment, required to conduct research by graduate student members.
SCB held a Q & A with Brooke to learn more about her and her research in Hawaii on Wedge-tailed Shearwaters!
What have been your biggest challenges in your research project?
Bridging the gaps between research and action in terms of funding and cooperation.
What is your favorite part about conducting your research in Hawaii?
Conducting research in Hawaii is equal parts thrilling and emotional. It has been deemed the "endangered species capital of the world" making the amount of endemic species here very exciting but also comes with a sense of urgency as we are losing so many so quickly.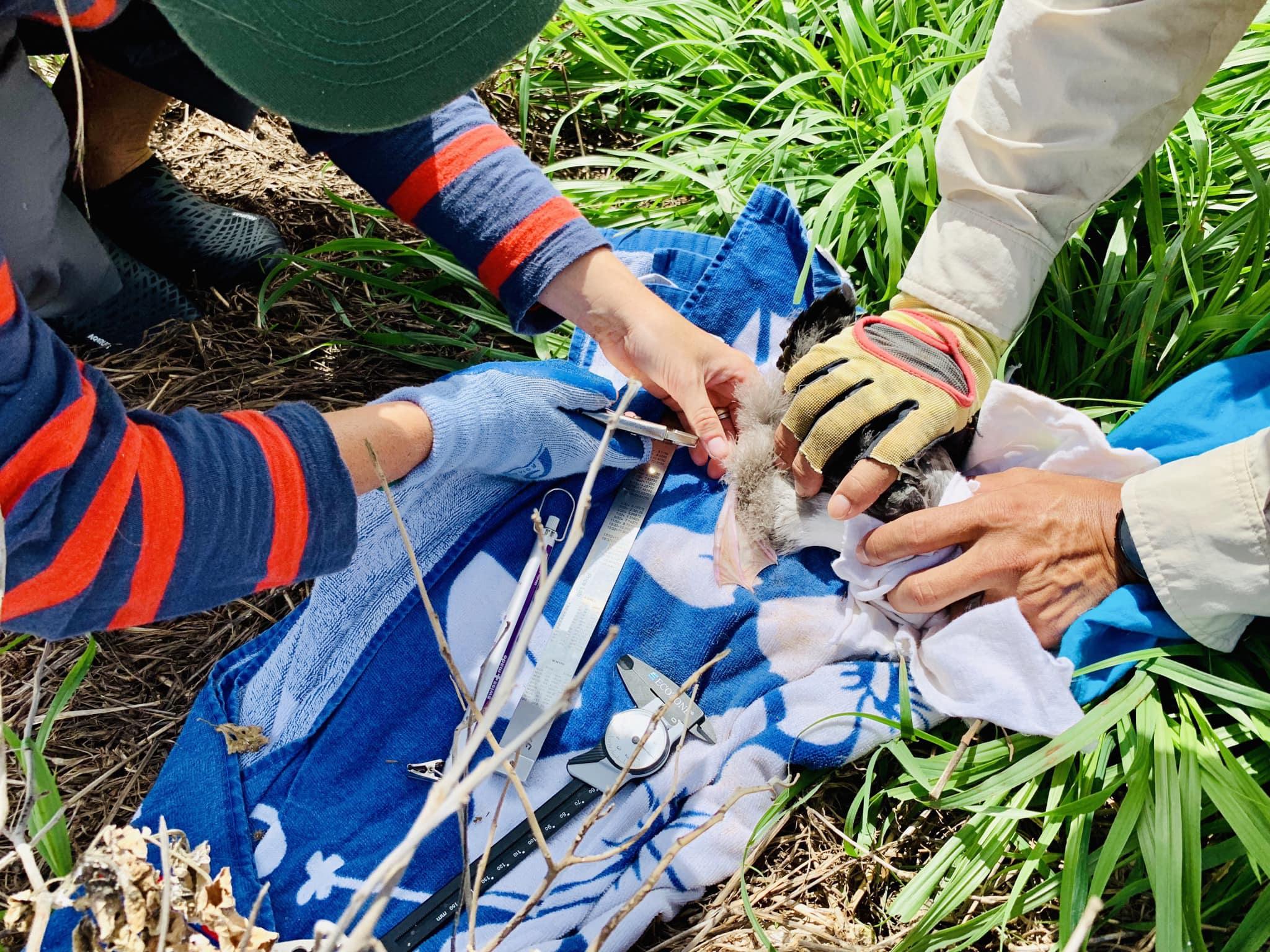 What surprised you the most?
I am surprised by how excited the general public gets about hearing that some of our wildlife conservation issues have very tangible solutions and their willingness to participate and assist in any way they can.
What does a typical research/work day look like for you here?
This research was multi-faceted so some days I was banding adorable chicks at offshore islet colonies and other days I was staring at pictures of dead birds for hours on end.
What comes next? What are you working on now?
I have just graduated with my MSc and will be working over the summer to put some of my findings into action to mitigate light pollution in my survey region. I will also be looking for employment in the field of wildlife management and conservation biology after taking some trips over the summer – including attending ICCB in Malaysia.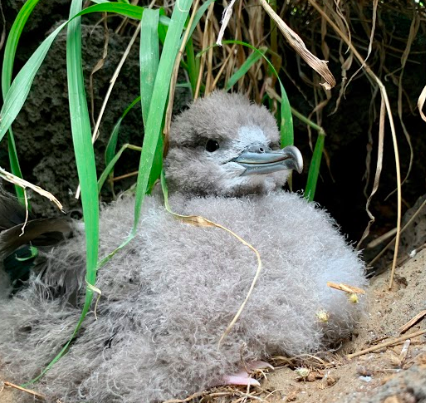 Tell us your favorite story from your research project.
To band seabird chicks at some of the offshore islets we were not allowed to pull the boat up to the island so we would jump off the boat navy seal style and swim up to the island with all our gear in tow – was a very refreshing and exciting way to start a long, hot day of banding.
How did you choose to do this research project in particular?
I chose to do this project because I am very interested in human-wildlife conflict mitigation and also have a love for birds. With anthropogenic impacts like plastic, depleting fish stocks, and climate change the solutions can be extremely complex and difficult to mitigate, however something like light pollution has extremely tangible solutions and is fairly easy to manage, especially when you can pinpoint regions of risk and focus your efforts.
Where could we find you on any given Saturday? What do you like to do for fun?
On any given Saturday I can be found hiking with my dogs or free diving at some of my favorite reefs around Oʻahu. I also like to travel so there is also a good chance I'll be out of town on a given Saturday as well.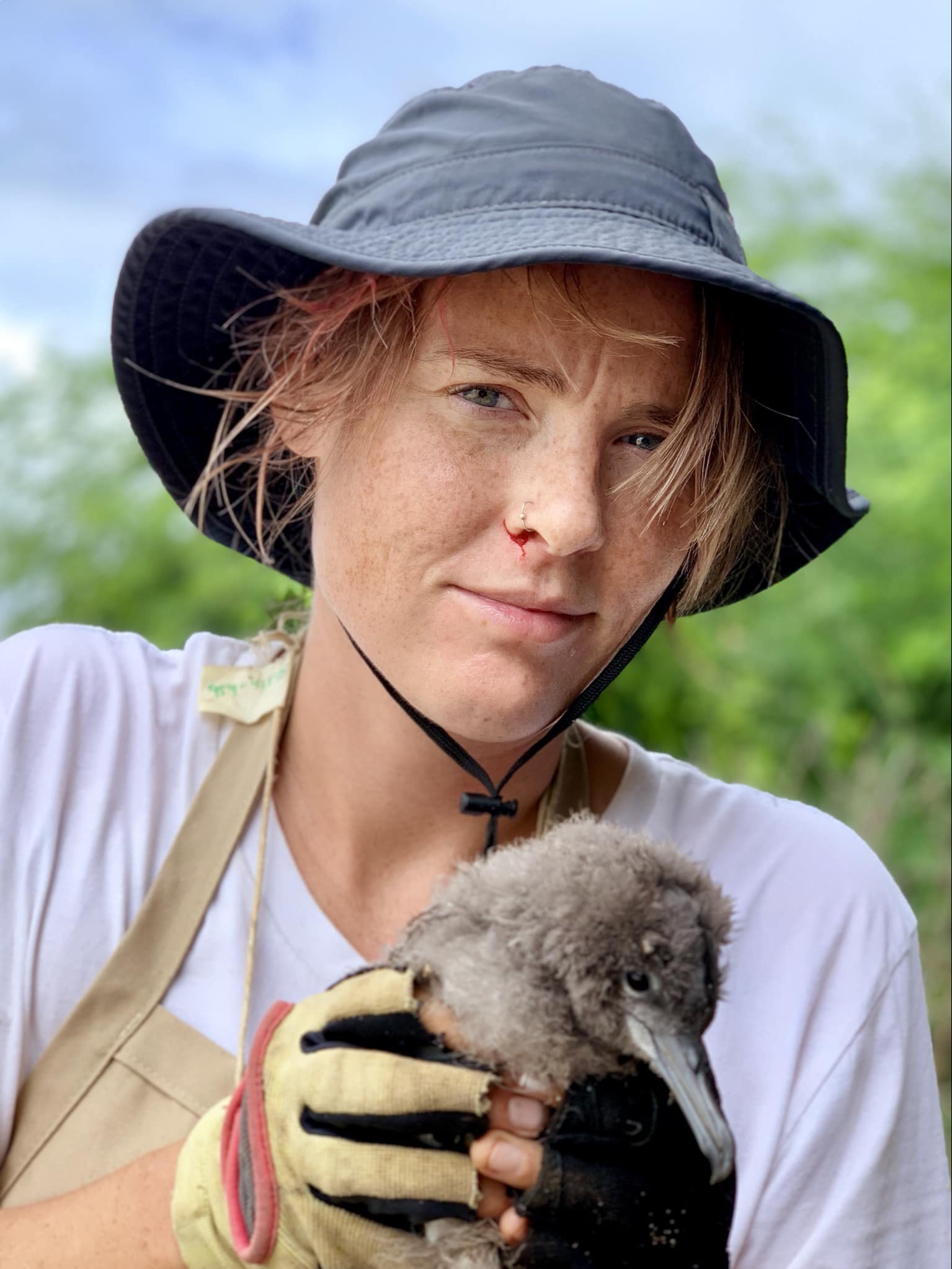 What are three things you always carry with you when in the field?
Binoculars, a sense of humor, and I have been known to bring pickles on a number of occasions into the field.
Why did you decide to study conservation biology? What was your path that led you here?
I have had a love for wildlife for as long as I can remember. Any time there was an animal in a room as a child I would only be interested in that interaction and ignore everything else. My mother tells me stories of neighbor dogs following me around as a toddler and I kept small pets like goldfish and hamsters alive for far longer than they are expected to live. I actually studied theater through the majority of my undergrad – when presented with an opportunity to go to acting school in New York I had an epiphany that I wanted to work in wildlife conservation instead and immediately changed majors to environmental science, which was the best decision I ever made. I grew up in Washington State where I attended college, then lived for a brief time in the Netherlands and came to Hawaiʻi to obtain my Masters due to its plethora of endangered and endemic species.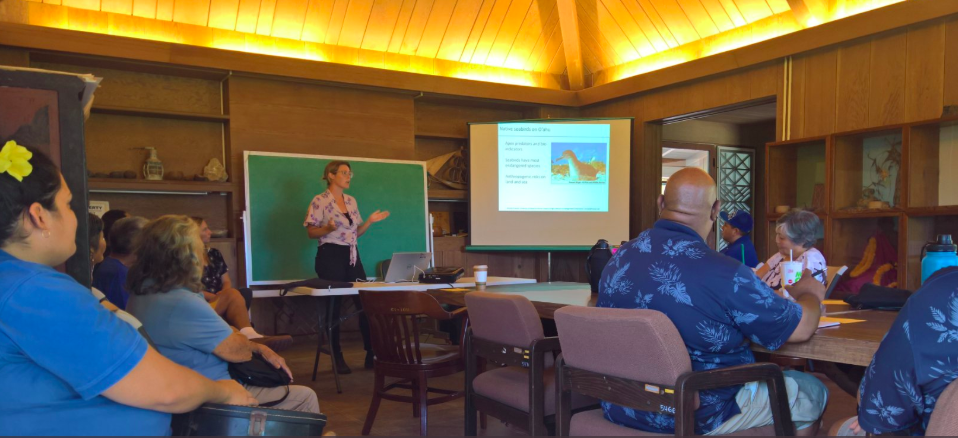 What do you love most about what you do?
I absolutely love being in the field and the experiences and emotions that come with it. I also love the problem solving aspect of conservation and research, and enjoy the systematic, almost puzzle-like way in which data is collected and analyzed.
Who's the scientist you admire the most? Why?
Jane Goodall was my childhood hero and was a role model for me at a young age, showing me limitless possibilities of what someone with passion can achieve. I have always felt empowered by strong women in conservation throughout history like Harriet Hemenway, Helen Freeman and Mollie Beattie. I am currently inspired by my advisor Dr. Melissa Price and other conservationists in Hawaiʻi that include Dr. Lindsay Young, Dr. Shaya Hanovar and Sheldon Plentovich.