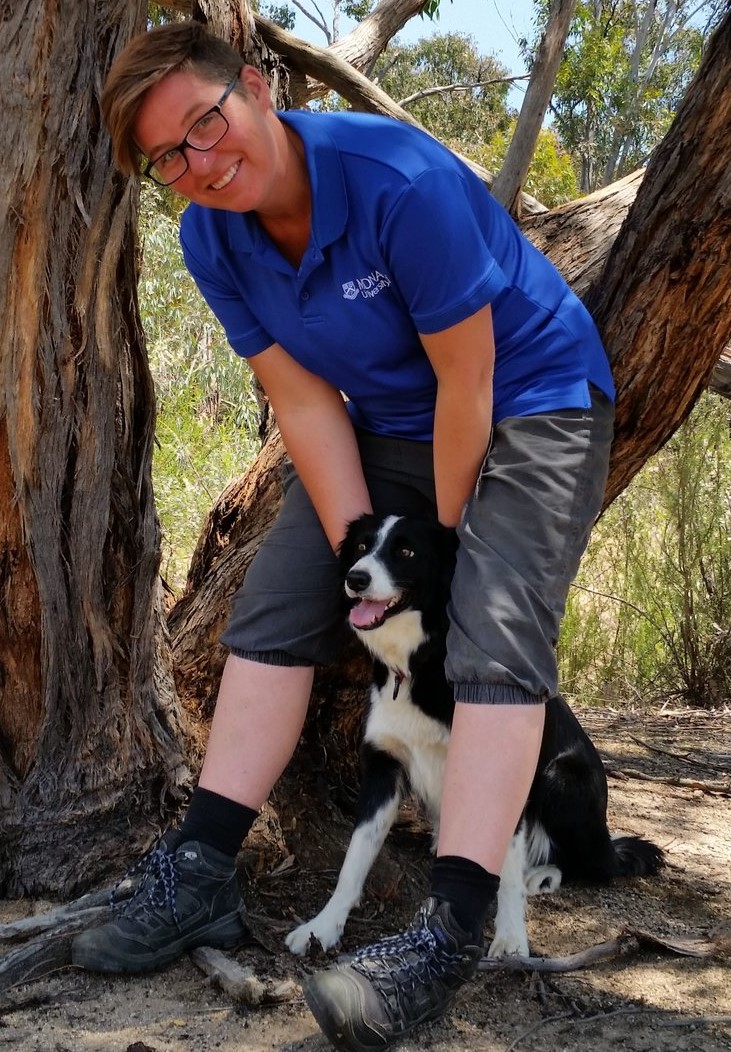 SCB member Emma Bennett is an Australian ecologist currently doing her PhD with Monash University. She's also an indpendent consultant and inaugural president of the Australasian Conservation Dog Network.
SCB held a Q & A with Emma to learn more about her, what inspired her to support the integration of dogs as a research tool in conservation, what she's currently working on and her advice for future conservationists.
Tell us a bit about yourself.
My name is Emma and I am an ecologist from the south east of Australia. I am a sole parent with 2 amazing kids, an energetic dog and an inside cat (who think he is a dog). I work as an independent consultant providing advice for managing and quantifying impacts to birds and bats at wind farms and I am currently doing my PhD with Monash University. I am passionate about the environment and scientific education and am a member of the Ecological Society of Australia's policy working group. I am also the inaugural president of the Australasian Conservation Dog Network, an organisation who's aim is to provide the ethical integration of dogs as a research tool to benefit the environment. I am a passionate advocate for Landcare and volunteer in a number of organisations including managing an ecological restoration project on community land and am on the board of Seeding Victoria, who collects and stores native seed for future restoration projects. Moving forward I would like to see greater collaboration between government, the non profit and the commercial sectors to drive better conservation outcomes and I will continue to work to achieve this.
What inspired you to study conservation biology? What was the path that led you here?
I grew up in the forests of south eastern Australia that had been devastated by the Ash Wednesday bush fires. Remnants of destroyed property and blackened trees are some of my earliest memories. Throughout my childhood, the forest recovered leaving little trace of the devastation that had occurred. I was always a keen scientist and interested in how things worked and had excelled at Biology at school. This stayed with me, and after spending a few years living overseas as a young adult, I returned to Australia and commenced a degree in Forest Science. My studies expanded my world and I felt a deeper appreciation for the forests and the environment in general. I increased my studies to include a science degree with majors in Ecology and Botany and feel so blessed by the education I received. I now work in an environment where I have opportunities to drive better outcomes for conservation and I love it.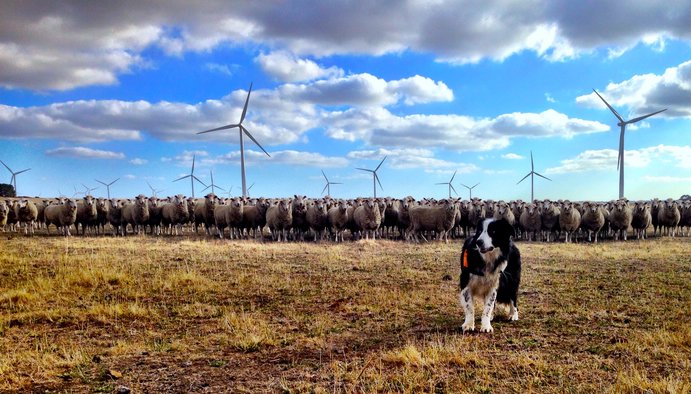 You recently published a paper in Conservation Biology on evaluating conservation dogs in the search for rare species. What inspired you to study this and how did you get interested in it?
Whilst I was in under graduate studying forest science and ecology, I was also raising 2 puppies and becoming quite involved in dog training and agility/scent sports on my weekends. By chance through my dog training school, I was approached to train my dog to assist with surveys at wind farms looking for bird and bat carcasses. I undertook a trial in 2005 comparing my dog and I to a team of human surveyors. We were much quicker and found more of the targets and so began 8 years of working in the field with my dog Elmo. These days, I work with several companies with teams of dogs and support the integration of dogs as a research tool in conservation. I have spent many years assessing dogs in the field in order to quantify performance and more recently began a PhD focusing on this topic. The use of dogs in conservation is growing around the world as they are recognized for their superior sense of smell, which provides an alternative to visual and auditory search tools. As a dog handler and scientist, I have a unique understanding of how these two fields can work together without unrealistic expectations around dog performance. I am keen to provide research which can support the integration of dogs as a tool in conservation whilst still maintaining scientific validity around the search strategies employed.
Can you tell us a bit about an exciting project you are currently working on?
Hawkweed is an invasive plant which has caused devastation in many countries. In Australia, we are working on full eradication of this plant which grows in some of the most remote wilderness in Australia. Finding it is the challenge. Currently the project involves hundreds of people spending many hours walking slowly through alpine forests, however we are also integrating dogs and drones in the efforts to increase our searchable area in which to find plants. This project is exciting as it is using all available tools to try and find this tiny plant providing us with opportunities to compare how dogs, humans and potentially drones find the plant. My task will be to investigate how we allocate humans, dogs and drones to maximise detection success taking into consideration the cost and detection probability of each tool.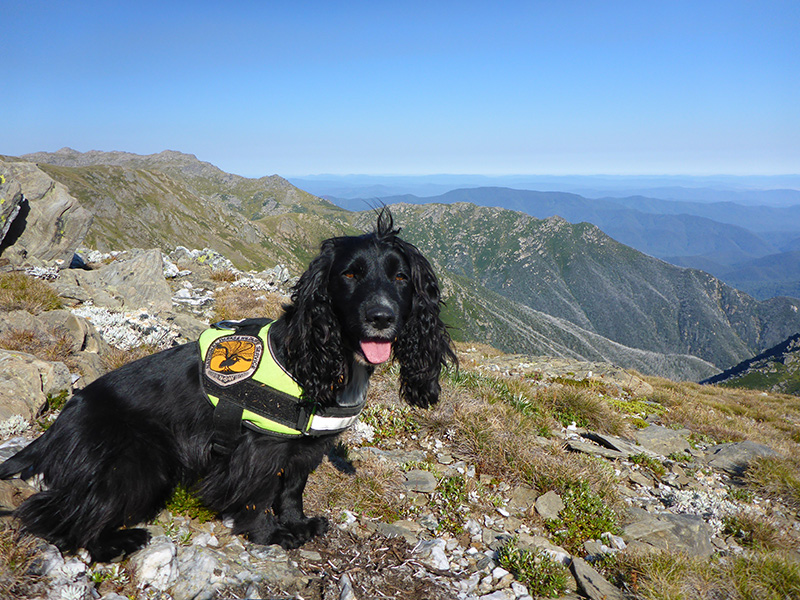 What's your favorite thing about your job?
I love my job. I get to spend time outside in remarkable places, I meet many inspirational people, but importantly, I get to cuddle amazing dogs. As part of my research I observe and test working dogs across a range of sectors and environmental locations which allows me to travel to beautiful places and watch dogs work. I also love that I learn a new conservation problem with each dog team that I visit. From invasive weeds and to carnivorous marsupials, from koalas to cane toads, dogs are working at the forefront of invasive and rare species studies and I love the opportunities to chat with passionate specialists focused on their conservation outcomes.
Is there a scientist, mentor, or inspirational figure that helped you get to where you are now?
This is a difficult question. I came from a working-class family and my sister and I were the first ones to finish high school and attend university. Thus the first scientists I met where those studying with me. When I look back on the past 20 years however, I think to three (now) scientists that I studied with which have shaped my career and my passion. Dr Amy Davidson, Samantha Citroen and Loris Duclos were all in my under graduate forest science degree and each has inspired me in their own way to achieve, to work hard and to be passionate without compromising my values and desire for better outcomes. Whilst I have met many amazing and inspiration figures. These three women each inspired me with their passion and determination, and I credit them with my confidence to be the scientist I am today.
Do you have any advice for future conservation biologists?
If you are studying or considering studying, my advice is always the same. Find the thing you are passionate about and volunteer your time. Often the best learnings and the best opportunities come from giving. Join a committee, volunteer to restore a wetland, participate in bird counts or what ever it is that inspires you. Conservation biology is a competitive field, but only because those that are succeeding are some of the most passionate people you will ever meet. Find your passion and give to it, when you give freely, great opportunities are given back to you in time.