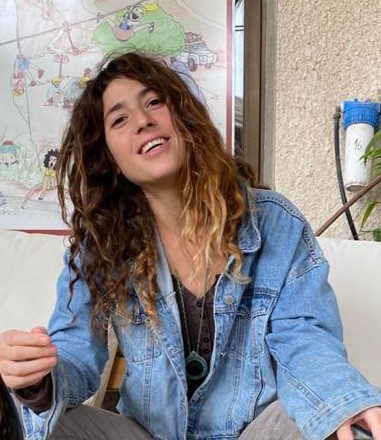 We held a Q&A with Yuval Zukerman to get to know more about her, her research in the Negev Desert and what a typical day as a graduate student looks like.
Yuval is also one of SCB's 2021 Graduate Student Research Fellowship Award winners! This award supports field work, including travel, materials or equipment, required to conduct research by graduate student members.
It is thanks to our members that SCB can support students doing such important work to advance the science and practice of conserving Earth's biodiversity.
Tell us a little bit about yourself.
I am a Ph.D. student at the conservation behavior research group at Ben-Gurion University, under the supervisor of Dr. Oded Berger-Tal. I live in Midreshet Ben-Gurion, a small village in the middle of the Negev Desert in Israel, with my husband (also named Yuval), who is a ranger in the Israeli Nature and Parks Authority (INPA). Since I was little, I have always loved nature and being outside, but only when I was 19, after volunteering for a year with the INPA, helping with monitoring and conserving the Negev Desert, I realized that for us to coexist with nature, we must make an effort to conserve it. Since then, I have always aimed to assist with conservation efforts, and I believe that doing research is a major contributor to successful conservation. So right now, I am exactly where I want to be, studying and practicing wildlife conservation through the behavior of wild animals.
What have been your biggest challenges in your research project?
The biggest challenge in all of my research is understanding the animals. In my studies, I try to capture animals by camera or by observation. For that, I need to get into the animals' heads and see the area the way they see it. However, animals behave according to many things that are strangers to humans, such as odors and various risks in the area. This challenge repeats in all my research projects. In my opinion, this is also one of the biggest challenges in nature conservation.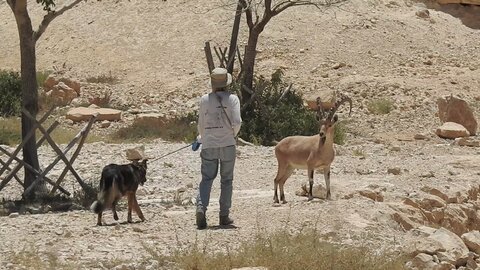 What is your favorite part about conducting your research here?
The thing I like most about doing my research in the Negev Desert is the hours that the scorching sun of the hot desert is approaching the horizon, and the day is nearing its end. At that time, I am usually at the end of my fieldwork. After a full day of heat absorption, one of my favorite things is the feeling during the heat break, when the afternoon breezes begin. It's hard to explain in words, but these are magical hours.
What surprised you the most?
During the past few years, I have been studying the behavior of Nubian ibex (Carpa nubiana). Although I know ibex are climbing champions, I somehow always get surprised by their ability to pass through every steep cliff. If you have never seen it before, I recommend watching it on YouTube or planning a visit to Israel- it is worth it!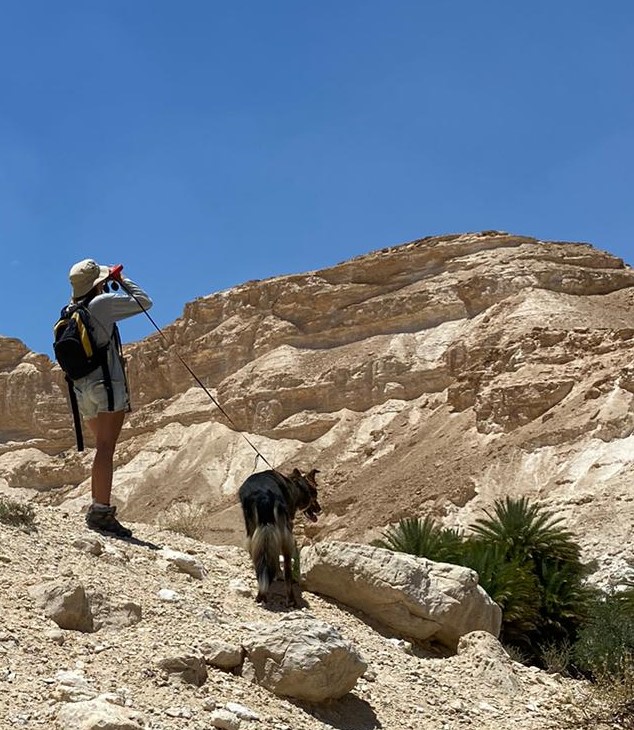 What does a typical research/work day look like for you here?
There are two types of typical working days. The first one is an office working day where I sit on the computer most of the day while every two minutes somebody comes to the lab and seduce you to take a break (the social life in this campus is very intense, and although it is great, it comes at the cost of multiple distractions). The second type is a field day, in which I work in different areas across the Negev desert.
In both cases, I usually finish the day exhausted, either in the volleyball court or at the student's pub.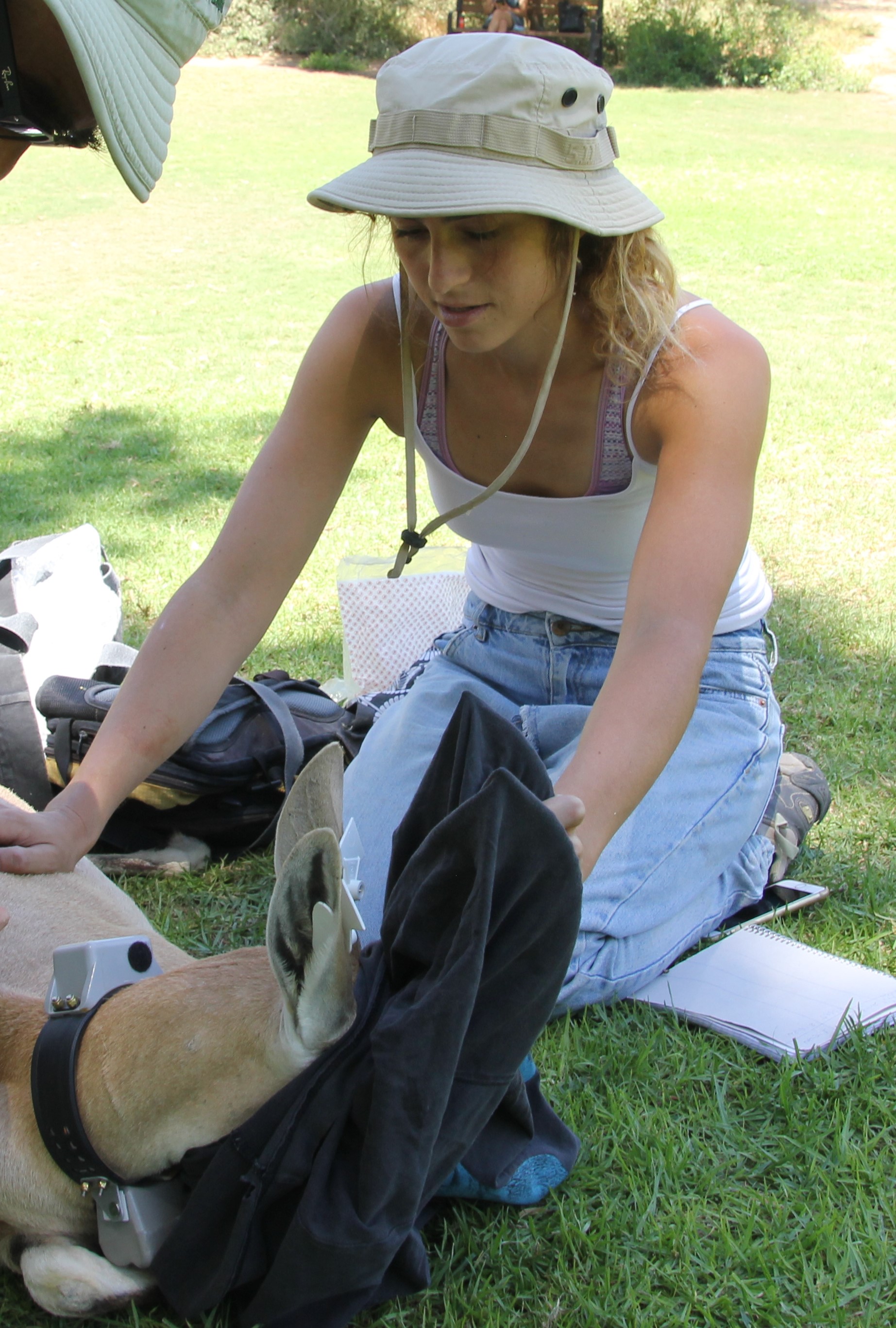 What comes next? What are you working on now?
Currently, I am conducting one of my experiments, which includes bringing groups of hikers to walk in my study sites to test their effects on the local wildlife species. After analyzing and getting the results, the next step will be to make sure that these results get to the policymakers so they can plan the future new hiking trails with minimal effects on wildlife. After that, I will return to study the Nubian ibex and test different approaches to mitigate the human-wildlife conflict caused by local populations of ibex that enter human settlements in the Negev Desert.
Where could we find you on any given Saturday? What do you like to do for fun?
I admit that on Saturdays I usually work, especially in the field. Since many areas are military areas in the Negev Desert that are closed during the week, Saturdays are a good time to work in these areas. When I am not working, my husband and I like to hike or climb cliffs or just have a quiet Saturday at home.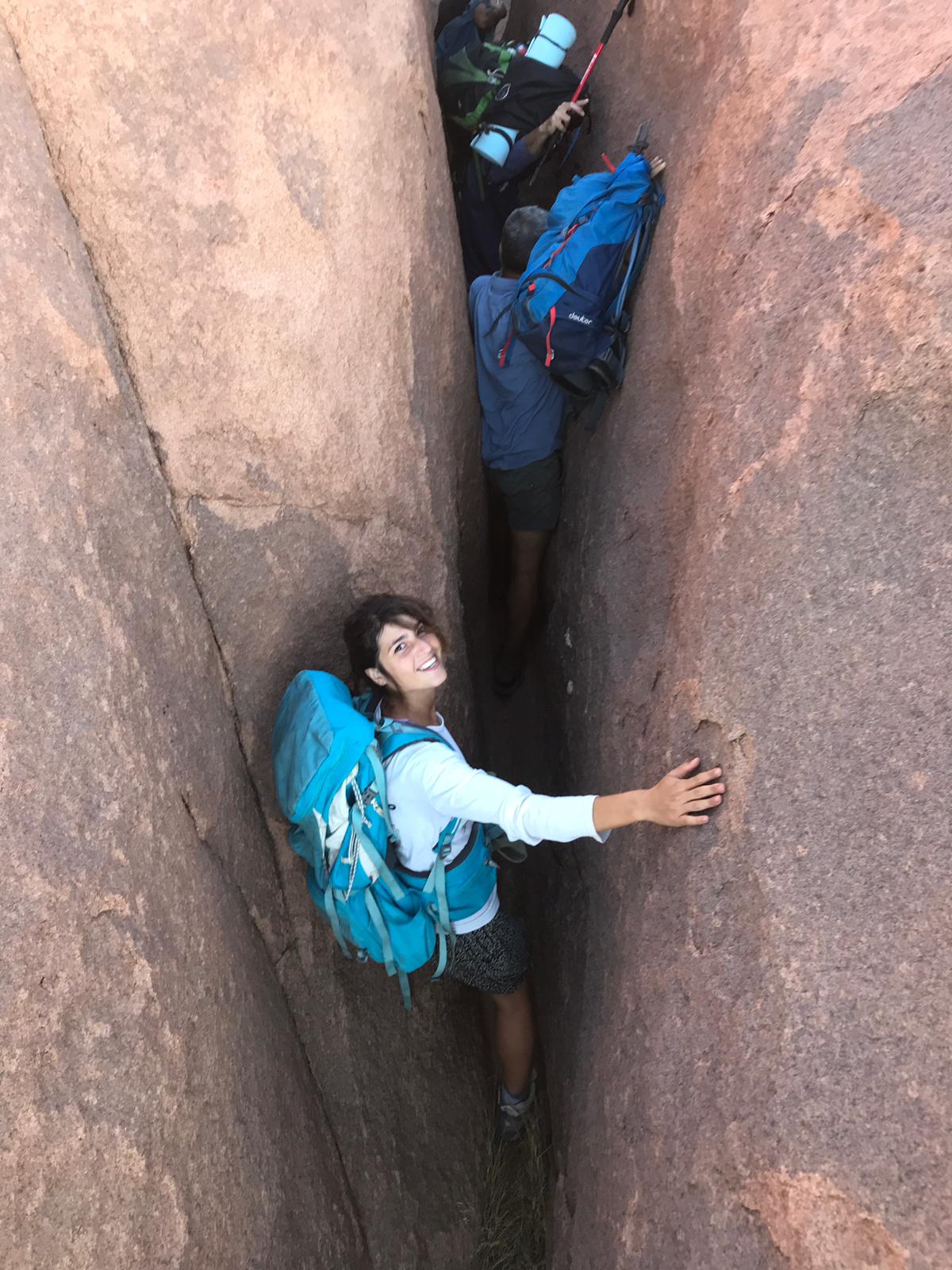 What do you love most about what you do?
I love the desert, and I love that my life right now is centered around studying this area. Being a Ph.D. student comes with plenty of stress, but the minute I arrive at the field, I forget why I was stressed. The seemingly endless desert landscape brings perspective to any problem I may personally have, and emphasizes the fundamental need shared by almost all living creatures - water. The desert is full of wildlife, and observing them in real-time is thrilling. The most exciting is seeing a wild animal drinking. Experiencing the harsh conditions of the desert, one can easily identify with the animals struggling to survive, and it reminds me why I am here learning about animal conservation.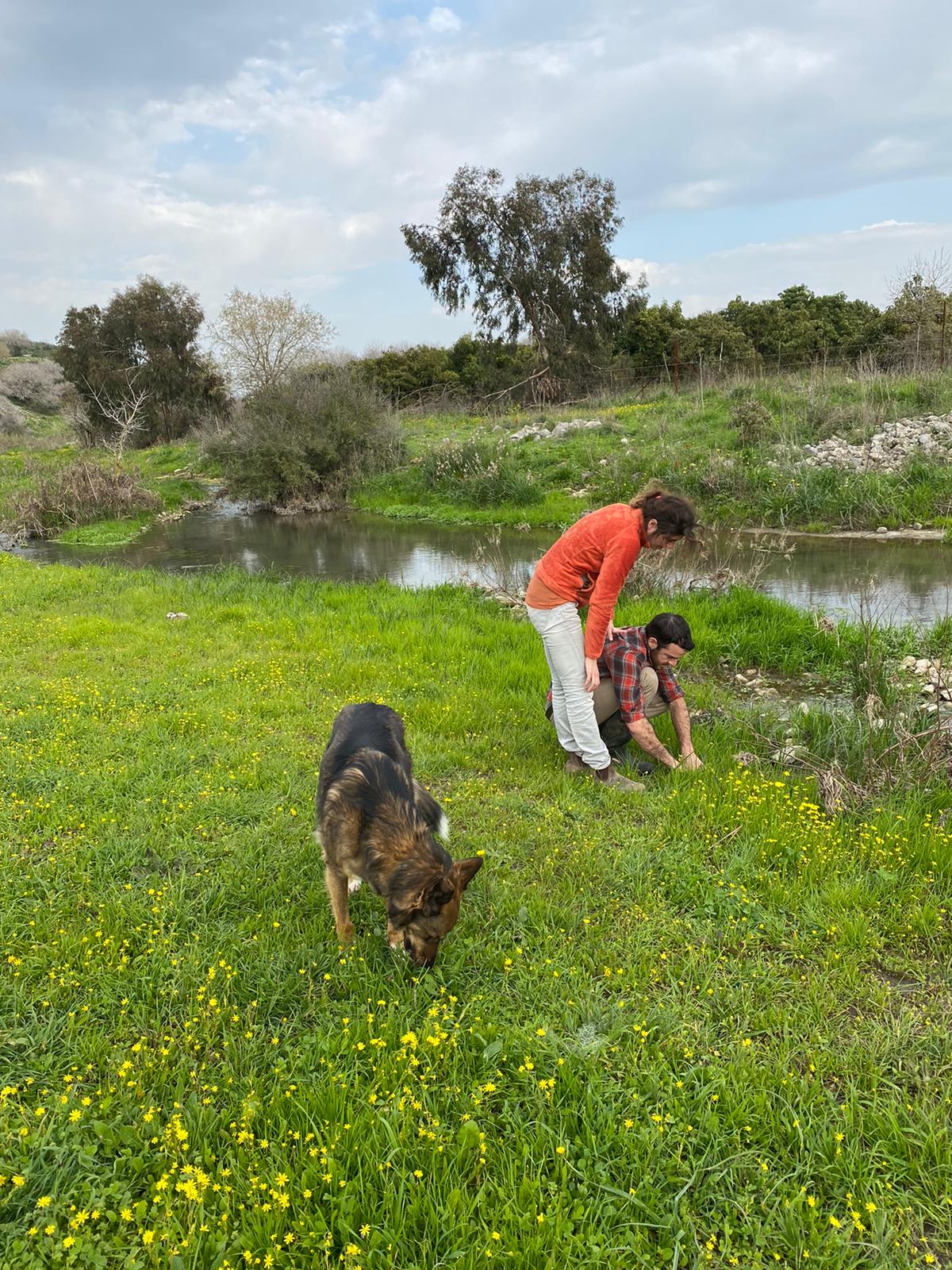 How did you choose to do this research project in particular?
As I mentioned, being a conservation biologist has been my passion for many years. After finishing my BSc, I was looking for an MSc. research that has high value for wildlife conservation. Luckily, my supervisor, Oded Berger-Tal, was looking for a student for a study on the effects of humans on the antipredator behavior of the threatened Nubian ibex. While I was studying that, I got to work a lot with the Israel Nature and Parks Authority, learn of the challenges in wildlife conservation in the south of Israel, and how I, as a scientist, can be part of the efforts to solves these challenges and improve conservation of wild species and habitats. One of the main challenges in the nature reserves in the Negev Desert these days is the growth of ecotourism followed by the planning of many new hiking trails. Oded and I designed this research as part of my PhD thesis to provide more knowledge and tools for planning and managing new hiking trails that will have a lower impact on wildlife.