SCB's past carbon offset project
---
SCB's carbon offset project for 2010-2013
Since 2007, SCB has contributed money to a carbon offset project in order to offset greenhouse gas emissions due to SCB operations, International Congress for Conservation Biology (ICCB) meetings, and other elements of SCB's carbon footprint.
The Society's first project was a native thicket restoration project in South Africa (from 2007-2009). Ron Abrams, an SCB board member and the chair of the Society's Ecological Footprint Committee, went on Spotlite Radio in August 2013 to discuss the project in the Bavaiaanskloof Mega Reserve and ongoing efforts there to restore sensitive habitat that supports rhinos, elephants and other wildlife. Listen to Ron discuss the project and the Society's interest in offsetting it's carbon footprint (skip to the 14:15 mark to hear Ron's six-minute interview).
The Society's has continued its carbon offset program for ICCB meetings and SCB operations. The current carbon offset project is the Wild Rose Conservation Site (WRCS) in southern Alberta, Canada.
---

Project Name and Location:
The WRCS is a 390-ha cattle ranch in Cardston County in southern Alberta (49°N, 112°W; Section 36-3-23-W4M, N-25-3-23-W4M). The ranch is on the Milk River Ridge, an open, rolling landscape of native mixed grass prairie in the Foothills Fescue Natural Subregion dominated by fescue grassland (Festuca scabrella), with patches of short shrubs in more mesic areas.
Project Activity:
The project activity is quite simple, involving purchase of the WRCS and elimination of grazing on the property. The partner organizations mentioned below are purchasing the ranch from Thompson Livestock Ltd., the current owner (total purchase price = $768,000). SCB will obtain rights to the carbon sequestration achieved by the project over the next 20 years for its investment of $50,000 toward the purchase of the property, to be paid over the next 4 years.
Partners:
Environment Canada, the Alberta Conservation Association (ACA), Nature Conservancy Canada, Ducks Unlimited, and the Alberta Fish and Game Association (AFGA) contributed to the purchase of the WRCS. ACA and AFGA are the deed holders, and they entered into the carbon offset agreement with SCB.
Baseline Scenario (What would happen without this conservation project?):
If management were to continue by Thompson Livestock Ltd., carbon stocks on the property would continue to deteriorate slowly. Currently, the WRCS stands in stark contrast with the lightly grazed McIntyre Ranch that is adjacent to the east of the property. Another potential scenario is that Thompson Livestock Ltd. would sell the ranch, resulting in conversion to cropland as for lands immediately to the north (e.g. 2 large Hutterite colonies nearby). Indeed, Hutterites have been very aggressive in their land acquisitions in the area and it is highly likely that they would convert these native grasslands to cropland. Thus reasonable baseline projections would be that the property is not retained as native grassland. Although most of the species at risk on the property are likely to continue if maintained as heavily grazed pasture, all of them would be lost if the land were converted to cropland.
Biodiversity benefits:
From a biodiversity perspective, southern Alberta hosts more species at risk than anyplace else in the province with 7 of 9 endangered species in the province occurring in southern grasslands. Species at risk that occur on the property include Ferruginous Hawk (Buteo regalis), Burrowing Owl (Athene cunicularia), Sprague's Pipit (Anthus spragueii), Loggerhead Shrike (Lanius ludovicianus), American badger (Taxidea taxus), and possibly Mountain Plover (Charadrius montanus). The property is especially good habitat for mule deer (Odocoileus hemionus), coyote (Canis latrans), and Sharp-Tailed Grouse (Tympanuchus phasianellus). Grassland birds have been declining in North America, especially recently because of reductions in the CRP program in the United States, making this project of particular value.
Estimated carbon sequestration:
Grasslands are purported to store more carbon on a per area basis than any other ecosystem on earth. Grasslands sequester carbon in the soil, in contrast to ecosystems where a substantial amount of the carbon is above ground. Carbon stored in the soil is more securely stored than above ground, where fire, timber harvest, insect outbreaks and other disturbances can return carbon to the atmosphere.
The security of this carbon storage is dependent on how the grasslands are managed. The largest threats to the security of this long-term storage of carbon in grasslands are overgrazing, soil erosion, and conversion to cropland. Under proper management grasslands are among the most secure places to sink carbon, and Canada is a politically stable country where we can be assured of the long-term continuity of the project. SCB's Ecological Footprint Committee estimates that the WRCS project can conservatively be expected to sequester 11,478 metric tons of carbon over the next 20 years, which should be sufficient to mitigate the greenhouse gas emissions of SCB's operations for the years 2010-2013.
Current Status:
SCB has prepared an Emissions Reduction Purchase Agreement (ERPA) stipulating the conditions of SCB's participation in this agreement. We are in the third round of editing this ERPA, which should be executed very soon between ACA, AFGA, and SCB.
Next Steps:
ACA and AFGA need to prepare a formal management plan for the WRCS, and all of the parties need to agree on an appropriate monitoring and reporting protocol to verify the project's performance over the next 20 years. Monitoring of carbon sequestration is fundamental to this project to demonstrate that the investment is indeed achieving its objectives.
---
About SCB and the Baviaanskloof Carbon Offset Project
SCB's carbon offset project for 2007
by Paul Beier
At SCB's 2006 annual meeting, the Board of Governors, responding to the overwhelming consensus of meeting attendees, decided to offset the carbon impact of our 2007 meeting. Funds for the offset were generated by a voluntary surcharge of $20 (registrants from high income countries) or $5 (registrants from developing countries). More than 98 percent of registrants at the 2007 meeting added the surcharge to their registration fees. We invested this money in restoration of thicket vegetation on the Baviaanskloof MegaReserve in Eastern Cape, the third largest natural area in South Africa. The project will store carbon, benefit biological diversity, and (by employing local people to restore native vegetation) alleviate poverty in the project area, with long term sustainability through ecotourism. Most carbon will be stored in a native succulent evergreen plant that has been demonstrated to store carbon efficiently in a low rainfall system, with high resistance to loss from wildfire and decomposition.
SCB plans to invest in sequestering carbon by restoring about 20-70 ha of degraded Subtropical Thicket vegetation in the 234,000-ha Baviaanskloof Megareserve in the Republic of South Africa. The land is owned and managed by the Eastern Cape Parks Board, and the restoration work will be implemented by South Africa's Working for Woodlands program – a poverty reduction program that puts people to work doing useful things. SCB investment will occur over 3 years (2007-2009), and carbon sequestration would occur over a period of at least 30 years. I visited the area during 5-9 July 2007 as part of SCB's due diligence to minimize the risk that the project might fail to deliver on any or all of the 3 goals SCB wishes to promote, namely carbon sequestration, biodiversity conservation, and poverty alleviation. As a result of my visit, I conclude that:
This project has found the "sweet spot" that can provide a win-win-win solution with respect to all three goals. As someone who usually gags on the phrase "win-win," I do not make such a claim lightly. Although there may be a handful of equally meritorious and scientifically rigorous projects on the planet, SCB was fortunate to have discovered this project for our initial investment.
There is strong scientific evidence that the carbon storage benefits will be at least as large as what we are paying for. Eastern Cape Parks Board or the Working for Water Program will retain the rights to sell any excess carbon credits and biodiversity credits that may in the future be documented as accruing from the project. Although SCB could attempt to negotiate a contract that gives SCB a share of such profits, SCB wants to reward these programs for their innovation and care. In particular, several government bureaucrats had to stick their neck out to invest a lot of public resources with no immediate payback, wagering that the program would reduce poverty and receive payment for ecosystem services in the long term. SCB wants to encourage other entities to take similar risks.
The project proponents are genuinely committed to meeting all three goals. The governments of South Africa and Eastern Cape province have invested about 7 million rand (USD $1 million) in nursery facilities, worker training, and scientific investigations to ensure the success of the project and guarantee that it meets the Clean Development Mechanism of the Kyoto Protocol (2004-2007). I had expected to find arm-waving with respect to at least one of the goals, but I come away convinced that the project managers are embarking on an ambitious and well-considered program to provide meaningful, long-term poverty reduction, biodiversity protection, and ecosystem services (carbon storage and water provisioning).
The normal processes of vegetative succession will not produce similar levels of carbon storage or conservation of a globally significant biome. Although some carbon certainly would be sequestered on these sites without active restoration, unassisted succession would not restore native vegetation, would store much fewer tons of carbon, and would be enormously more susceptible to fire.
SCB would be the first outside purchaser of carbon in this project, producing mutually-beneficial bragging rights. Our contract will encourage the project proponents to use SCB's good name to attract additional investors, with the provision that SCB be given appropriate credit in written descriptions of the project and that SCB be allowed to similarly publicize the virtues of our effort.
During my visit, I selected a particular area as the SCB restoration site. I selected this site because it is in a high-priority area for restoration, lies in a spectacularly scenic area, and lies within view of the main road through the Megareserve, such that a signboard along the road could allow SCB members and other park visitors to see the location of our investment (below).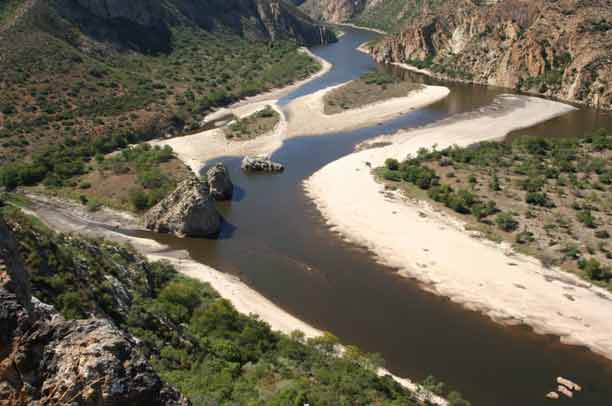 ---
SCB Newsletter Articles about Carbon Offset
SCB Newsletter v14n3 (see pg. 17)