Long-Term Europe Section Policy Initiatives

The Europe Section Policy Committee is working on a number of long-term initiatives.
Roadless Areas Initiative
The Roadless Area Initiative was launched in 2006/2007 by the Policy Committee of the Europe Section of SCB. Inspired by the U.S. Roadless Conservation Rule, the main aim of this initiative is to highlight the importance of roadless areas for biodiversity conservation and the need to consider them more explicitly in the law. This Initiative has developed into a trans-sectional activity that, in addition to the Europe Section, to date includes the North America Section and the Latin America and Caribbean Section.
Natura 2000
The Habitats and Birds Directives are among the main linchpins on which nature conservation in the European Union rest. This EU legal framework, together with the Natura 2000 complex of protected areas that has been created, is another important focus of the work of our Policy Committee. For example, among a series of activities and products, we have published a paper resulting from a survey at the ECCB 2009 in Prague on the challenges for Natura 2000 management.
Common Agricultural Policy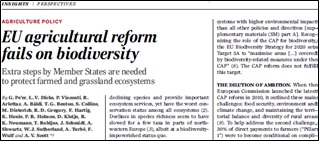 The Common Agricultural Policy is a legal and funding framework of utmost importance for the fate of biological diversity in human-dominated landscapes of the EU.
In 2013 and 2014, the Policy Committee got involved in NGO consultations in the context of the final negotiations for the reform of the Common Agricultural Policy of the EU. We assumed the lead in expert surveys, among others, on existing data on high nature value grasslands. These efforts resulted in a Perspectives paper in the Science magazine in 2014.
Primary and old-growth forests
The conservation of the remaining primary and old-growth forests in Europe has been an important topic of our work for many years. Białowieża National Park in Poland, on the border with Belarus, the largest remnant of temperate primary forest in lowland Europe, and the old-growth forests in Šumava National Park, Czech Republic, have served us as case studies since 2003 and 2009, respectively. Both cases are success stories. In Białowieża, three SCB Letters to the Polish governments have contributed to an increase of strict protection of the forests in the region to more than 50 %. In Šumava National Park, four such Letters directed at the Czech government as well as the parliament have had a notable positive impact on otherwise detrimental changes of its management.
Diclofenac and vultures
Diclofenac, an anti-inflammatory drug used for humans and domestic animals, is notorious for being extremely harmful to raptor bird species, among other wildlife. The EU Commission decided to allow its use for domestic animals in the EU. In 2014, the EU Commission responded to a
Letter
by SCB-ES and assures to review the problematic permission for diclofenac for treatment of domestic animals.