The Sydney Chapter of SCB was founded in 2013 and since then has hosted regular events that provide a networking platform for conservation professionals, volunteers, and keen people from the public. Also in 2016 (as in every year since we started), Sydney SCB was well-represented at the great SCB Oceania Section conference in Brisbane, Australia in July. We are looking forward to ICCB in Cartagena, Colombia this year!
Sydney Chapter of SCB organises two regular events in addition to other one-time events, which are:
Conservation Café is a monthly event at Centennial Park in the heart of Sydney, which is open to everyone who is interested. Every month we invite a conservation professional to talk to us about their jobs, projects, hopes and problems. These cafés are very casual and allow everyone and anyone to express their opinions and ask questions. Among many others we have had guests from academia, national parks, volunteer organisations, and NGOs.
Creative Conservation is a series of workshops that aims at combining art with conservation. These workshops take place every 2 to 3 months and most are led by Peter Wale, a local artist (www.peterwaleart.com). Every time we use a different medium and different subjects for our art projects. Through this workshop series, the attendants acquire new arts skills and at the same time learn to see nature with different eyes. Our last workshop in 2016 was called Knit for Wildlife. We got donations of wool and cotton fabric from several shops all over Sydney and the workshop attendants transformed this wool and fabric into awesome possum pouches. The finished pouches were donated to WIRES, a group of volunteers that rescue injured and orphaned native animals and look after them until they are ready to be released back into the wild.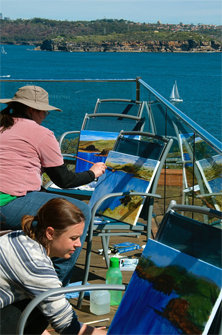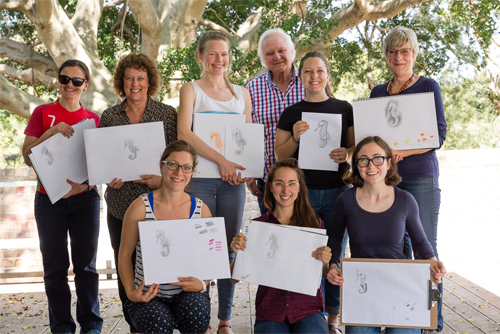 The Chapter is planning to expand on these two successful regular events in 2017, by adding new exciting conservation-themed events to the list. Stay tuned!
If you are interested in our work and would like to hear about up-coming events, check out the join tab on our website (www.sydneyscb.org) or send an email to info@sydneyscb.org. We are looking forward to meeting you!
---