SCB's IPBES delegation continued to work with its partners in the Stakeholder Group on day two of the Intergovernmental Science-Policy Platform in Bonn, Germany.
The Stakeholder Group worked on the Roles of Procedure for IPBES as well as the initial work program for the Platform. Afternoon discussions included a joint proposal from UNEP, UNESCO, FAO and UNDP to administer the IPBES Secretariat as well as discussions on the budget for the Platform.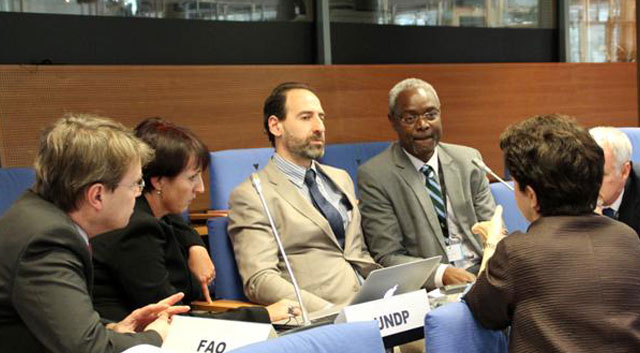 IPBES particpants , including UNESCO rep Salvatore Arico (center), take a break for networking. Photo from IISD Reporting Services
The Stakeholder group met in the morning and again on an informal basis later in the day. Stakholders worked on suggested text for changes to Rules of Procedure to provide a better mechanism for involvement of stakeholders in the work of IPBES. An evening session discussed the relationship between IPBES and the United Nations system.
The Stakeholder group also recognised the need for a Stakeholder Engagement Strategy to provide formal mechanisms for interaction between the various IPBES bodies and stakeholders who are integral to the success of IPBES. SCB IPBES delegate Carolyn Lundquist drafted text that was distributed to the Stakeholder Group to guide our discussions of this strategy at the Stakeholder Group's morning meeting on Day three.