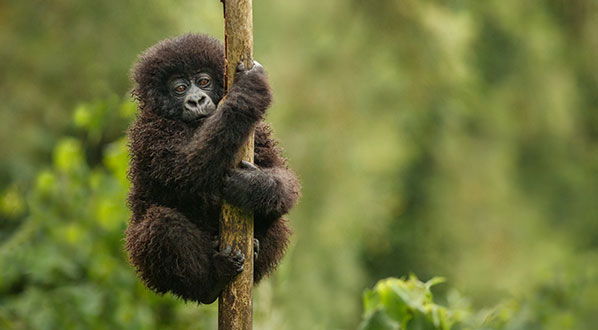 On September 24, World Gorilla Day, SCB President Tony Lynam was invited to participate in the Kwita Izina Gorilla Naming Ceremony. He was invited to name a baby gorilla as a representative of the International Congress of Conservation Biology. Originally planned as an in-person event in Rwanda this December, ICCB 2021 pivoted to a virtual format due to the Covid-19 pandemic. One of our ICCB 201 mascots is the mountain gorilla! ICCB 2023 will take place in Kigali, Rwanda.
The act of naming a newborn baby has been part of Rwandan culture and tradition for centuries, and this is the tradition that "Kwita Izina" is based on. For three decades before the first official gorilla naming ceremony, the naming of baby gorillas was carried out by rangers and researchers. First introduced in 2005, the Kwita Izina ceremony is now in its 17th year, and has named over 328 baby gorillas. This year, 24 baby gorillas were named.
Today Kwita Izina forms part of an ambitious strategy to preserve Rwanda's natural heritage and further expand the role of tourism in the country's transformation. As a result of the naming ceremony, Kwita Izina helps to inspire Rwandans to understand the intrinsic value of gorillas and their contribution to the country's development.
Tony had the honor to name a baby gorilla from the Hirwa family 'Mugwire' which means 'Reproduce'. You can watch the full naming ceremony here.