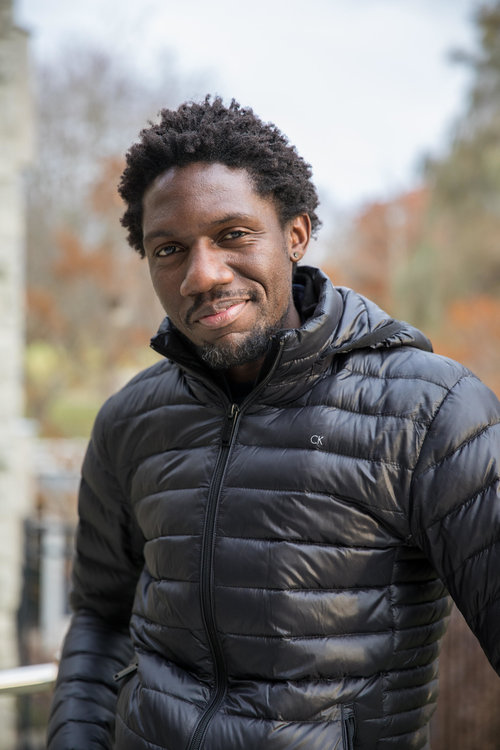 SCB held a Q &A with Ph.D. candidate, founder of Embaka and President-elect of the SCB Africa Section, Badru Mugerwa, to learn more about the work he does, what fuels his passion for conservation and what he is currently working on.
Tell us a bit about yourself.
Hi there, I am Ugandan, born and raised in the big city of Kampala. However, I have lost my "city boy" status over the years. I am just a simple rural dwelling passionate conservationist. Currently, I am a Ph.D. candidate at the Leibniz Institute for Zoo and Wildlife Research and Technical University of Berlin (Germany). I hold an M.Sc. Biology (Zoology and Wildlife Conservation) from Western University (Canada) and an M.Sc. Biology (Botany and Forest Conservation) from Mbarara University of Science and Technology (Uganda). I hold a PGD in International Wildlife Conservation Practice from the University of Oxford (UK), and a B.Sc. Forestry from Makerere University (Uganda).
I am the founder of Embaka - a community-based conservation initiative in Uganda working with local communities through piggery "pig seed banks", oral health care and community policing to improve the lives of local people while mitigating poaching to the African golden cat and other wildlife. I am the president-elect of the Society of Conservation Biology (SCB) Africa section, also serving as the section's E-Mentoring program director. I serve on the SCB's Equity, Inclusion and Diversity, and Global Conference Committees. I currently chair the steering committee for the International Congress for Conservation Biology (ICCB) 2021. My conservation work focuses on the interactions between people and biodiversity. The goal is to understand the threats and identify working community-based threat reduction interventions. Oh, and I am the only African vegetarian I know.
When did you know that you wanted to work in conservation and what fuels your passion for working on human impacts on biodiversity and protected area management in human dominated landscapes?
Uhm, I can't point to a specific time. I have always loved forests. Perhaps, after my first time in a tropical forest, back when I was in high school. This is probably when I started getting ideas that I wanted to work in Conservation. By then I didn't know much about threats. I used to think forests are these super cool dense resilient environments. I was naïve as evidenced by the current rate at which we are losing them. Then questions on how I can take part in forest and biodiversity conservation started forming in my mind. Fast forward, five years later following completion of my undergraduate degree, I moved to Bwindi Impenetrable National Park (Bwindi for short) to assess the effect of plant resource harvest by local communities on the forest and local livelihoods. I should mention that Bwindi is over 600 km from my home in Kampala, so this was the first time for me to travel more than 100 km from home- to a place without running water, electricity, or phone signal. It was great!
I think it was also the richness, the complexity of, the plethora of sounds, the sights, plants, and animals of different colors, sizes and behaviors in forests that astonished me most...and later witnessing how all these can be lost at a rate too fast to comprehend. One day it is a thick dense forest, tomorrow it is a sugar cane plantation or palm oil plantation or a new 5-star mega real-estate investment. My generation has seen a lot of these destructive developments not only in my country but also in many other parts of the world. Most of the forests now are mere islands amidst heavy human occupation and exploitation.
How did you end up where you are now? Was your career path clear, or did unforeseen opportunities come about at the right times?
Broadly, my path has always been clear. I have always loved working in forests. I have never looked anywhere else. It's the excitement of finding cool things each time you go out to do biodiversity surveys or to talk to local people about conservation challenges such as human-wildlife conflict or poaching.
Specifically, I can't ignore that unforeseen opportunities have always come about at the right time. It was after seeing poachers and dogs on camera traps for the first time that I thought of the importance of integrating local people in conservation if we are to understand and identify working solutions to threats to biodiversity. My work on the African golden cats — Africa's most enigmatic wild cat species has its roots from my first ever camera trap survey from which I learned how rare and special this cat is. This initial curiosity has culminated in the only community-based conservation program working with local communities to reduce threats on the African golden cat anywhere in the species range. Of course, all this has happened alongside several wonderful collaborations and friends I have amassed over the years.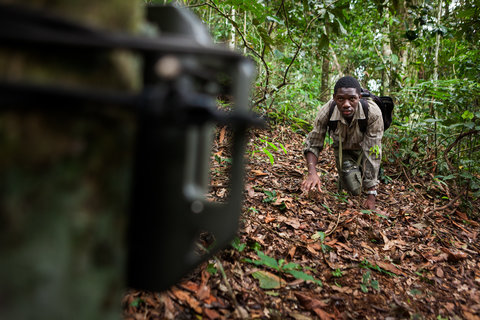 What are you currently working on (professionally)?
Phew! a couple of things. I am in a Ph.D. program, alongside nurturing a community-based conservation project on the African golden cat, and everything involved in managing a conservation project; fundraising, raising visibility, etc. I also serve the SCB in different capacities both in Africa and globally. I am enjoying my Ph.D. student life and also my other research collaborations. I continue to work with several friends and colleagues around the world (conservationists, researchers and funders) to raise the global visibility of small wild cat species and their need for conservation attention. Through this collaboration, I led the organisation of the second small wild cat conservation summit which was attended by 32 participants from sixteen countries representing twelve species of the 33 small wild cats. Small wild cats are super cool. The summit was convened in Colombo Sri Lanka in December 2019. We anticipate a bigger next summit of small wild cat lovers in 2022 representing more species. Our community conservation work with the Embaka is growing by the day, so that is very exciting and rewarding. Last year we expanded our work to two other protected areas and local community groups. This year we are starting our new conservation initiative of "Conservation through Healthy Smiles" — where together with my partner, we provide free regular oral health care to local people living at the front line of protected areas in exchange for wildlife protection and community policing. I enjoy these a lot.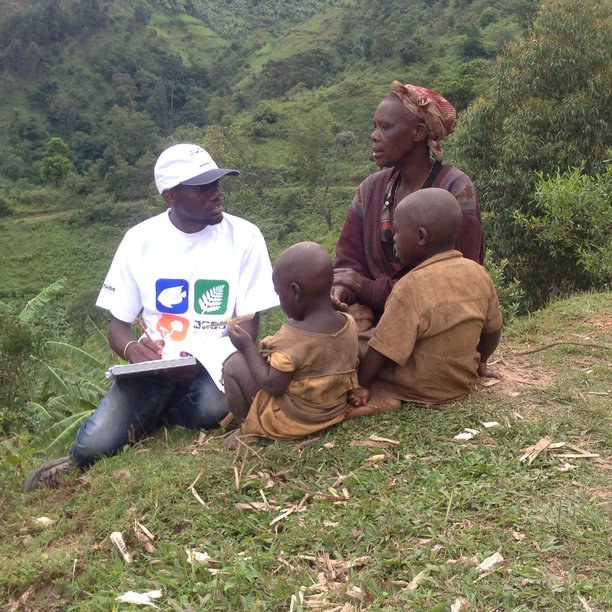 What does a typical work day look like for you?
A typical student day really. An early start followed by a typical Ph.D. grind from 8 to 5, and on most days till late. I read a book during my train morning and evening commute, but I have used my last weeks' commute time to complete the SCB's member spotlight interview. On warmer days, I end my day with an 8 km run. If not working late, evenings are mostly spent preparing dinner and/or catching up with, news, podcasts, family, any other unfinished business of the day. In the summer, I play soccer in the evenings. However, there is nothing like a typical day when in the field. Long walking hours in the forest setting camera traps or reaching local communities in some of the remotest areas of the country. My working for SCB comes with several online meetings as well on a few days of the week.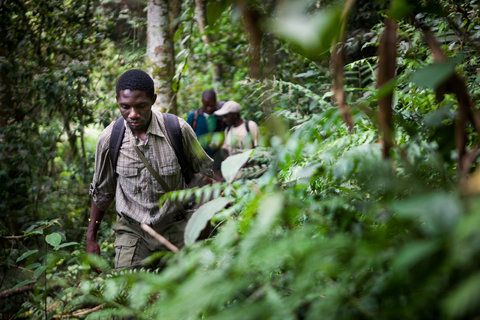 What is your favorite part about your job?
Fundraising and fieldwork are my favorite parts of my work. I get to meet and interact with people. Working with local communities has been so rewarding; identifying challenges and finding solutions in stories told by the most important stakeholders themselves- the local communities. I enjoy working with data and developing and writing stories about my work. Every day is a different day- a continuous learning process… a story from a new ex (reformed) poacher joining the project or a new potential intervention against poaching.
What is the most challenging part of your job?
The biggest challenge is that there is a lot of conservation to be done. So many threats to biodiversity, but also a lot of ideas on how to reduce these threats. I always want to include a lot in my work; this community here, the community there, the key threat here is poaching, there it is human-wildlife conflict, trying to find working solutions for as many threats as possible. I decided to focus on working with wildlife managers and ex (reformed) poachers to find ways of stopping poaching in frontline communities at protected areas.
Describe what your perfect weekend would look like.
Again, this is heavily dependent on the day's weather conditions. On warm days, I start with a nice run, then a super huge brunch... lots of bumming follows, catching up with family, grocery shopping, watching football in the afternoons. If I have deadlines around the corner, I may also work for a few hours on weekends. In summer, I play football in the evening as well. My summer weekends are very active.... long walks, hiking and half (marathon) running.... anything that keeps me out of the house. When in the field, weekends are workdays or I join the households in the local communities where we work in their places of worship.