Each day when I enter the offices of SCB I notice the motto under the name of the organization: "A Global Community of Conservation Professionals." This brings to mind a central question: How does SCB grow and develop this community of conservation professionals and increase our capacity to conserve and protect biodiversity and livable landscapes?
In the past few months I've had many conversations with new colleagues who are members of SCB as well as potential partners in governmental agencies and other non-governmental organizations. I'm excited about the possibilities for our SCB members to build new paradigms in educating, training and mentoring generations of conservation scientists (in biology, social sciences and the humanities) and working for education for sustainability.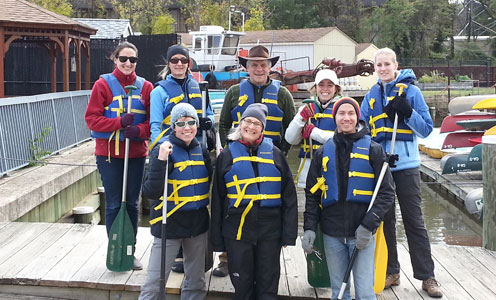 Building Community: The Anacostia Watershed Society's Jorge Bogantes Montero took staff SCB and the Society for Ecological Restoration on a canoe trip on the Anacostia River near Washington, DC to showcase the restoration projects, biodiversity, and the natural history of the river.
The important work on conservation policy and garnering support for policy and conservation science also remains core to the mission of SCB. Just this week, in a meeting with the Environmental Law Institute, SCB has been asked to work with them on a National Environmental Coalition on Invasive Species. This includes freshwater, terrestrial and marine ecosystems. Please
let me know
if you are working in this field so that SCB can partner by bringing conservation science to the policy table with national and international partners.
One example of community building comes close to SCB's Washington, DC home with the re-invigoration of the Washington, DC Chapter. This has encouraged the staff to reach out and engage with the Chapter and the greater conservation community in the region. For example, on a recent beautiful fall afternoon, SCB staff joined with our neighbors at the Society for Ecological Restoration for a canoe trip on the Anacostia River (a huge watershed that passes through Washington DC) with Jorge A. Bogantes Montero from the
Anacostia Watershed Society
. We met Jorge at the SCBinDC picnic (
see photos
) in September where he spoke about the biodiversity of the Anacostia and restoration of the river. Jorge is from Costa Rica and has worked on biodiversity issues there and is now working here. (Please
let us know
how your Chapters are building community).
In order to build capacity in conservation, our members need the ability to communicate and build communities of knowledge and practice. One way is to remain a member of SCB and actively engage new members. Additionally it is important to be a part of SCB as a member of a working group, committee member, or other advisory capacity. The SCB Executive Office and the members of the Board of Governors would be happy to help you find a place for your talents.
Thank you all for your memberships. As always, if you have suggestions or ideas that you would like to SCB address, please let me know.