Roadlessness is the most cost efficient and effective way to protect biodiversity. With this message, a side event at the 11th Conference of the Parties to the Convention on Biological Diversity in Hyderabad, India (8-19 October) brought attention for the first time to the importance of keeping areas road-free to maintain biodiversity and ecosystem services. This event followed a similar event at Rio+20 in Brazil last June that was also organized by Kriton Arsenis, a Member of European Parliament, in collaboration with SCB and other organizations such as IUCN, UNEP, Conservation International and Tebtebba (the Indigenous Peoples' International Centre for Policy Research and Education).
| | |
| --- | --- |
| | |
| Closing plenary of the Convention on Biological Diversity. Photo courtesy of the IISD /END. | |
| | |
The Roadless Area Initiative was launched several years ago by the Policy Committee of the Europe Section of SCB. Inspired by the USA Roadless Conservation Rule, the main aim of this initiative is to highlight the importance of roadless areas for biodiversity conservation in Europe and the need to consider them more explicitly in the law. The SCB Europe Policy Commitee has been promoting the issue of the protection of roadless areas in the scientific forum, including presentations at the European Congress for Conservation Biology (ECCB) 2009, Prifor 2010, ECCB 2012, IENE 2012, and through the publication of a scientific paper on the topic published last year.
Important efforts to advance roadless area protection have been made on the policy front. The importance of roadless areas was presented at a conference event at the European Parliament and in meetings with the European Commission in 2008. The cooperation with the M.E.P. Kriton Arsenis has been most successful in this regard, and has put the issue into the international environmental debate. Thanks to his efforts, the roadless areas initiative has become global. The involvement of Google, which produced a prototype map of the world's remaining roadless areas, in collaboration with SCB, has been crucial to this effort. This first map was presented at the Rio+20 conference in June, where SCB also took part. This was an important milestone that greatly increased the interest in the topic of most SCB regional sections. After Rio+20, an SCB inter-sectional project focused on global roadless areas protection was launched at SCB's Section presidents' meeting in Oakland, California. One of the first outputs of this collaboration was a symposium on roadless areas organized at SCB's International Congress for Conservation Biology in Baltimore, Maryland 21-25 July 2013.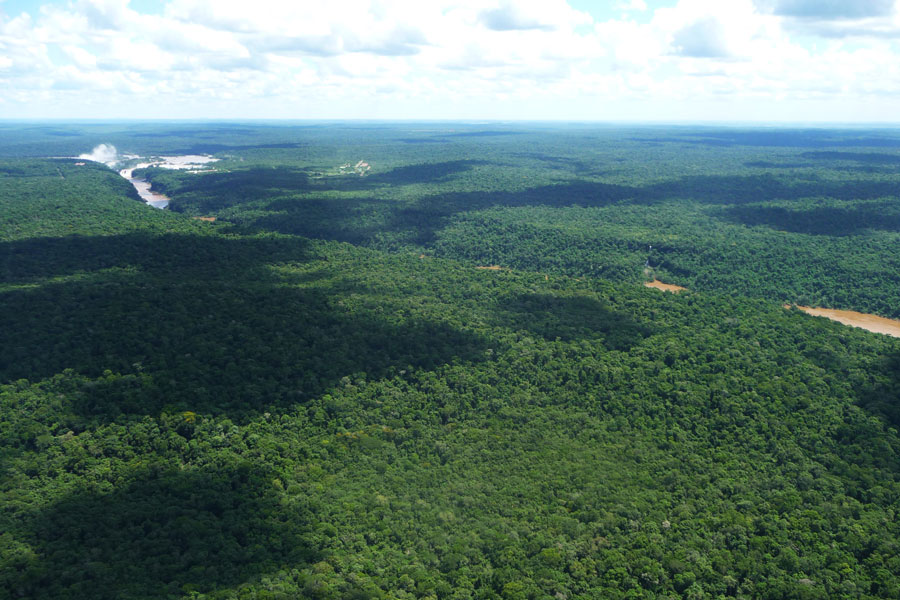 Alto Paraná Atlantic forests with
Iguazú Falls in the background. The forests cover parts of Brazil, Argentina and Paraguay.
Roadless areas are especially relevant to sensitive and endangered species, as well as species requiring large tracts of intact habitat, such as bears or elephants. Roadless areas are well-known strongholds for salmonids and other fish species, and provide refuge for native wildlife and plants. Roadless areas serve also as a barrier against pests, diseases, and invasive species. They are more resistant to and resilient from catastrophic events, like floods or fires, and can support species and ecosystems adapt to new conditions due to climate change. Experience shows that whenever new roads provide access to formerly remote or roadless areas, the pressure on ecosystems increases rapidly.
Even when accompanying conservation measures are taken, the negative impacts of roads cannot be effectively mitigated. Roads have what we call "contagion effect," which is especially virulent in developing countries. Road development encourages further human developments and pioneering colonies, produce changes in land-use and the local socioeconomic models, and has continuously accelerated deforestation and other forms of biodiversity degradation. By keeping areas road-free, we help to protect them de facto, at practically no financial cost.
Learn more on the Europe Section blog and consider joining the discussion on the Europe Section Facebook Group.