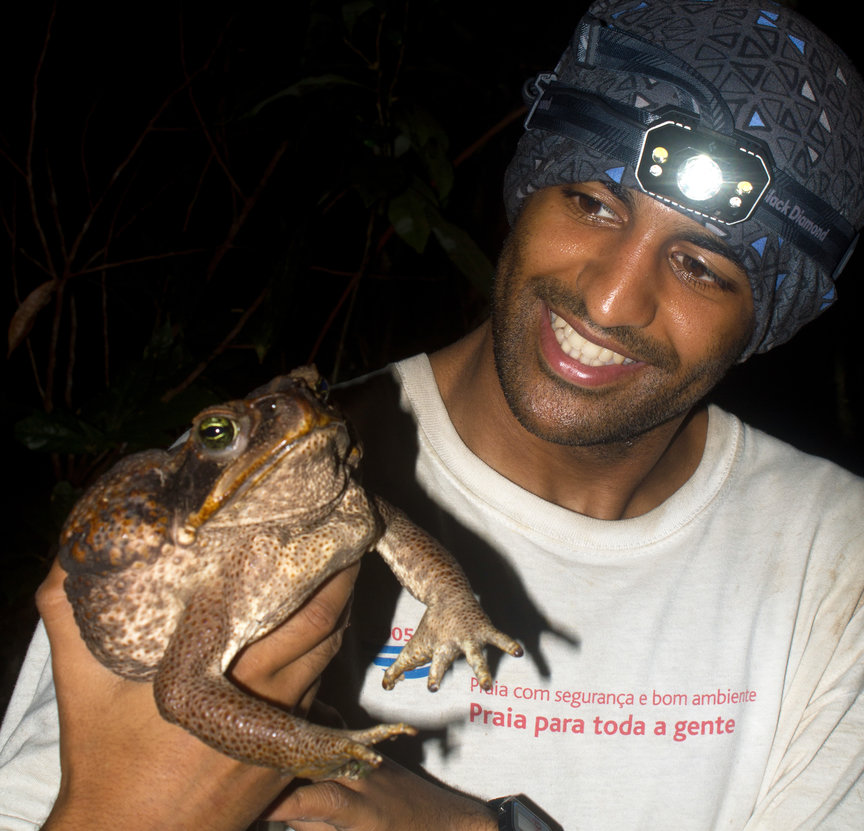 Dr Ricardo Rocha received the European Early Career Conservation Award from the SCB Europe Section in 2020 for making a significant contribution to conservation science and practice while helping to make conservation a better and more inclusive place for everyone.
Ricardo finished his PhD in 2017 from University of Lisbon and University of Helsinki. Doing his PhD, he conducted 2½ years of fieldwork in the Brazilian Amazon, where he used the Biological Dynamics of Forest Fragments Project to investigate the long-term effects of fragmentation on bats as well as initiated and co-led numerous innovative socio-ecological side-projects on a wide range of taxa and conservation questions. He recently started a prestigious three-year postdoctoral fellowship at the Research Centre in Biodiversity and Genetic Resources, University of Porto, funded by Madeira's Regional Agency for the Development of Research, Technology and Innovation, to work on the role of bats as suppressors of agricultural insect pests and human disease vectors in Madeira, Portugal.
Ricardo is an exceptional young conservation scientist: he has published over 30 papers, largely in tropical field ecology. Ricardo's productivity comes from a combination of his deep interest in finding out answers to ecological questions, his field skills and his limitless energy and enthusiasm. He has managed to fill some important knowledge gaps in fragmentation ecology by bringing in the less-well studied taxon of bats. The bulk of Ricardo's research has produced information that is of direct relevance to on-the-ground conservation. For example, his work in Madagascar has shown that insectivorous bats have a great potential to prevent major insect pest outbreaks and consequently can provide valuable services to farmers and guide them in biodiversity-friendly agriculture.
Ricardo is whole-heartedly engaged in the work of multiple NGOs and in environmental education. He is a founder member of the Portuguese Association of Herpetology and collaborates with the Spanish Association for the Conservation and Research of Bats. As a student he assisted in the coordination of the Eco-Schools programme in Portugal.
Ricardo is actively engaged in public outreach. He has published a highly valuable field guide to the bats of the Amazon and recently was scientific advisor to a Lonely Planet non-fiction book 'Wild in the City' aimed at encouraging children to look for nature wherever they may live. He actively campaigns for public awareness of biodiversity and his work often features in national and international periodicals and conservation websites e.g. National Geographic Magazine and mongabay.com. He has served on the editorial board of the Portuguese Society for the Study of Birds' magazine: Pardela. Ricardo's public outreach in advocating for equality and inclusion in STEMM is particularly impressive. Since 2015, he has been an active member of the Committee for Equality, Diversity and Inclusion of the Society for Conservation Biology and of the BAME Network of the University of Cambridge.