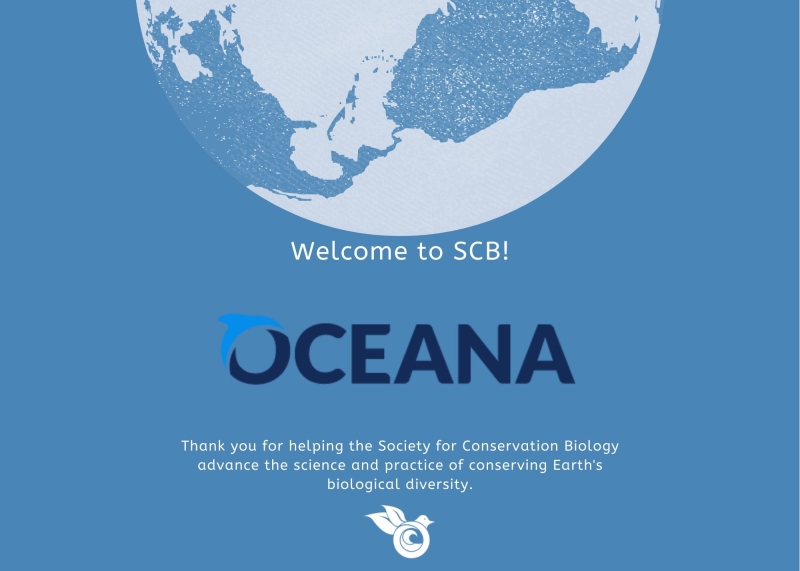 The Society for Conservation Biology is excited to welcome Oceana as our newest Organizational Member! Oceana is the largest international advocacy organization focused solely on ocean conservation. They seek to make our oceans as rich, healthy and abundant as they once were.
Since their founding, Oceana has won more than 225 victories and protected nearly 4 million square miles of oceans. Learn more about their victories.
We wanted to learn more about Oceana and the important work they do through our first SCB Organizational Member Spotlight.
At SCB, we recognize the importance of celebrating and learning from conservation success stories. Do you have a recent conservation optimism story you could share with us?
At Oceana, where we work hard to secure policies to protect and restore the oceans, we've continued to see progress on our campaigns, even during these unprecedented times. We stopped the granting of new concessions for polluting salmon farms in pristine coastal Chilean Patagonia. In the Philippines, the Bureau of Fisheries refused to green light a massive Manila Bay project that would destroy important fish spawning habitat and harmed the Bay's greater ecosystem. And the government of Belize announced a historic agreement to stop the use of drift gillnets – an indiscriminate fishing gear which ensnares turtles, sharks and other sensitive, non-target species.
What are the gravest threats to our oceans?
Like the rest of the planet, the 71 percent of the globe covered by the oceans is changing as a result of the climate crisis: warming temperatures, increasing acidity, rising sea level and declining oxygen. This will lead to declines in ocean productivity, especially at the lower latitudes where local populations are most reliant on fisheries for food and livelihoods. All the more reason to ensure that fisheries are managed in the most sustainable fashion possible, that habitats are protected to foster resilience in the face of warming waters, and that ocean governance is transparent and equitable. But we continue to face overexploitation, destructive and illegal fishing practices, and continued loss of biodiversity – so the threats are both global and local in scale.
Are you working on any exciting, new programs?
Oceana's newest international office was opened in Mexico in 2018 and is already seeing success in our transparency campaign. Last year, as a result of our advocacy, the government of Mexico provided access to satellite monitoring data from 2012 to 2018 for more than 2,000 commercial fishing vessels on the Global Fishing Watch platform. Our next goal is to secure a more real-time provision of this data – as has been done for Peru and Indonesia's fleets.
Oceana has also recently launched campaigns to fight plastic pollution, which enters the oceans at a rate of about 17.6 billion pounds a year - a full garbage truck every minute. In addition to our country-based work to reduce or eliminate single-use plastic, we've begun a global campaign targeting Amazon, urging them to adopt alternatives to single-use plastic packaging. We are a member of the #BreakFreeFromPlastic global movement, which is also a fantastic resource for individuals looking to get involved.
How has COVID-19 impacted Oceana's work?
Internally, we've taken measures to help minimize the spread of COVID-19, by working remotely, canceling events and expeditions, and moving to virtual meetings where possible, but the pandemic has brought new wrinkles to our conservation challenges. While fishing activity has declined in places, at least briefly, monitoring, control, and surveillance have also declined. Increased illegal fishing is a concern, as well as market disruption for seafood – the largest globally traded food commodity in the world. However, our goals remain the same: rebuilding and maintaining healthy fisheries, protecting essential habitats, and increasing transparency and accountability in the management of our ocean's resources.
Oceana staff and board serve around the world. How does diversity in the workforce and cross-cultural experiences and perspectives enhance Oceana's ability to meet its mission and create foster organizational resiliency?
With offices spanning four continents and a mission that is global, Oceana is a multicultural organization with staff in 12 countries. We actively work across borders and functions to create an inclusive workplace that supports innovation, creativity, and break-through ideas. Oceana's leadership put forward an action plan for 2020 designed to support this vision, propelled by an international working group to advance these efforts.
Each country or regional office is led and staffed by locals and collaboration between offices ensures a vibrant exchange of knowledge. Connections extend from our country leaders, who meet as a group every week or two, through staff at every level who work on shared issues, like the protection of the North Atlantic right whale and transparency in the operations of distant water fishing fleets. These cross-geography efforts are successful because of the variety of perspectives and expertise our multi-cultural staff bring to bear. We strongly believe that a diverse and cross-cultural workforce not only enhances our mission but is central and essential to achieving our goals.